Mercedes CLS Shooting Brake's new slant on road test
ROAD TEST REPORT AND REVIEW: Mercedes-Benz CLS Shooting Brake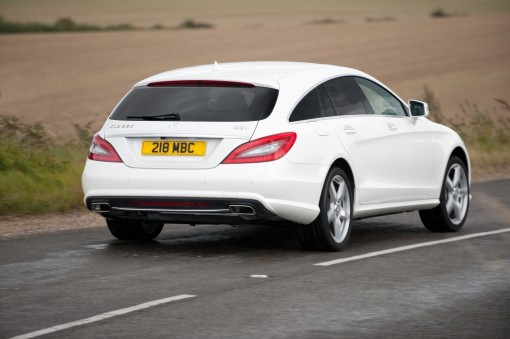 An estate car by another name, KEITH WARD takes a comfy seat in the Mercedes CLS Shooting Brake BlueEfficiency.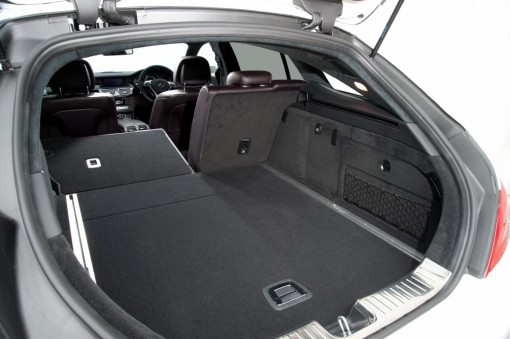 ESTATE cars come in many modern guises to avoid saying what they really are. Think of Tourer (Honda, Hyundai, Toyota); Sport Tourer (Renault, SEAT) and Sports Tourer (Vauxhall); Touring (BMW); Avant (Audi); Station Wagon (Chevrolet) and SW (Peugeot).
There's the new XF Sportbrake from Jaguar.
Now Mercedes-Benz strip off all pretence and come over all old-fashioned with a name from the distant past. They unveil their CLS Shooting Brake.
"It draws inspiration from the coupe-like estates loved by sportsmen, and especially shooting parties, in the 1950s and 1960s", say Merc, adding quaintly: "And nowhere more so than in Great Britain".
The original CLS, a cross between a large saloon and coupe, dates back to 2004.
Now, the new five-door, five-seat Shooting Brake variant is 16mm longer but saves weight by extensive use of aluminium in body and mechanicals. Styling is towards sloping-roofed sleekness, unspoiled by roof rails, rather than a boxy back end for maximum cargo capacity.
However, at 590 litres with all seats in use the boot is above average for its class. It's with the rear seatbacks dropped forward, not quite fully, onto their plump cushions that the extended hold is smaller than those of rivals Audi, BMW and Jaguar. The seatbacks are easily released by levers just inside the tailgate door frame.
Upmarket touches you would expect at these prices include high-grade carpeting of the cargo area, but you can upgrade again to a floor of American Cherry Wood with black inlays, "similar to the decking of luxury yachts", for an extra £4,000.
Rear air suspension is standard, to keep an even keel no matter what the load, so the floor is a constant 640mm above ground. The tailgate is electrically operated. Otherwise there is the usual Merc list of extras: a folding tow-bar costs an extra £880, luggage area floor rails £870 and a load securing kit £255.
A five-strong Shooting Brake range at prices from £49,360 to £83,030 covers a choice of four or six-cylinder BlueEfficiency turbo-diesel engines or an eight-cylinder petrol and two levels of trim.
Standard trim includes what you might expect at these prices: climate control, navigation, DAB radio, leather upholstery, front and rear parking aids, bi-xenon headlights and 18-inch alloys. Also the bonus of Active Park Assist, which clocks in passing a suitable kerbside parking space and steers the car into it. Again, there are various upgrade packages.
A quietly refined cabin includes a neat analogue clock set into the the tasteful dash. A driver drowsiness detector alerts you if you drift out of lane. The windscreen wash is heated before it hits your screen.
Our car had the racy £2,995 AMG Sport trim upgrade, so beefier sports suspension and brakes, cosmetics such as side skirts and front and rear aprons, sports steering wheel and pedals, black leather with ceiling to match, as well as high performance automatic headlights and 19-inch alloys. But performance figures stay the same.
On the road, there's an air of unruffled comfort with an underlay of power: Even the smaller 2.1-litre, 204 bhp diesel we tried is credited with 0-62 in 7.8 seconds and 146 mph, working through a seamless seven-speed automatic, switchable to manual mode in AMG versions. The engine stops and starts when you are stationary to save fuel and emissions. Its onboard computer was recording 35.8 mpg against the official combined figure over over 53. The CO2 figure of 143g/km keeps the VED disc outlay to a modest £135 a year.
Merc report that within an overall 12 per cent rise in their UK sales this year, AMG versions are up a staggering 136 per cent. Followers of the three-pointed star are obviously not skimping in these straitened times.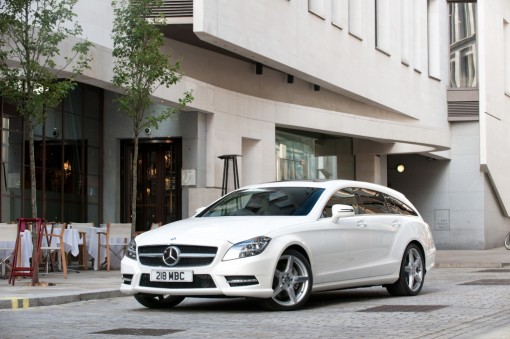 Rating:





THE VITAL STATISTICS
Model: Mercedes CLS 250 CDI BlueEFFICIENCY AMG Sport Shooting Brake
Body: Five-door estate; length 4,956 mm; kerb wt 1,865 kg; gross 2,390 kg
Boot: Length 1,150 ext to 1,740 mm; width 1,080 mm; vol 590 to 1,550 litres
Engine: Diesel; 4-cyl; 2,143 cc; twin turbo; stop-start; 7-speed automatic
Power: 204 bhp @ 3,800 rpm; max torque 500 Nm @ 1,600-1,800 rpm
Performance: 146 mph; 0-62 in 7.8 secs
MPG: On test 35.8; official combined 53.3 mpg; tank 59 litres
CO2: 143 g/km; tax band F; VED disc £135; tax liability 22%
Insurance: Group 43
PRICE: £52,370; as tested incl options £56,970; range £49,360 – £83,030
Rivals: Jaguar XF Sportbrake (£32,000 – £52,000); Audi A6 Avant (£41.000 – £50,000); BMW 5-series Touring (£33,000 – £50,000)