Mazda MX-5 Britcar racers tune Silverstone tactics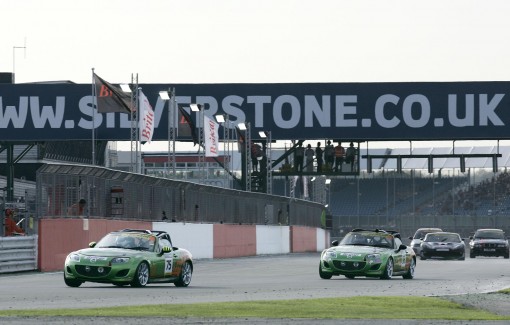 THE Mazda UK race team is planning its strategy and fine-tuning its tactics as it makes its final preparations for two of its Mazda MX-5 Britcar racecars to return to the track in the Britcar Production Sportscar Series at Silverstone this coming weekend.
The two 130mph MX-5s are based closely on the soft-top Mazda MX-5 Sport Tech models powered by a 160PS 2.0-litre MZR engine with a six-speed manual transmission. Both cars are fitted with a limited slip differential for enhanced handling precision.
Racing on Silverstone's nine-corner, 1.85-mile International Circuit will play to the MX-5's handling prowess, thanks to its 50:50 weight distribution, especially through the corners.
The second round of the Britcar Production Sportscar series presents an exciting chance to defy convention, taking on the more powerful Porsche, Ginetta and Mazda teams contesting the two 45-minute races.
This is the fifth time Mazda UK has entered Britcar and this year sees two experienced Mazda works drivers Mark Ticehurst (42), from Hassocks, West Sussex and motoring journalist and racing driver Owen Mildenhall (40), from Bexleyheath, partnering up with returning Lincolnshire-based Mazda MX-5 Britcar competitor David Hooper from WheelWorldReviews.co.uk and Motoring Research journalist Richard Aucock.
Prepared by Jota Sport, the two MX-5s are mechanically standard, but feature safety modifications which include FIA-compliant racing seat and driver harness, full roll-cage, competition steering wheel and alloy wheels, fire extinguisher, external electric cut-off switches and safety catches on the bonnet and boot.  Non-essential interior components are removed to reduce weight.
The cars are sponsored by SMH Fleet Solutions, Mazda Financial Services, Total Lubricants, Sparco and Jota Aviation.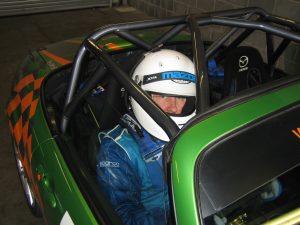 Following a successful result in the 2011 Britcar Dunlop Production GTN Championship in 2011, the MX-5 production race car secured three podium finishes, placing the car fourth in class and seventh overall for the 2011 season.
Mazda UK's PR Director, Graeme Fudge, said: "Mazda performed well with these cars in 2011 and is delighted to get back into motorsport by taking our iconic roadster to the most famous circuit in Britain. Fun-to-drive characteristics are at the very heart of our legendary and immensely popular Mazda MX-5 sportscar, which remains unrivalled as an exhilarating motor that can also be used every day.
"With its front-engined, rear-wheel drive chassis, the lightweight MX-5 delivers perfectly balanced handling, a thrilling drive and our Japanese brand's unique 'Jinba Ittai' nimble handling finesse.  Unsurprisingly, it's still the world's best-selling two-seater sportscar and has been voted 'Best Roadster' by Auto Express magazine for six years in a row".
The 2013 Mazda MX-5 road car line-up offers customers a choice of four soft-top and six roadster coupe models with a powered folding roof.  Prices start at £18,495 (OTR) for the 126ps, 1.8-litre SE Air Con soft-top with five-speed manual transmission and peak at £23,695 for the 160ps, 2.0-litre Powershift roadster coupe.
Details of the latest Mazda promotions and finance offers visit www.mazda.co.uk/offers/offers-overview/