Peugeot 208 GTi jumps into the hot-hatch ring
ROAD TEST REPORT AND REVIEW: Peugeot 208 GTi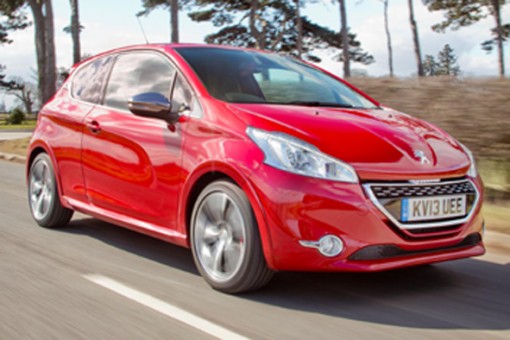 Beating its chest like a prizefighter, KEITH WARD says the new Peugeot 208 GTi has clear ambitions to be the champ in its class.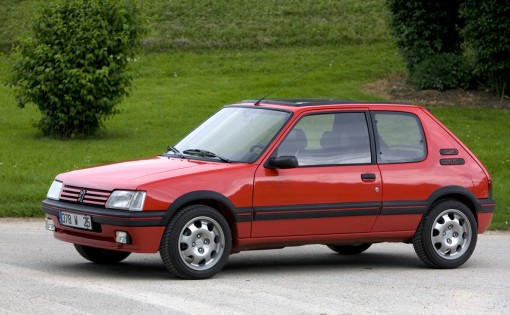 POWERING into showrooms to top the strong-selling Peugeot 208 range comes a new 143 mph GTi with the chest-beating boast of a perky prizefighter.
It has clear ambitions to match the iconic status of the old 205 GTi dating from the mid-1980's, a standing never reached in the present century by GTi versions of the 206 and 207.  How realistic are its hopes?
The engine of the Peugeot 208 GTi is smaller than the 205's – 1.6 litres against 1.9 – but vastly more powerful  – 200 bhp against 130.  It's marginally quicker off the mark, reaching 60 in 6.7 seconds against 7.8, and with a potential for 143 mph against the 205's top speed of 123.
But the lightweight 208 GTi rates far greater economy, with an official combined mpg figure of 47.9 against its ancestor's thirsty 28.1.
And while CO2 figures were not quoted for the 205 in its day, the latest GTi plummets down to 139 g/km compared to 171 puffed out by the 207 of six years ago and a sooty 204 from the exhaust of the earlier 206 version.
Pretty cool-looking at the time, the old slab-sided 205 GTi paraded by Peugeot at the launch of the 208 GTi understandably shows its age. The newcomer is all subtle curves, slanting headlights, streamlined profile and fancy wheels. The only common feature is the re-emergence of a GTi badge on the rear quarter panel.
Exterior features exclusive to the new GTi include a black and chrome chequered-flag type grille above a thin red "chin" line, a sports rear spoiler, wheel arch extensions, a chromed double-exhaust and front indicators in the unusual form of a thin LED amber edging to the headlamp units.
W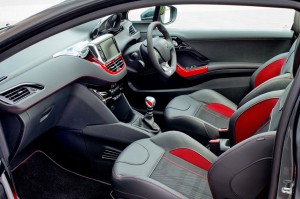 hatever the body colour, from a choice of five, red is a recurring theme for brake callipers, badging, sports-seat panels, stitching, instrument lighting, facia outlines and even edging to the seatbelts. Amidst all this, the one jarring note is the chrome of the big electric door mirrors, which don't quite gel.
Aimed at the driving enthusiast, the car has ride height lowered by 8mm on a beefed-up suspension and tracks widened at the front by 10mm and rear by 20 mm.
On the road, the GTi proved eager to show its paces around the chosen location of Snowdonia, North Wales, well known to rallyists. You need to adapt to the tight, direct steering, responding to the slightest twitch of the wheel, and to the surge of power prompted through a taut and well-defined gearbox. On an exhilarating  roller-coaster combination of downward swoops, upward climbs, sudden dips and tightening bends, it kept its composure throughout.
Two minor cribs: The instrument panel is by design high-set in front of a driver sitting 8 mm lower than in a standard 208. It can consequently be part obscured by the albeit small, sporty steering wheel.
The DAB radio, part of a standard trim that also includes a seven-inch multifunction colour touch screen, rear parking aid, digital dual-zone air con, and automatic headlights and wipers, suffered patchy reception in North Wales, as it will in other parts of the UK.
Peugeot as a brand exudes confidence these days, says UK sales director Neil Moscrop, compared to five years ago when the question in dealers' minds was was "how much can I knock off it?".
With the 208 range launched last summer achieving to date 30,000 UK customers and a regular place in the top 10, Peugeot sales in general are up by 6.3 per cent in the first quarter of 2013.  Sales target in Europe for the 208 GTi is 10,000 in its first full year of 2014. Judging by this first taste of the newcomer, the 205 GTi could at last have met its match.
*Making its bow alongside the one-off GTi is the new 208 XY, a luxury version with distinctive livery which replaces the three-door top-trim Feline (but not the five-door) at prices between £16,545 and £18,045 depending upon power train.
See how the 208 GTi compares to the new Ford Fiesta ST.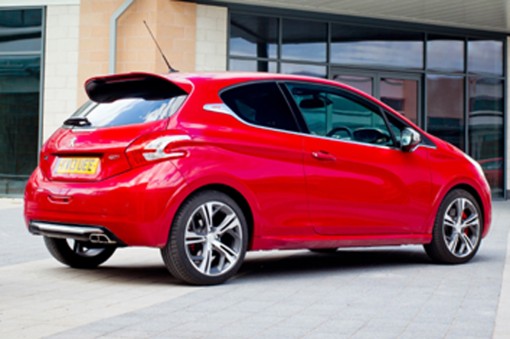 Rating:





CLICK HERE and "Like" our Facebook page for regular updates and follow us on Twitter
THE VITAL STATISTICS
MODEL: New Peugeot 208 GTi
Type: Three-door hot hatch; 4 seats; length 3,962 mm; kerb wt 1,160 kg
Engine: Petrol; 1,598 cc; turbo; 6-speed manual; front wheel drive
Power: 200 bhp @ 5,800 rpm; max torque 275 Nm @ 1,700 rpm
Pace: 143 mph; 0-62 in 6.8 secs
MPG: On test 36.0; official combined 47.9 mpg;
CO2: 139 g/km; band E; tax disc £125 annually
Tyres: 205/45 on 17-inch Carbone alloys
Insurance: Group 30E
PRICE: £18,895; with options as tested incl navigation upgrade £19,890
WEBSITE: www.peugeot.co.uk
Rivals: Ford Fiesta ST (from £16,995), VW Polo GTi (from £20,050), Renaultsport Clio Turbo (from £18,9950), MINI Cooper S (from £18,180)
• All data correct at time of publication.