New Ford Fiesta ST road test: The pack leader?
First drive: New Ford Fiesta ST road test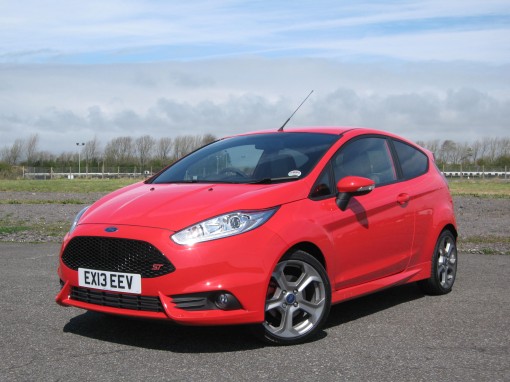 Although strictly-speaking the new Ford Fiesta ST shouldn't exist, motoring mournalist MARTYN COLLINS says he's glad that it does.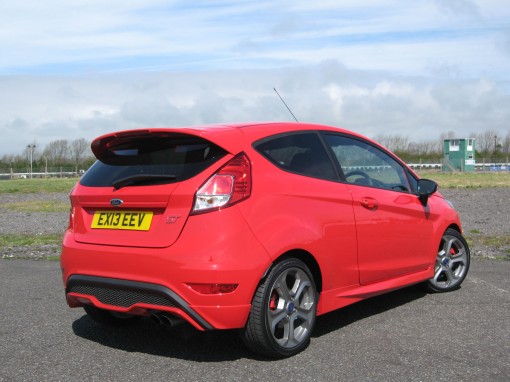 THIS new Ford Fiesta ST technically shouldn't exist, as I can remember being told categorically at the international launch back in 2008, that the Zetec-S was as hot as the current MK6 Ford supermini would get.
Still, five years and a nose job on, I'm really pleased Ford had second thoughts and put the ST badge back on the grille and boot of the Fiesta.
With 30 years of fast Fiestas, including memorable models such as the Supersports XR2 and RS Turbo, the latest ST has a lot to live up to. Initial signs are however positive, with over 1,000 orders already placed and the cars haven't even hit the dealers yet.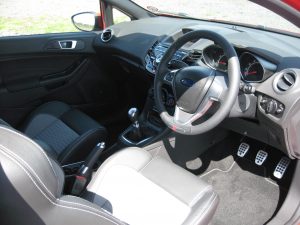 Developed by Team RS, there's no doubt this high performance Fiesta is more sophisticated than before. The new ST is powered by a 180bhp version of the turbocharged 1.6-litre 'Ecoboost' engine, also fitted in the Focus, C-Max and Mondeo.
In the ST however, like the current MINI Cooper S, there's an overboost function, that in certain situations allows the engine to run to 197bhp for short periods. Top speed is 137mph, with 62mph acceleration in 6.9 seconds, yet it boasts 138g/km emissions and a 47.9mpg Combined fuel consumption figure. This engine is also mated to a unique six-speed manual transmission.
Outside, the ST gets the same new trapezoidal grille, although it's made of black honeycomb this time, a chunkier air dam, subtle skirts, a more distinctive rear diffuser with twin pipes and 17-inch alloys. More subtle than the sportiest Ford superminis of old, I think this ST has about the right amount of aggression to take on new rivals, such as the Peugeot 208 GTi and the Renaultsport Clio 200.
The £16,995 ST is well-equipped with a standard DAB radio, air conditioning and a Thatcham Category 1 alarm. Pay £1,000 more (£17,995) and the ST-2 adds LED daytime running lights, heated partial-leather trimmed Recaro front seats, a Sony-branded stereo, privacy glass, keyless go with the MyKey system and the QuickClear heated front windscreen.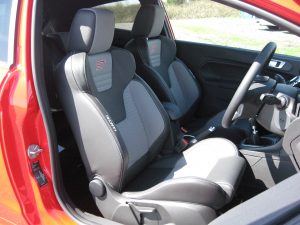 I've always felt that the current Fiesta Zetec-S offered a fine steering and handling balance, but boy did it need more power! The 180bhp 1.6-litre engine solves the power issue and with the responsive, quick steering, grippy handling and slick gear change, few other hot hatches offer such accessible performance or are as much fun to drive as this Fiesta.
With lowered ST-spec suspension, the clever enhanced torque vectoring control (eTVC), three-stage traction control and a limited-slip differential, this car has grin-worthy levels of grip and the Fiesta's nose always goes where you place it.
The ride is I think best described as sportily firm. Yes it feels lumpy around town and on the motorway, but it's never uncomfortable and when conditions allow, adds to the planted, composed feel when travelling at speed.
However, what I think the ST really needs is a charismatic sound track. Like the Focus ST b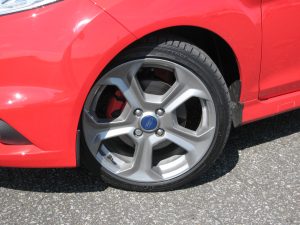 efore it, the Fiesta has a standard sound symposer, which is basically a tube and a box in the engine bay, which amplifies the engine note. In reality, it's boomy, which I think under heavy acceleration could become wearing. Although with six-gears, on the motorway it still remains reasonably refined.
So, if I was in the market for a new hot hatch, would I be heading straight to a Ford dealer?
Yes, as it strikes a fine balance, being a keen drive when you want it to be and surprisingly easy to live with when you don't. It is also around £2,000 cheaper than its French rivals.
It could be the class leader, I look forward to driving the Peugeot and Renault rivals to find out.
See how it compares to the new Peugeot 208 GTi.
CLICK HERE and "Like" our Facebook page for regular updates and follow us on Twitter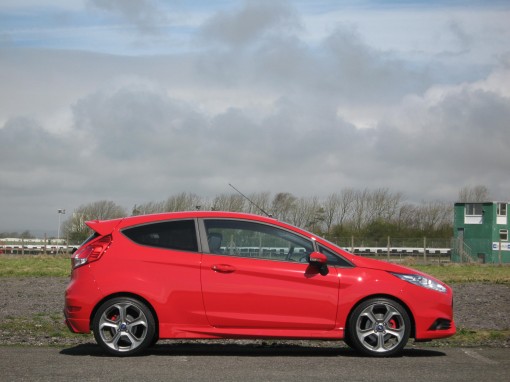 Rating:






THE VITAL STATISTICS
Model: Ford Fiesta ST
Body styles: 3-door Hatch
Engines: 180bhp 1.6-litre turbo
Trim grades: ST and ST2
Prices: from £16,995
In the showroom: Now
Website: www.ford.co.uk
• All data correct at time of publication.
Words and Pics: Martyn Collins