Letting the sun shine in with Fiat's cute 500C
Fiat 500C TwinAir review and roadtest report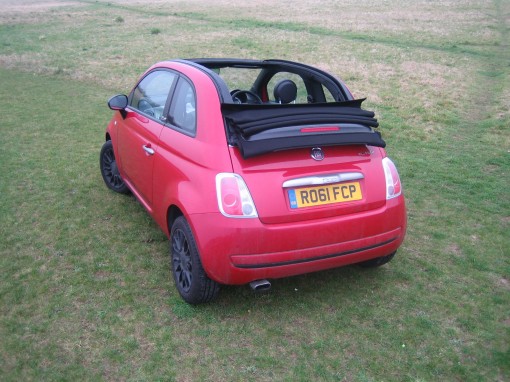 The Fiat 500C is a great little car which has proved hugely popular with Fiat's customers. DAVID HOOPER let's the sun shine in as warmer weather finally arrives.
Now we can actually enjoy some more summery weather, the thoughts of the fresh air freaks among us will be turning to convertible cars.
For those with only limited resources, however, there is less choice in the affordable convertible market than there used to be since Nissan stopped making its Micra, and Vauxhall's Tigra is no more. Renault has also stopped selling its Wind in the UK, so you may find yourself looking at nearly-new models of some of these cars if you don't like what is still on offer in the showrooms.
I love the Fiat 500, it's a fun interpretation of a cute classic, but much cheaper than the other notable remake of a classic design, the Mini, although the entry-level Mini One convertible and top end 500C models are almost comparable pricewise. However, for not much more money, you reach entry-level MX-5 territory if you really want a proper open-topped sports car.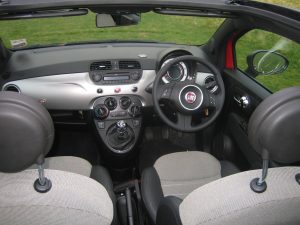 Fiat has done a lovely job with its 500C and by sticking to the same principals as the original car, avoided many of the rigidity problems found in some of its rivals which were originally designed as hatchbacks before someone at HQ had the bright idea of taking their roofs off. A car's roof plays an integral part in its structure, so if you remove it, that strength has to be built into its chassis and that is difficult to do successfully as an afterthought, resulting in flexible bodywork which in turn compromises the cars ride quality and handling.
Fiat, by retaining the edges of the roof structure in its 500C and effectively creating a big sunroof, have avoided most of those rigidity issues, resulting in a car which drives as well is tin-topped sister models.
There are two basic trim levels in the 500C, Pop and Lounge, plus the very rapid Abarth, but as anyone who knows anything the Fiat 500 will know, that is only the start, with the manufacturer offering a huge range of trims, optional equipment, wheels and accessories to make your car a mini version of you.
The soft roof in the 500C concertinas backwards at the push of a button mounted on the header rail to let the sun shine in, and can be stopped in various positions if you're in the mood for just a sun roof rather than a full open roof.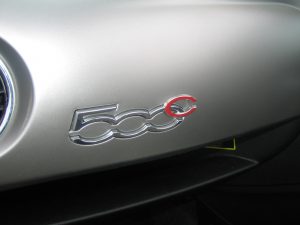 The rear window cleverly swivels out of the way to allow the roof to fold down as far as possible, but even when fully retracted does still restrict the view out of the rear view mirror.
My test car was powered by Fiat's highly-acclaimed TwinAir engine which won the International Engine of the Year Award in the sub one-litre category in 2011. It's tiny – as its name suggests the 875cc unit has just two cylinders creating 85bhp. Numerous motorbikes have bigger engines than this, but even so, it offers reasonable performance with a 0-62mph time of 11 seconds and a top speed of 108mph. It is capable of impressive economy, claiming 70.6mpg on the combined cycle. Add to this a low C02 emissions figure of 92g/km, and you don't have to pay road tax.
Technologically brilliant it may be and on paper it sounds great, but in the real world – I have to say I'm not a fan. My week with this car coincided with a heavy weekend of driving – I covered over 650 miles in this little car, so feel I'm now qualified to comment on what it's like to live with. In short, I wouldn't live with it at all. I spent a lot of time trying to understand how it works and how to get the best out of it, with some success, it has to be said, but it's not for me. The engine is noisy, which combined with the lack of insulation from the convertible roof, which I expected, doesn't make for a relaxing drive if you have distance to cover.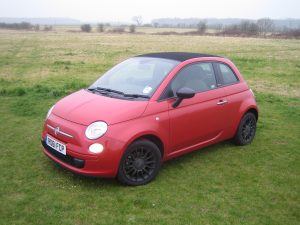 The engine, while nippy enough around town, is little fun out of it. It runs out of steam at around 5,000 rpm, which means what power there is soon disappears, and for me, the gearing could be a lot better than it is. There are five gears, but in town the car will not do 30mph in 4th comfortably, and at 70mph in fifth, it just doesn't feel happy, but did seem to settle better at 75mph.
Then there's the economy – I didn't get anywhere near the official combined figure of 70.6mpg – far from it. The best I achieved according to the 500C's trip computer was during steady A road driving which saw 51mpg, but over the entire distance of my test it averaged just 44mpg – a figure any number of 2.0-litre diesel engines could easily better.
I'm not alone in being unenthused by this engine. Unprompted by me, my wife who drives most of the cars I test, said she didn't like it, saying that it was noisy and that she thought there was something wrong with it at first due to the sound its two cylinders makes.
But let's be clear here – I am a fan of small engines and was hugely impressed with a supercharged three-cylinder engine in a Nissan Micra I tested recently, and I liked the three cylinder engines in VW's new up! cars which I tested this weekend. Read my reviews on those on wheelworldreviews.co.uk.
I just think that going to two cylinders is a step too far. Yes, we need more economical engines, but they also need to retain a certain level of refinement and driveability. If I was spending my money on a 500C, I would spend it on one of the four-cylindered alternatives.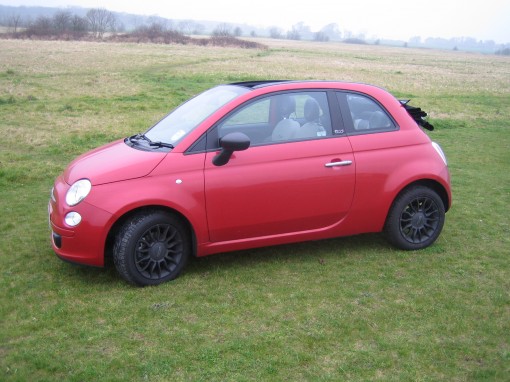 Rating:





THE VITAL STATISTICS
MODEL: FIAT 500C TWINAIR.
FIAT 500 RANGE: From 1.2 Pop (£9,960) to 1.3 MultiJet Lounge (£16,760).
ENGINE: 875cc, 85bhp two-cylinder engine, driving front wheels through 5-speed manual gearbox.
PERFORMANCE: Top speed 108mph. 0-62mph in 11 secs.
ECONOMY: City: 61.4mpg.
Country: 78.5mpg.
Combined: 70.6mpg.
Fuel tank: 35 litres.
CO2 EMISSIONS: 92g/km.
INSURANCE: Group 12.
PRICE: £15,560.
WARRANTY: 3 years/60,000 miles.
WEBSITE: www.fiat.co.uk
• All data correct at time of publication.
CLICK HERE and "Like" our Facebook page for regular updates and follow us on Twitter