Ford's hot metal makes Fiesta more fun than most
ROAD TEST REPORT AND REVIEW: Ford Fiesta Metal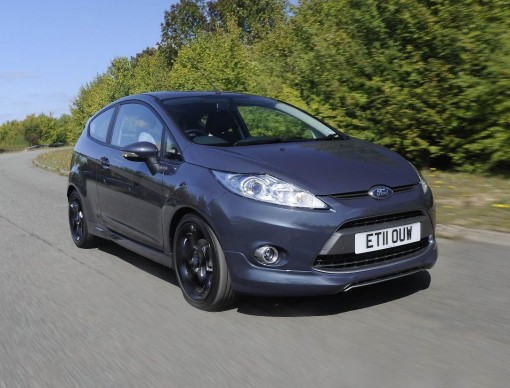 Hot Metal, or a damp squid? Sporty Fiestas are usually entertaining to drive, but does this latest newcomer live up to expectations? DAVID HOOPER tests the mettle of Ford's latest special edition.
FORD Fiesta and exclusivity are two words which are not normally uttered in the same sentence, but with only 1,000 of these special edition Metal models being made, they are certain to be something of a rarity.
With their 17in black alloy wheels and discreet sporty trimmings, the Fiesta Metal looks great, and with a 1.6-litre 134PS engine under the bonnet, is the nearest thing to a "hot" Fiesta there is in the Ford range at the moment, in the absence of the much-missed ST.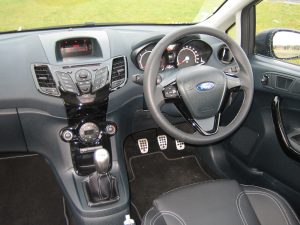 Sadly, I'm old enough to remember the original XR2s of the 80s with a certain fondness! I also have fond memories of the launch of the last ST in France, where my co-pilot and I were the first to arrive at the coffee stop by a considerable margin, only to find out later a couple of cars driven by over-enthusiastic journalists had ended up "parked" on some roadside rocks ripping the sump off at least one of the cars after it overshot a corner somewhere in southern France.
When you put the pedal to the "Metal", by today's standards this Fiesta's 0-62mph time of 8.7 seconds is more "warm" than "hot", but with a lively engine and Ford's renowned expertise in sporting chassis set-ups, the Fiesta Metal is great to drive and I thoroughly enjoyed the car.
Powerful, turbo-charged cars are all well and good, and can be very quick, but with something like this Fiesta, you have to actually drive it to get the most out of it, which makes it far more involving and in my book, that makes it all the more enjoyable.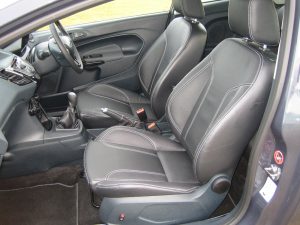 The car pulls enthusiastically through its slick-shifting five-speed gearbox, but once the rev counter passes the 4,000 mark on the dial, you can hear the note of the Duratec Ti-VCT engine change as the variable cams adjust to unleash the rest of the performance, with maximum power being found at a high-revving 6,700rpm. At this point the car then pulls strongly making a delightfully sporty noise from the engine and its twin exhausts.
Anyone who knows sporty Ford products would expect sharp handling and accurate steering responses, and in this Fiesta, you won't be disappointed. Its chassis has been tuned to perform and it sits lower than a standard Fiesta, but still rides comfortably. The braking performance is also confidence-inspiring, although it's a shame the callipers which are visible through the wheels are not better finished. On the car I drove, the alloy looked a mess and would definitely have benefited from a coat of nice red, or even yellow paint to finish them off.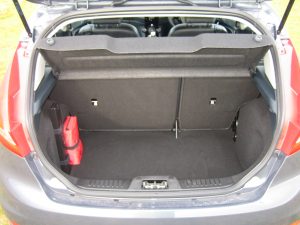 The Metal is reasonably economical, too. During my week with the car it averaged around 34mpg in town, and achieved nearly 40mpg on a run, with three people plus luggage on board.
Inside, the dash is a fairly… well, black affair, with little colour to break up the interior. Piano Black trim on the air vents, door handles and centre console all look very smart, and the Ebony Black leather seats with silver stitching not only look good, but are surprisingly comfortable, even after two or three hours at the wheel. They were also heated, which is something of a rarity in a car of this size.
Other nice touches include a large spoiler mounted on the top of the tail gate, colour-coded side skirts, and silver-painted front grille surround. I also liked the stainless steel scuff plates with the Fiesta logo.
The car is available in three colours, Panther Black, Midnight Sky and Frozen White, and with prices starting from £15,695, it's a tempting proposition, but Suzuki's latest Swift Sport I tested a few weeks is just as much fun to drive, and a bit cheaper to buy.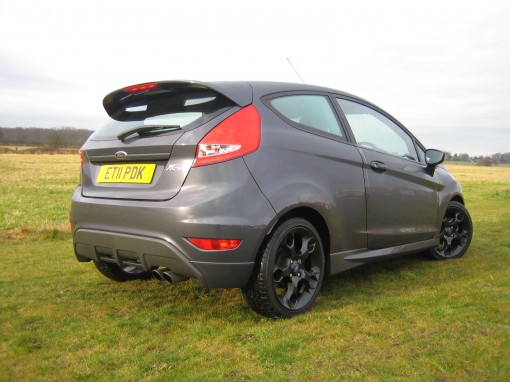 Rating:






THE VITAL STATISTICS
MODEL: Ford Fiesta Metal
FIESTA RANGE: From Studio 1.25 3dr (£9,495) to Titanium Econetic 1.6 TDCi 5dr (£16,445).
ENGINE: 1.6-litre, 134PS four-cylinder engine, driving front wheels through 5-speed manual gearbox.
PERFORMANCE: 0-62mph in 8.7 secs.
ECONOMY: City: 35.3mpg.
Country: 58.9mpg.
Combined: 47.9mpg.
Fuel tank: 42 litres.
CO2 EMISSIONS: 139g/km.
PRICE: £15,695.
WARRANTY: 3 years/60,000 miles.
WEBSITE: www.ford.co.uk