Harley's XR1200X offers a much more sporty ride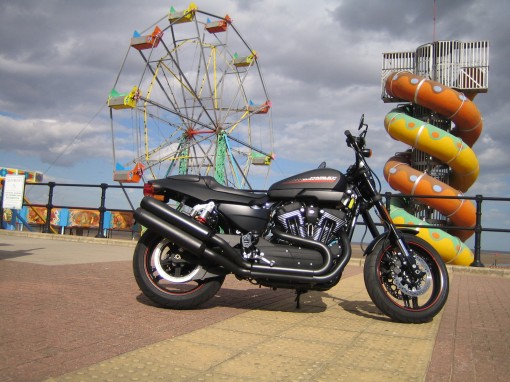 Lighter, faster and more agile than other Harleys, yet still boasting bags of torque, DAVID HOOPER says the XR1200X is an engaging bike to live with.
RIDING this bike for the first time was something of a revelation after the other Harleys I've tested.
Light, responsive, agile and surprisingly quick, it's a completely different ball game to the Fat Boy I tested recently. The first time I used the front brake, it felt capable of throwing me over the handle bars – the XR1200X doesn't have the massive weight of the Fat Boy holding the back wheel on the deck.

Much more a traditional motorcycle than a laid-back Harley cruiser, this bike offers an enjoyably sporting proposition – as fans of the Trophy race series which supports the British Superbike Championship will know.
You can have one in any colour you like, so long as it's White Hot Denim, or the sultry Black Denim of my test bike.
Although completely different in character to ride, it does share something with its sister bikes, and that is that it turns heads wherever it goes, partly because of the noise from the high-performance exhausts, but mainly because of its "look-at-me" styling. There's far less chrome and shiny bits to polish, but for people who buy this bike that's probably a good thing, because it means there's more time to ride your pride and joy, and that's where the fun begins.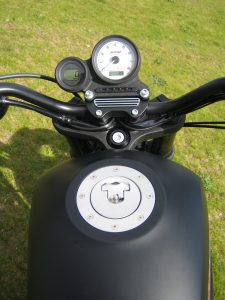 I spent my first miles fiddling with the mirrors, trying to position them so I could actually see something of the goings-on behind me. The arms they sit on are far too short in my opinion, with the mirrors not even reaching the ends of the wide handlebars. Were I to own one, this would be the first thing I would change – there's no point in having mirrors if you can't see out of them. I did eventually manage to find a compromise, but had to do regular chicken impressions and tuck my arms in to see what was happening behind.
The air-cooled 1200cc Evolution is familiar from other Harley machines, but on this model it is finished with a black powder coating. The cylinder heads are aluminium to reduce weight, and the fuel is injected into the cylinders to maximise reliability and economy. And in case you were in any doubt, the word "Sportster" is stamped into the engine casing.
The XR1200X comes with fully adjustable Showa suspension, front and rear, so if you know what you are doing, you can adjust rebound damping and pre-load, depending on your weight, and how you like to ride.
I decided not to "fiddle" and kept the bike on its standard settings, which was absolutely fine for me.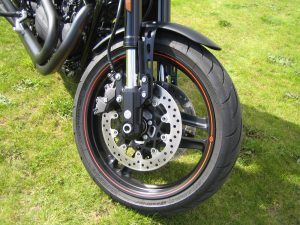 The front forks are inverted to improve stability and I found the bike inspired confidence on the road, and I soon found I was leaning into corners like a proper biker, far more than you could ever do on the Fat Boy which would have soon had its foot pegs sparking on the road surface.
The wide, low-rise handlebars provide plenty of leverage and I've even found myself starting to learn the art of counter-steering, albeit rather gently at this stage in my fledgling biking career.
The XR1200X was very agile, tipping into corners with ease and taking quick changes of direction in its stride as I switched from a left-handed bend to a right, or vice-versa. It was great fun to ride, and with the customary Harley torque, this bike has 98Nm of it, accelerating out of a bend is effortlessly quick, as the rev counter needle spins round the dial to the red line and rev limiter.
At motorway speeds however, there is still a lot of wind blast in the head and chest area as there is no fairing or wind deflector which makes longer trips tiring.
The bike pulls up nicely, thanks to the dual disc brakes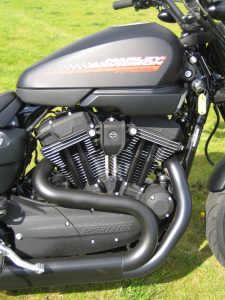 with their four-piston callipers. The rear brake is a more "normal" size too, unlike many other Harley's which have rear brake pedals which are bigger than most cars.
The instrumentation is about as simple as it gets, dominated by a central white rev counter dial with white markings. To its left is a small digital speedo which is backlit in orange. You get a low fuel indicator, and two trip meters and that's about it.
I do like the self-cancelling indicators which are a real boon at times and work on the speed and angle of the bike. Pressing both indicator buttons at the same time activates the hazard warning lights.
Even the headlights are usable at night, as I discovered riding back from a bike night on unlit country backroads in deepest, darkest Lincolnshire. There were no heroics though – they weren't that good,  so a steady run back was the order of the evening. It was a different experience though, and the moths which launch themselves suicidally at a bike's headlight in the same way as they do a car, are much scarier on a bike!
The bike comes with a factory alarm which arms and disarms itself as you walk up to, or away from, the bike so there's nothing for the rider to do, apart from turn the key.
The XR1200X is an easy machine to ride, and I enjoyed it immensely. Because it's lighter, more responsive and quicker than anything else I've ridden lately, I found my confidence on two wheels improved no end and I felt a better biker for that.
Had it not been for the unseasonally windy weather, the XR1200X and I would have travelled many more happy miles together.
• IF you test ride a Harley-Davidson before the end of June, 2012, you will be entered into a prize draw to win a dream trip along Route 66.
Demo rides can be booked in advance at any authorised UK Harley-Davidson dealer, using the 24/7 online booking system at www.harley-davidson.co.uk or www.harley-davidson.
Click here for the full story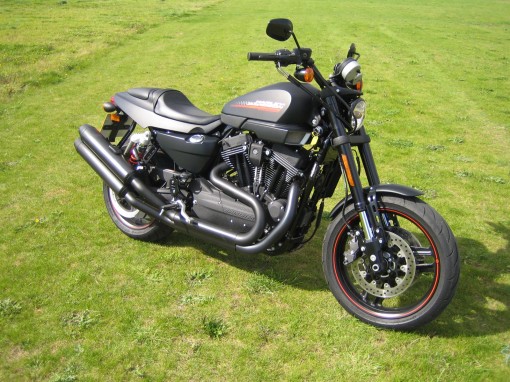 Rating:





THE VITAL STATISTICS
Model: Harley-Davidson XR1200X.
Engine: 1202cc 90bhp air-cooled Evolution.
Transmission: 5-speed.
Weight: 250kg (dry).
Seat height: 795mm.
Fuel tank: 13.3 litres.
Price: From £9,599.
Website: harley-davidson.com