Biking on a budget with Honda CB400 Superdream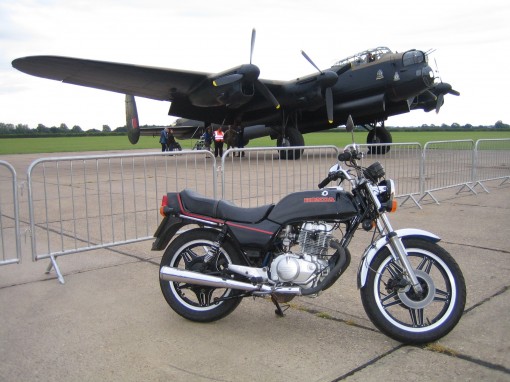 With the cost of getting from A to B constantly rising, wheelworldreviews editor DAVID HOOPER reports on how one biker resurrected an old Honda CB400 to provide a very cost-effective means of transport – and had a lot of fun in the process.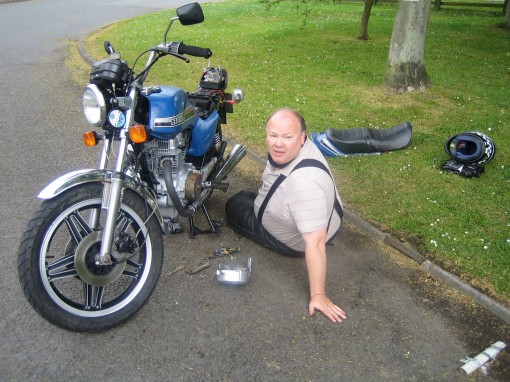 THE relentless rise in fuel prices means the cost of getting from A to B is increasingly prohibitive, but for many of us, it is still a necessity.
While private car use is in something of a decline as people watch the pennies ever more closely, the motorcycle industry has, for the last few years, been heavily promoting the benefits of two wheels through its Get On campaign, achieving considerable success through celebrity endorsements and high profile converts to biking.
In these straightened times, however, many could be forgiven for thinking that even the cost of running a two-wheeler is beyond their reach. New bikes are a lot cheaper than new cars, and arguably, a lot more fun, but for someone on a budget, they can still represent a substantial initial outlay. Or do they?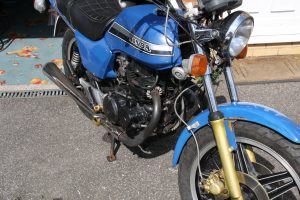 As a friend of mine, Steve Thompson, from Grimsby, in North East Lincolnshire, has just demonstrated, getting on two wheels can be very cost effective, especially if you are prepared to spend a bit of time "fettling" an older machine.
Looking for a project to keep him out of mischief, he spotted this Honda CB400 on an auction site and started bidding. He won the auction and duly collected the bike after handing over just £250. I got wind of what was going on, and popped round to see his new purchase, but only hours after it home I was surprised to find nothing more than a pile of bits in his garage, and Steve, with a tin of spray paint in one hand, a bike part in the other, and a big grin on his face, revelling in his new challenge. In truth, the only recognisable parts were the front forks, which still had the front wheel attached, and the fuel tank!
The rest had been very rapidly dismantled.
Hugely popular in the 1980s, the CB400 was a workhorse, a commuter bike which, with 43bhp on tap, was adept at nipping around town, but was also capable of venturing further afield without any dramas.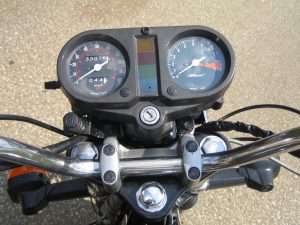 Over the years the frame had suffered some water damage and the dreaded rust had attacked a mounting point, so Steve set about it with a portable welder and replaced the rotted area, before dispatching it to be powder coated.
The bike was showing its age, the indicator stalks had been damaged and replaced by now rusted metal brackets, an alarm and immobiliser had been bodged into the wiring system, and various scratches and scuffs meant it hadn't looked its best for some time, but apart from the cosmetics, the bike seemed to be in reasonable mechanical order. It had only covered 35,000 miles from new, provable by old MoTs, and the engine ran well.
The old Honda soon became something of a community project, with me and another of his neighbours, taking a keen interest in its progress.
Much rubbing down, painting and polishing followed. The surplus wiring was removed and the damaged joints re-soldered. A few more visits to websites secured new indicator arms for the front and rear winkers, and various other bits and pieces, all for very little outlay.
It wasn't long before the frame came back looking like new with its black powder coating gleaming in the sunshine, and the reassembly process began.
Steve's project was soon looking like a motorcycle again. The mechanicals were checked and everything seemed to be in serviceable condition. A few days later, the bike started for the first time since its rebuild and it was ready for its MoT.
Once it was up and running reliably, the fuel tank and side panels would be repainted as the finishing touch – or at least that was the plan, until a glossy black tank was spotted for sale. The bike had already changed colour once in its lifetime previously, so another change of colour wouldn't exactly spoil its originality.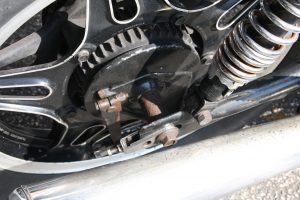 To Steve's obvious delight, and self-confessed surprise, the bike sailed through its MoT, so it was ready for its first outing.
The insurance for the three of us cost around £70, and so I had the honour of taking it for its first major outing, with Steve on his new sports bike in close company.
Nervously, I asked if he was sure he'd tightened up all the bolts properly. He assured me he had, so for the first time since the end of last year's biking season, I set off on a newly-rebuilt bike with a fresh MoT under its centre stand.
We headed out of town, gingerly at first, but everything felt fine and my confidence in the 30-year-old machine soon grew.
It's not a particularly fast bike, but it is quick enough for a relatively new biker.
Everything went well until we went over a railway crossing. The bike started making a rattling noise which wasn't there before, so I pulled into a lay-by. I didn't know what it was and had no wish to destroy all of my friend's hard work.
He had a look, and was happy to continue. The bike seemed fine. With the sun shining we stopped at Willingham Woods, a popular biker's tea-break stop in Lincolnshire, before heading south to Horncastle, and looping back home past the famous Cadwell Park race circuit.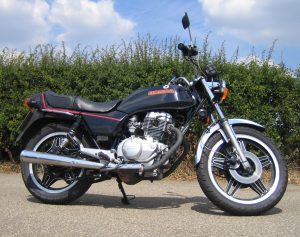 After an enjoyable run of around 60 miles, we were within a couple of miles of home when there was an almighty pop from the exhaust, and the engine cut out. I pulled in the clutch and coasted to a halt at the side of a busy road.
After an initial inspection, we pushed the bike into a lay-by where it was safer to explore the problem.
We had fuel, we had a spark, but it didn't want to go. Steve then set about the engine casing, and within minutes we found the problem. The ignition timing was out. A bolt had worked loose, helped by the railway crossing initially, and destroyed the Woodruff Key which keeps the bike's timing in sync.
A phone call to our third man brought him to our rescue with his van. Once back in his garage, Steve made a replacement part and the bike was running again the next day.
In the few weeks since, it has been out several times and I'm pleased to report there have been no further problems. We're even getting around 45mpg on a run.
With its black tank, and repainted side panels, the bike looks a treat and now seems to be reliable. The fairly simple mechanics are easy to tackle for anyone with a reasonable level of knowledge, without the complications modern electronics bring.
It just shows, that with a bit of hard work and determination, older bikes can be a cost-effective way of getting around – and provide quite a talking point in the pub! All told, Steve has spent around £700, including the £250 purchase price, which goes to prove, a reliable bike doesn't have to cost a fortune. It also gives you plenty to talk about over a cup of tea and a bacon butty on bike night!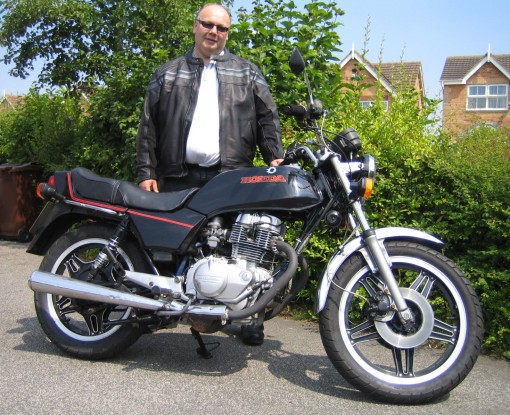 CLICK HERE and "Like" our Facebook page for regular updates and follow us on Twitter
• Email the editor if you would like to commission a feature on your bike project.