Letting the sun shine in, whatever the weather
ROAD TEST REPORT AND REVIEW: Renault Megane Coupe-Cabriolet
A Coupe Cabriolet at this time of year? Motoring journalist IAN LAMMING says this Renault can always put a smile on your face.
WE can all get a little SAD this time of year. Short grey days followed by interminable nights leave the body lacking in vital cheery chemicals.
Seasonal Affected Disorder hits us all in varying degrees, has us heading for the sunlamps or the real thing, courtesy of a winter break, or seeking solace in stodgy puds.
Well there is another alternative to weight gaining snacks; it's the Renault Megane CC. Given that this is a drop-the-top-at-the-press-of-a-button machine, it seems an unlikely companion for the dark days of winter.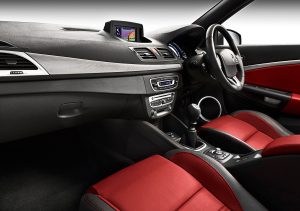 But thanks to a completely glass roof, it is able to harness even the weakest sun rays to blow away the winter blues.
The inside is bathed in a pleasant tinted light, whether you are lucky enough to be driving this sporty Renault or you are a mere passenger enjoying its comfortable seating plan.
The rear is especially impressive; a veritable gold fish bowl of openness, if a little cramped for the legs. There is just something really enjoyable about being inside the CC, even with the roof up on a dark, dank, day, as what little light there is floods in.
If you need the extra stimulation of chilly wind in your face and limitless head room then the roof stores away in the boot at the flick of a switch. It is so easy you might be surprised how often you drop the top, even if the weather looks threatening.
The CC also boasts great looks, again, in part, due to the glass canopy. It is every bit the sportster with a coupe profile and the extra versatility of being able to go topless.
Add a strong, but reasonably economical engine and you have a recipe for fun. The interior is smart and functional, well equipped and put together and with the roof up, the load space is generous.
It's a Renault, so it is bound to be safe and sound and the ride is comfortable but poised. Handling is good and grip tenacious. It is relaxed on the motorways, with low noise levels compared to a canvass top, but loves being driven down the twisties.
At first glance the CC is the last car you would expect to enjoy on a dreary day. The reality is quite the opposite and it has all the credentials to put a cheerful smile on your face.
Rating:






THE VITAL STATISTICS
Model: Renault Megane CC dCi160 GT Line TomTom
Engine: 2.0 litre, turbo diesel
Drivetrain: 6-speed manual
Power: 160BHP
Top speed: 134mph
0-62mph: 9.4secs
Insurance group: 25
Miles per gallon (combined): 42.2
CO2 (g/km): 175
CLICK HERE and "Like" our Facebook page for regular updates and follow us on Twitter