Suzuki V-Strom 'ideal for bikers of certain age'
ROAD TEST REPORT AND REVIEW: SUZUKI V-STROM
A delight to ride and easy to live with, BOB HICKMAN says Suzuki's V-Strom 650 is the ideal steed for bikers of a certain age.
The 2012 version of Suzuki's V-Strom takes the company in to a potential market place that I think they may have previously overlooked.
I refer to those more mature bikers. Sadly, with age come certain problems with regard to flexibility and mobility. Access to low-slung cars and sports motorbikes in particular, becomes more problematic. But rather than give up on motorcycling, why not have a look at this new V-Strom machine.
It is a delight to ride, it is like sitting in your favourite armchair with your old comfy slippers. That is not to say the bike is a slouch, or one designed for the geriatric market place, it is just that it really is a delightful package that Suzuki have put together.
The new styling is a stunning success in its own right, it looks reasonably up-market, it doesn't cost a lot and improvements have been made throughout the range from the engine to the handling and the manageability.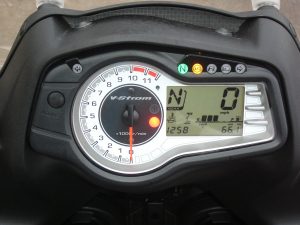 It is quite a good package and it is a willing and eager performer, the 650 V-twin engine is almost linear-like in its flexibility and power performance and in fact it surprised me considerably by the smoothness and the willingness to pull and the degree of torque displayed in fifth and sixth gears.
It always felt a free-revving engine and yet, for a V-twin configuration, it was not lumpy like some of the larger V-twins I have ridden, but was extremely smooth like a four-cylinder and with 68bhp and a 120mph top speed where possible, no slouch either. The engine has its red line at a high 10,000 and it was pleasant to note that at 60mph the engine ticked over at 4,250 and at 70mph it was doing a mere 5,000 revs per minute.
The handling characteristics impressed me, the V-Strom was like a sports bike to ride, its initial impression gives you a feeling of looking like a trail bike, probably in the mould of the Triumph Adventurer or the big BMW, but its handling belies this, probably due to the excellent tubeless tyres, the rear being quite a nice low profile wide 150/70 R17, so you never had the feeling of falling off the edge of the world that you could have if you rode a bike with more conventionally off-roady type block tyres more in-keeping with the trail style of this bike.
I particularly like the dashboard; here you have all the instrumentation clearly laid out in front of you and able to be accessed by the big gloved hand. The LCD panel has a digital speed display, a fuel gauge, temperature gauge and a dual trip meter. It also has a computer to work out the on-board fuel consumption and I was extremely pleased to return 67.3mpg during my sojourn with the bike on a multitude of different types of road.
One aspect that did annoy me was that the indicators do not self cancel, I know this is only a minor niggle but, a lot of bikes nowadays have self-cancelling indicators and while I accept I should look at the repeater panel to remind myself to cancel them, I do feel that this is an oversight and could be addressed.
Shorter riders will have no problem with the Suzuki with a seat height of marginally over 32 inches, in addition it is not particularly heavy at 472lbs, which adds to its ease of manoeuvrability. Even when it comes to stopping at traffic lights it is not too difficult for the feet to go down and also to be in total control of the machine.
The machine has twin disc brakes at the front and a single disc at the rear. It also has an ABS system. A slight negative for me was the amount of dip when the front brake was applied, I thought it needed a little more damping, whether a thicker grade oil, or a slightly higher spring rate may work, I am not certain, but that is purely a personal thing for me.
The starting system was electronic and with a fuel injection system on the engine, no fiddly chokes to mess around with and the engine drops in to a pleasant tick- over without any problems. The six-speed box is a delight and each gear and its ratio seemed perfectly suited to the bike.
The V-Strom is a machine worthy of a second glance. It's not a sports bike, but this is a machine that with the right rider on board could certainly give a lot of sports riders a run for their money – and a bit of a shock!
Priced at £6,899 and with a two-year unlimited mileage warranty and a free 12-months AA recovery service, Suzuki's V-Strom is on sale now.
Rating: