Kia's new Optima taking on the fleet big boys!
ROAD TEST REPORT AND REVIEW: Kia Optima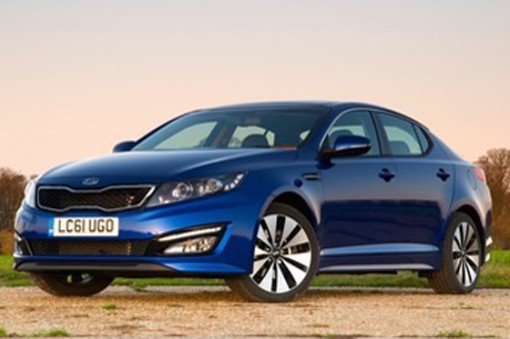 Kia goes head-to-head with the big boys in the shape of its new Optima. The new model has been well received in other markets, but will it be good news for the Korean carmaker in the Britain? KEITH WARD is among the first to drive the new model.
SUCCESS for perky Kia so far has leaned heavily on smaller models such as Picanto, Rio, cee'd and Soul, sporting the Korean brand's industry-leading seven-year warranty.
Now comes an all-new, good-looking, mid-range four-door saloon to bravely challenge big guns of the UK scene such as Mondeo and Insignia. The Optima is aimed "squarely at the business buyer".
It comes only with a diesel engine, a new 134 bhp version of Kia's existing 1.7-litre unit, with six-speed manual or automatic gearbox and three levels of trim, at prices from £19,595. Standard are air-con, alloy wheels, cruise control, electric windows and mirrors, LED daytime running lights and Bluetooth with voice recognition and music streaming. Top grade goodies include hands-off self-parking and interior "mood" lighting.
All manual versions feature eco-minded stop-start. Automatics sport an "Active ECO" button claiming potential fuel savings of around nine per cent.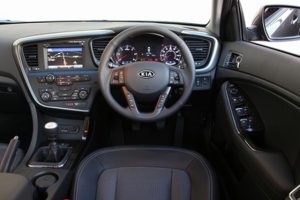 Immediately impressive is the limo-class legroom, front and rear, created by an extended wheelbase and short-ish boot. In this respect and in its class, perhaps only the Skoda Superb is a challenger. Not so generous is the headroom in a low, coupe-style design.
On the road, I tried the Optima in what is expected to be the best-selling mid-grade "2" trim, in two variants, "Luxe" and "Tech" at the same price of £21,695.
Common to both are automatic wipers, heated front seats with eight-way electric adjustment for the driver's, dual zone climate, reverse parking camera, solar glass and iPod connection.
The Luxe variant adds grey leather seats, huge panoramic sunroof with electric blinds, bigger 18-inch alloys and some body styling bits. The Tech gets black leather, a 12-speaker premium audio system and touch-screen sat-nav.
All-round the Optima feels well built, with easy steering and well-defined gearchanges. The engine is a little throaty at low revs, packs a lively punch mid-range for overtaking and settles into a relaxed 2,100 rpm in top at 70 mph. Less road noise was detected from the Tech on its 17-inch wheels than from the Luxe on 18-inch. Each car returned around a pleasing 50 mpg, averaged over a variety of conditions on a two-hour route.
Unveiled to the world in 2010, the Optima became within a month the top-seller in its homeland – a first for Kia – and has since sold nearly 300,000 globally. Demand in the USA reportedly forced the opening of a satellite assembly plant there.
Sales forecast here is a modest 1,500 to 1,600 by the end of this year. Time will tell whether the Optima, however good, is being optimistic. An ominous sign for cars of this size and type is that Ford's Mondeo in the year just ended dropped out of Britain's Top 10 for the first time, leaving Vauxhall's Insignia at number six as sole representative.
Rating:





THE VITAL STATISTICS
Model: Kia Optima 2 Tech
Body: Saloon; 5-door; 5 seats
Size: Length 4,845 mm; height 1,455 mm; width 1,830 mm; boot 505 litres
Engine: Diesel; 1,685 cc; 134 bhp; 325 lb ft torque; 6-speed manual
Pace: 125 mph; 0-60 in 10.2 secs
MPG: On test 53.1; official combined 57.6; tank 70 litres
CO2: 128 g/km; VED band D (Nil 1st year; then £95); BIK rate 18%
Insurance: Group 17
Tyres: 215/55R on 17-inch alloys
Weights: Kerb 1,559-1,637 kg; max tow 1,300 kg braked, 650 unbraked
Service: Deals available £299 for 3 yrs/30,000 miles or £549 for 5 yrs/50,000
Warranty: 7 yrs/100,000 miles; 12 yrs anti-rust; 7 yrs paint; 1 yr breakdown
On sale: February 1st 2012
PRICE £21,695 (Optima range £19,595 to £24.495)
Rivals: (Diesel versions, prices from) Ford Mondeo £19,895, Vauxhall Insignia £21,355, VW Passat £20,065, Skoda Superb £18,905.