Road test: Kia Rio 1.1 CRDi 2 Eco is very frugal
ROAD TEST REPORT AND REVIEW: Kia Rio 1.1 CRDi 2 Eco 3-door
Kia makes bold claims for its new 1.1-litre three-pot, DAVID HOOPER goes on a week-long economy drive to test the claims.
BELIEVE it or not, this is the fourth generation of Kia's Rio – and the company makes some big claims about its latest hatchback, which is available with three or five doors.
Manufacturers often claim to have "industry-leading" this and that, but where many claim that their latest model is an evolution, Kia is claiming its new Rio is revolutionary. Fighting talk, indeed!
The "industry-leading" claim in this case relates to the fuel economy and C02 figures of 88.3mpg and 85g/km respectively, better, says the Korean carmaker, than any current internal combustion engine on the market at the moment.
Built in Korea, it pitches into the UK's packed and fiercely competitive B-segment of the car market, going toe-to-toe with the might of the Ford Fiesta, Vauxhall Corsa, Renault Clio and the Peugeot 208 and the posh Polo from VW – a sector which is predicted to grow strongly as the emphasis moves more and more towards fuel economy and low running costs, increasing by around four-million in the next year or two.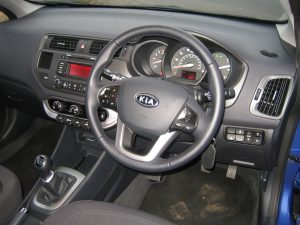 The Rio is a smart looking little hatchback, and this three-door version I've been testing had plenty of room in the back for three adults, and getting in and out was easy enough.
The Rio isn't an expensive car, and doesn't really look like one inside. To be honest, it still has some way to go to match the up-market look and feel of most of its rivals – and that look and feel is what customers downsizing from larger cars now demand.
But Kia can do it – the Focus-sized Cee'd, winner of the Northern Group of Motoring Writer's Northern Car of the Year Award which got a mention on the BBC's Top Gear programme, is a much more luxurious place to be, but hopefully, the Rio will soon follow in its big sister's footsteps.
The interior is finished mostly in black plastic, with an orange glow to the radio unit which dominates the centre of the dash. While it does look a bit plain, it seems to be well screwed together. There were no rattles from anywhere in the car, although some things, like the top of the arm rest which conceals a handy cubby hole, did feel a bit budget.
I like the design of the heater, the substantial buttons below the heater controls which operate the heated rear window, air flow and the like. They were large and easy to use, but also very tactile.
Despite the Rio's modest price, this mid-range 2 spec model is impressively equipped. You get a reasonable stereo, but perhaps more importantly for today's drivers, it comes with Bluetooth connectivity, as well as the full complement of MP3 connections and two charging points in the front of the car, so you can charge your phone and power the sat nav at the same time.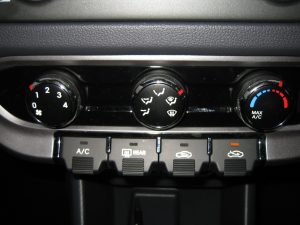 There is also a good selection of buttons on the steering wheel, so you can control what you are listening to, the volume and even answer the phone without having to take your hands off the wheel.
The little Rio, with its green eco badge, signifying Kia's EcoDynamics fuel-saving technologies, standard on all Rio diesels, is impressively economical. Kia says this 1.1-litre three-cylinder turbodiesel engine has lower fuel consumption and C02 emissions than any other non-electric car on sale in the world, including hybrids and eco specials from rival manufacturers.
I decided to see just what it would return in real world conditions, so with a regular commute for the week, at a steady 60-ish miles per hour wherever possible, it became a bit of a challenge to see just how near those high official figures I could get.
In most cases, those officially quoted figures are usually completely unattainable for the average driver using the car anything-like normally, but after my first drive, the trip computer was reporting high 40s – which got me thinking.
So with a light right foot, and using the ISG (Intelligent Stop & Go) system in busy traffic, the gauntlet was thrown down. Without being paranoid about it, I drove the car gently, planned my braking and accelerated as gently as I could without getting in the way of other traffic.
The Stop & Start system, which turns the engine off automatically when the car comes to a halt in traffic jams, restarting it the instant the clutch pedal is touched, worked well, although it wasn't the smoothest restart I've come across.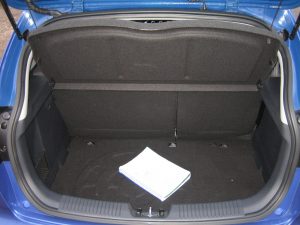 The result – an impressive 59.7mpg over a distance of more than 400 miles and an average speed of 30mph. Try as I might, I couldn't quite get it to stay above 60mpg, although for a while it did sneak through that barrier, but was still a long way short of the official figures.
With only 74bhp and 170Nm torque, it lacks the flexibility of larger engines, meaning you need more gear changes as the traffic slows and then speeds up again, but that's the pay-off for such low fuel consumption.
With emissions of 99g/km, your road tax is free, so it's a pleasantly cheap car to run. Clearly, if you're spending the entire time running around town, you won't get anything like the figure I achieved, but it shows what can be done in this car without trying too hard.
The ride quality was perfectly acceptable on smooth surfaces, but the Rio did tend to skip a bit if it was unsettled by a broken road surface mid-corner and it could be a bit on the harsh side in some situations.
But overall, I like the little Rio. I love the colour, and although the engine isn't the quietest in its class, it does offer great value for money – and it comes complete with the company's cracking seven-year, 100,000-mile warranty.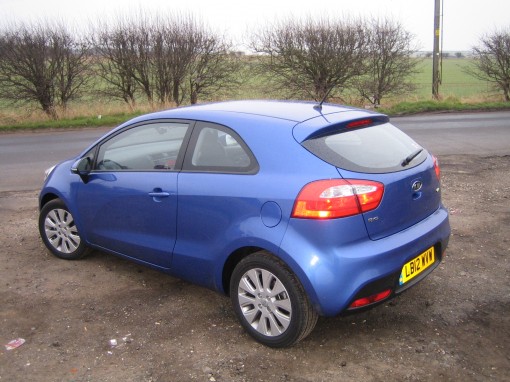 Rating:





THE VITAL STATISTICS
MODEL: Kia Rio 1.1 CRDi 2 Eco 3-door.
KIA RIO RANGE: From 1 1.25 3dr (£9,995) to 3 1.4 CRDi 5dr (£14,895).
ENGINE: 1,120cc, 74bhp three-cylinder diesel engine, driving front wheels through 6-speed manual gearbox.
PERFORMANCE: Top speed 99mph. 0-62mph in 15.5 secs.
ECONOMY: City: 67.3mpg.
Country: 80.7mpg.
Combined: 74.3mpg.
Fuel tank: 43 litres.
CO2 EMISSIONS: 99g/km.
INSURANCE: Group 3.
PRICE: £13,195.
WARRANTY: 7 years/100,000 miles.
WEBSITE: www.kia.co.uk
• All data correct at time of publication.
CLICK HERE and "Like" our Facebook page for regular updates and follow us on Twitter