Review: Honda Hornet CB600FA road test proves naked streetfighters have lots to offer
ROAD TEST AND REVIEW: Honda Hornet CB600FA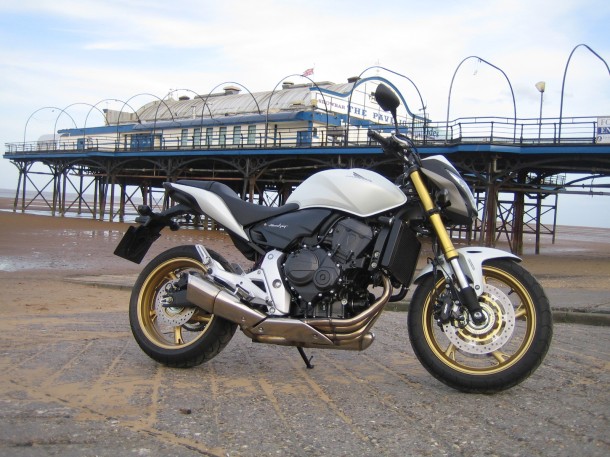 The Honda Hornet is hardly a new bike, but is now more refined than ever before and is available with some new colour schemes for this season. DAVID HOOPER finds out if this old favourite still has a sting in its tail.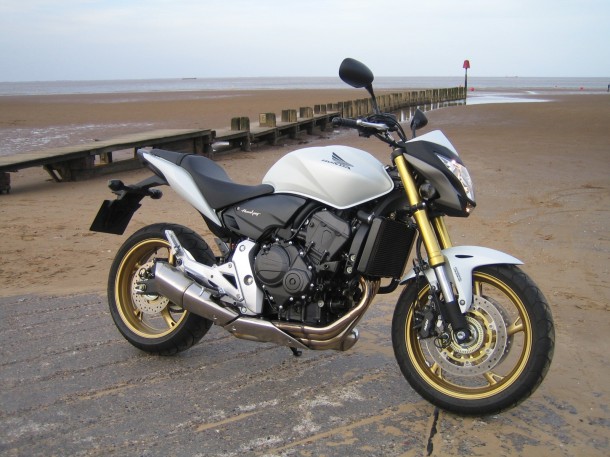 SPORTING this smart Pearl Cool White paintwork, new for this season, contrasting with the gold finished front forks and wheels, Honda's popular 600cc Hornet certainly looks the part.
Talking about Naked Streetfighters conjours up all sorts of images, not necessarily of motorcycles, but this middleweight machine from Honda really doesn't have a sting in its tail.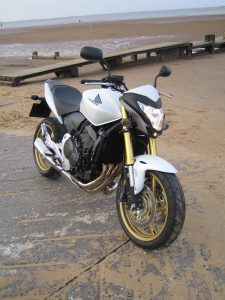 Unlike the big Honda Crosstourer I tested recently, the Hornet is easy to handle and push into the garage, or up the drive without spraining something you'd rather not.
It's a smart looking machine, with its slightly bug-eyed headlight encased in an aerodynamically-styled meter cover which includes the instrument panel at its top end.
A digital speedo dominates the display which also includes a bar graph rev counter, two trip meters, a fuel gauge and a clock.
The white paintwork suits the bike well, and complements the five-spoke gold wheels, forks and detailing, while silver trim finishes off the easy on the eye effect. Other colours for this season include Matt Cynos Grey Metallic and Pearl Pacific Blue.
For me, the 800mm seat height was just right and I found the Hornet a comfortable travelling companion, even after a couple of hours on the road.
The well-proven and popular 600cc power plant is a revvy little engine, closely related to that in the race-winning CBR600RR.
Around town, the bike is easy to ride and perfect for nipping around the traffic queues on our ever more congested streets.
It turns neatly, although I would like a little more lock, and its light and manoeuvrable enough to use as an every-day commuter.
It's also surprisingly quick when you twist the throttle with any kind of intent. It has six gears and even in top it pulls well, but drop a gear or two and the Hornet will really fly.
The bike feels sharp, turns in willingly and accurately through the bendy bits and is very responsive. It's easy to see why it is a popular choice among bike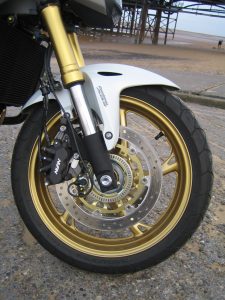 rs, regardless of their levels of experience.
I think it's the sort of bike which inspires confidence in less experienced riders, yet is still enjoyable for those who like to get the outer edges of the tyres working through the corners.
The brakes felt very powerful and I liked the reassurance of the ABS system, which costs a little bit more, but could be money well spent in slippery conditions.
There is no gear indicator on the display which combined with the engine's revvy character, meant I found myself looking for another gear, especially when cruising on the motorway.
At 70mph in sixth gear, the rev counter is showing around 5,800rpm, which doesn't make for a particularly relaxing ride.
It can't do much for its fuel economy either, although having said that, its trip computer reported an average of 12 miles per litre, which translates to 54mpg, which is actually quite good.  During my test, that gave me a range of around 160 miles between visits to the fuel pumps.
As you would expect from a Honda, the build quality, fit and finish was excellent and the bike was faultless during my time with it.
At higher speeds, the wind blast on a gusty day becomes tiresome, so if you're planning a lot of open-road riding, the optional meter visor would be a worthwhile addition.
There is no sting in the tail of owning a Honda Hornet. It's an attractive proposition, whatever your size or ability on two wheels, you can't fail to enjoy riding this bike.
Rating:





THE VITAL STATISTICS
Model: Honda Hornet CB600FA.
Engine: 599cc liquid-cooled 4-stroke 16-valve DOHC inline-4.
Transmission: 6-speed.
Weight: 388.4kg.
Seat height: 800mm.
Fuel tank: 19 litres.
Price: £6,999 with ABS or £6,550 without, on the road.
Contact: www.honda.co.uk/motorcycles