Suzuki serves up a lunch break alternative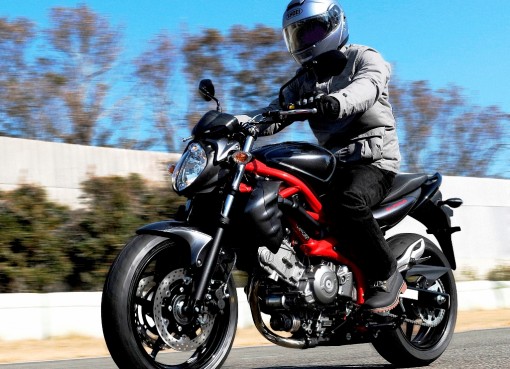 SUZUKI is giving potential customers something to get their teeth into… or rather not!
For the bike manufacturer claims that you could buy one of their offerings for the same price as your daily lunch.
It has launched an online financial calculator to make it easier for riders to work out if they can afford a new Suzuki.
The calculator demonstrates that for the same cost as a high street bought lunch (sandwich, bottle of drink and a snack), you can fund a brand new Suzuki motorcycle.
Bold claim or not, the online finance calculator enables customers to set the deposit, terms, and mileage to their own requirements and on a Personal Contract Purchase (PCP), a brand new V-Storm 650 with just a £1500 deposit and an annual mileage of 5,000 miles would be available with monthly payments of just £112. Consider that a typical lunch could cost you £4 per day.
Suzuki GB's Paul de Lusignan explained: "The calculator was launched because we believe that there are still preconceived views on finance deals. APR is the main figure many consider, but in reality it's the affordability that truly matters to customers. As our online calculator shows, there's much more to finance than APR.
"While you can select a conventional Hire Purchase deal, we are seeing more riders choose PCP deals, simply because it offers them greater affordability and the ability to change their machines more regularly, while fully aware of the overall costs. The fact that just a £1500 deposit and a monthly payment equivalent to the daily cost of a high street bought lunch is enough to fund a new V-Strom is a great indication of this."
Representative Example:
V-Strom 650 ABS on Suzuki Rider Plan (PCP)
OTR Price: £7,032
Deposit: £1,500
Total amount of credit: £5,532
Interest payable: £1,066.20
Fees payable: £0
Total amount payable: £8,098.20
1 payment of: £112.02 34 payments of: £112.02
1 final payment of (GFV)*: £2,677.50
%APR Representative: 8.9%
Rate of interest: 4.52%
Fixed Annual Mileage: 5,000 miles Annual excess mileage charge: 10p per mile
And on Suzuki's latest £800 Cash Back offer it's actually possible to ride the award-winning SFV650 away from an authorised Suzuki dealer without putting a penny down, and with a monthly payment of less than £100** over three years.
To put the online finance calculator to the test, go to https://www.suzuki-gb.co.uk/  and visit the 'bikes' section.
Terms & Conditions: Finance is subject to status and available through Close Motor Finance, a trading style of Close Brothers Limited, Roman House, Roman Road, Doncaster DN4 5EZ. Terms and conditions apply to residents of the UK and Channel Islands aged 18 years or older. Indemnities may be required. *Guaranteed Future Value (GFV) is an optional final payment if you wish to own the vehicle at the end of the agreement and applies to Suzuki Riderplan only.
** Based on a cost price of £5832, deposit £800 (cash back), 35 payments of £99.55, followed by a final payment (GFV) of £2528.75., Total amount payable £6813. Annual mileage 5000.