Kia Optima 1.7 CRDi 2 road test: Great style on a budget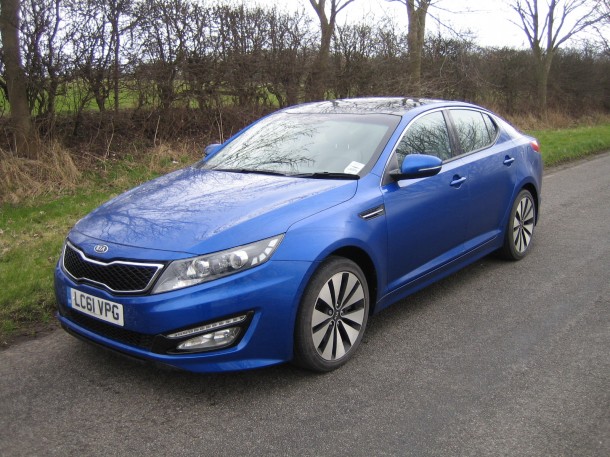 With styling to die for and a compelling package at prices you can't ignore, DAVID HOOPER considers just how far Kia has come in the last few years.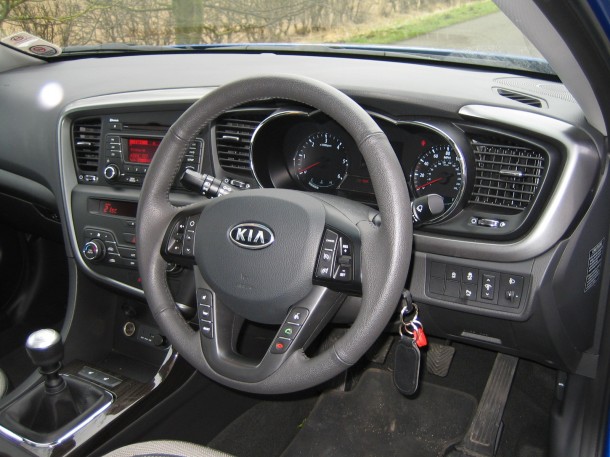 YOU only have to stand back and admire the Kia Optima to see just how far the Korean carmaker has come in the last few years.
The Optima, like the Sportage SUV, are stunning examples of car design at its best. People quite happily shell out two or three times the £20,000 starting price of the Optima range for cars that are plain and dull in comparison.
While for me, these are the two stand-out models in the current Kia range, the rest of the line-up has also benefited from the watchful eye of chief designer Peter Schreyer, who likened this particular creation to a stylish Italian suit. Schreyer has recently become the first non-Korean president of Kia.
I'm certainly not alone in my admiration of the Optima, especially when it's finished in this lovely Santorini Blue, which really suits the car. It's a big hit in America, too, with a plant in Georgia producing the cars for the American market.
The Optima has been targeted squarely at the business driver, and I will happily admit that if I were to be given one as a company car, I wouldn't be disappointed.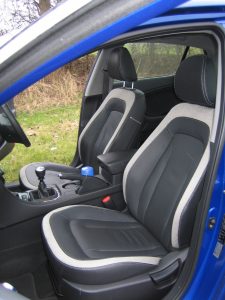 I wouldn't be bored either – the sound system delivers 550W through 12 speakers located in eight different places around the cabin.
There are four different trim levels to choose from, 1, 2 Luxe, 2 Tech and 3, with the upper models featuring such luxuries as self-parking, heated and cooled ventilated seats, cornering lights and an automatic cabin defogging system. Buyers also have option of a six-speed auto on  2 Luxe, 2 Tech and 3 models
All models are powered by Kia's 1.7-litre U2 diesel engine, and although its 134bhp won't quite get it to the edge of space travel like its US military namesake, it's perfectly quick enough and strikes a nice balance between performance and economy.
During my test of around 450 miles, the car returned an average of 47.5mpg, which is quite some way short of the official combined figure of 57.6mpg, but that's nothing unusual. Very few cars get near the official figures obtained under laboratory conditions.
Inside, the Optima has a big car feel to it. The high dash gives an impression of quality, and I liked the two-tone leather seats – the driver's was electrically adjustable and even had a couple of memory positions.
The fascia is made up of nice mix of plastics, nothing too dull – and it all felt reasonably well screwed together. The door pockets are a good size, as is the glovebox, which is something of a rarity today. There was room inside to store quite a bit of stuff, as well as the chunky owners manual which is enough to fill many gloveboxes these days!
There is more storage between the two front seats Kia has generously provided two 12V sockets in the dash, next to the USB connector and 3mm jack point, so there noi issues in powering all you "kit".
The car I've been testing, in 2 Luxe spec, featured dual-zone climate control, cruise control with speed limiter, a multi-function steering wheel, laden with buttons, including the trip meter, which I found infuriating on the instant fuel read-out setting. The mpg figures started at 0, with 25 at the top of the dial in the 12 o'clock position, and then 50, with nothing in between – and I never did work out what the small divisions between those main points represented!

My only other slight criticism would be of the gear lever capping – it is a silver-painted piece of plastic which looked as cheap as it felt. A few more pennies invested in something a little more upmarket would really lift the perceived quality of an otherwise presentable interior.
I loved the two sunroofs, one for the front and one for the back, Each had its own screen which could be covered up at the touch of a button.
The view out of the back is quite restricted, but you do get parking sensors, and a brilliant little rear-facing camera which appears in the left-hand side of the rear view mirror when reverse gear is selected.
Rear seat accommodation is generous for four or five passengers, and the boot is truly enormous – you could just about camp in there at a push!
On the road, the car drives reasonably well. It cruises comfortably enough on the motorway, but on some surfaces, particularly concrete, it would benefit from more attention to sound deadening.
The ride is comfortable and the handling acceptable, but pick up the pace a bit and begin to explore the car's grip limits and the front wheels become progressively more unruly, particularly on damp road surfaces when accelerating briskly out of corners, but the traction control system keeps everything in check.
The Kia Optima is a fabulous looking car and one which I've admired from the moment I first set eyes on it. It's no hardship to live with it either. And when you consider that it comes with a seven year, 100,000-mile warranty, and starts from less than £20,000, it really is something of a bargain!
CLICK HERE and "Like" our Facebook page for regular updates and follow us on Twitter
Rating:






THE VITAL STATISTICS
MODEL: Kia Optima 1.7 CRDi 2 Luxe.
KIA OPTIMA RANGE: From 1 1.7 CRDi 4dr (£19,595) to 3 1.7 CRDi Auto 4dr (£26,000).
ENGINE: 1685cc, 134bhp four-cylinder diesel engine, driving front wheels through 6-speed manual gearbox.
PERFORMANCE: Top speed 125mph. 0-62mph in 10.2 secs.
ECONOMY: City: 49.6mpg.
Country: 64.2mpg.
Combined: 57.6mpg.
Fuel tank: 70 litres.
CO2 EMISSIONS: 128g/km.
INSURANCE: Group 17.
PRICE: £21,695.
WARRANTY: Seven years/100,000.
WEBSITE: www.kia.co.uk
• All data correct at time of publication.