Kia pro_cee'd GT road test review: It's a quick Kia, pro_cee'd with caution!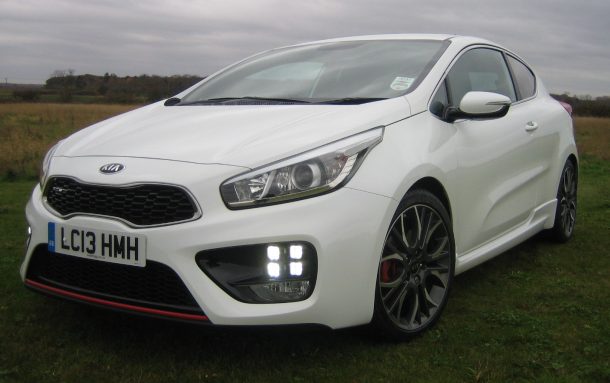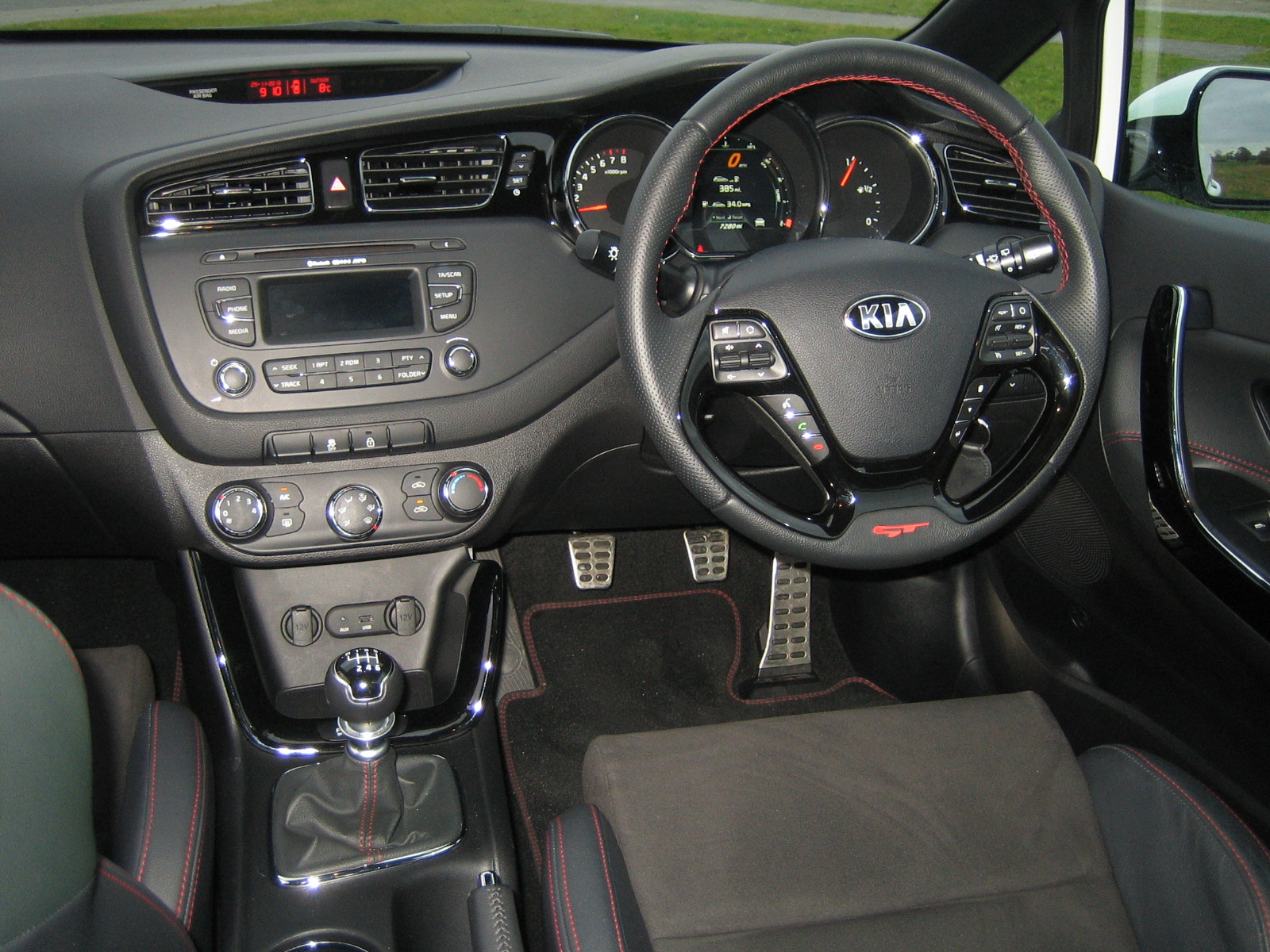 A Kia with a GT badge? Really? Yes, it's true! DAVID HOOPER has been putting Kia's hot hatch through its paces.
THERE was a time when the prospect of a performance car from Kia seemed as unlikely as Santa swopping Rudolph and Co for a hybrid drive system – but not anymore!
Proudly sporting GT badging, body skirts, spoilers and the odd red stripe, here is Kia's performance version of its popular cee'd hatchback – and it's very good!
First impressions count and the pro_cee'd GT scores top marks here, with its distinctive four square daytime running lights set low on each corner of its front spoiler, that alone sets the cee'd apart from anything else on the road at the moment.
The three-door coupe bodystyle looks superb, and its deeper front valance, side skirts, roof-mounted spoiler and 18in alloy wheels through which its red brake callipers can be seen, all combine to create a great looking car, although its pristine white paintwork didn't stay that way for more than a few minutes in the winter weather – but it still looks good lathered in muck – perhaps Kia should take it rallying?
Open the long doors and you find an equally impressive interior. Sports seats, with large side bolsters and red GT badging emblazoned on the backrests, shiny pedals, a sporty gear lever and smart dash all add to the performance car theme.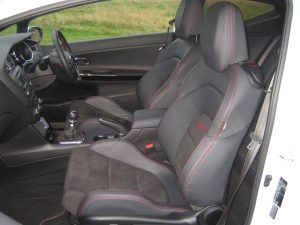 The steering wheel features multi-function buttons which control the radio volume and channels, the cruise control or speed limiter, the trip computer and Bluetooth telephone. There is also one other button which changes the entire dashboard display from a basic speedo, to a racing car-style instrument display which gives you the temperature gauge across the top, a blue bar graph on the left-hand side which shows the torque reading, and red bar graph on the right-hand side which shows the turbo boost. A digital speedometer takes centre stage in the middle, sitting above the trip computer read-outs. All clever stuff, and a great gadget to show off to your boy racer mates!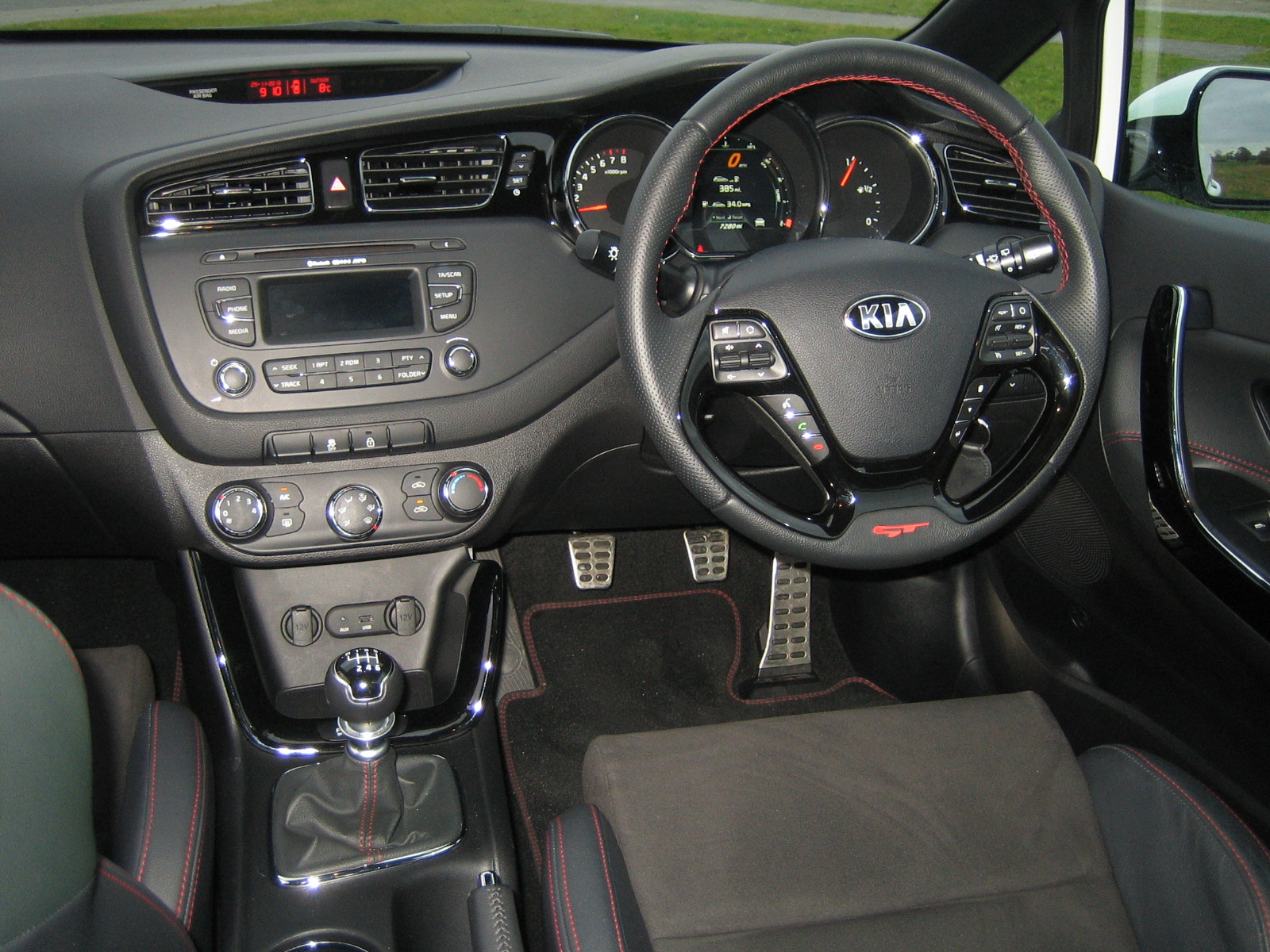 The cee'd GT is powered by a 1.6-litre 201bhp engine, which, thanks to a strong turbocharger, endows it with respectable performance, doing the 0-62mph sprint in a competitive but not earth-shattering 7.4 seconds and a potential top speed of 143mph.
The steering feels suitably direct and sporty, and the gear change is precise and slick, with its close ratio six-speed box being an unexpected pleasure to work with.
The car handles well enough, with a little understeer when pushed hard into a corner, while a quick lift of the throttle pedal mid-bend will tuck the back end in nicely to fine-tune the car's direction, making driving it quickly an entertainingly good fun experience.
The suspension settings are firm, as you would expect in a car of this ilk, but on poor road surfaces every bump can be felt in the cabin so the overall ride quality isn't quite as polished as some of its rivals in this class, like the Clio Renaultsport models, for example.
During my test the cee'd GT returned 32.4mpg over a distance of more than 500 miles, which considering it spent most of its time at sensible motorway speeds, is a little on the low side – perhaps a higher sixth gear on future models would help bring the revs down.
The higher-spec GT Tech is slightly dearer, but adds climate control and a rear parking camera, which could be useful, as the rear visibility is a bit limited when parking.
Despite these minor criticisms, overall I really liked the cee'd GT which is an involving and fun car to drive quickly, yet with seats for up to five people, a decent boot for its size, and Kia's excellent seven year warranty, it's also an easy car to live with on a daily basis.
While Kia may not be the first manufacturer that comes up in conversations about hot hatches, once word gets around about this new model, I think that could soon change.
Watch this space!
Rating: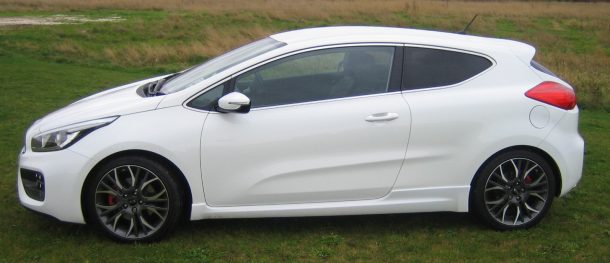 THE VITAL STATISTICS
MODEL: Kia pro_cee'd GT.
KIA PRO_CEE'D RANGE: From S 1.6 GDi 3dr (£17,495) to GT Tech 3dr (£22,495).
ENGINE: 1591cc, 201bhp four-cylinder petrol engine, driving front wheels through 6-speed manual gearbox.
PERFORMANCE: Top speed 143mph. 0-62mph in 7.4 secs.
ECONOMY: City: 29.1mpg.
Country: 46.3mpg.
Combined: 38.2mpg.
Fuel tank: 53 litres.
CO2 EMISSIONS: 171g/km.
INSURANCE: Group 29.
PRICE: £19,995.
WARRANTY: 7 years/100,000 miles.
WEBSITE: www.kia.co.uk
• All data correct at time of publication.