Honda Civic Type-R Mugen 20 2.0 i-VTEC road test review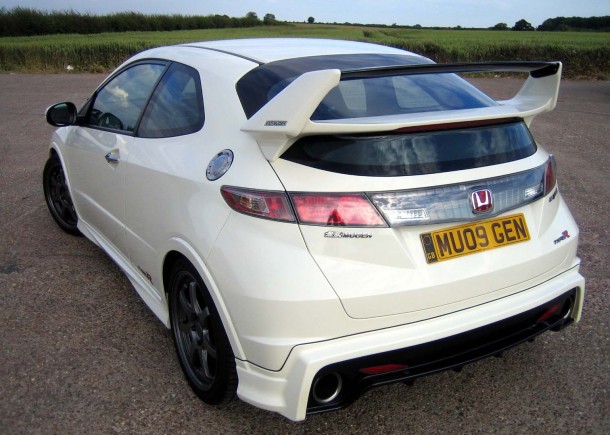 ROAD TEST REPORT AND REVIEW: This Honda Civic Type-R Mugen 20 2.0 i-VTEC in Championship White, is a very rare beast. DAVID HOOPER explains why it is so special.
THIS is a rare car – one of only 20 ever built, so it is also rather special. The Civic Type-R Mugen concept car was well received by the media and enthusiasts alike, so Honda and the Japanese performance specialist set about building this most exclusive of Honda Civics.

Mugen stands for "Without Limits" or "Unlimited" and the price tag was also fairly exclusive, at £38,599.
With its standard Civic Type-R, Honda took a different approach to most other companies building hot hatches.
Instead of bolting a big turbocharger onto their engine, the Japanese manufacturer went for its clever, high-revving V-TEC engine and stiffened up the suspension to provide kart-like degrees of solidity to create a hard-riding, high-revving track-focused car.
Some loved it, some didn't, knocking it for being just too firm, although the younger boy-racer types didn't find the hard ride a problem, instead adoring its pin-sharp handling responses.
I spent a few happy hours piloting a Civic Type-R around Lincolnshire's lovely Cadwell Park circuit on a track day, where the car really came into its own on the smooth racetrack surface. It was an absolute delight.
On the road however, the Type-R is a different animal. In normal driving conditions the engine lacks punch – only when the rev counter hits that magical 5,500rpm mark and the V-TEC changes come into play do you get the performance you want, but keeping the car "on song", between that 5,500rpm mark and the red line, which at around 8,500rpm, is much higher than a "normal" car, takes a lot of doing and means you're soon travelling very quickly.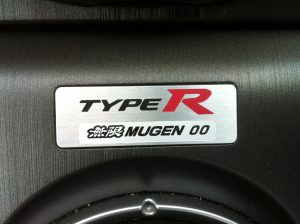 This particular Type-R has been fettled by Japanese tuning specialists Mugen who began life in 1973 and are probably best known for preparing Honda's Formula One engines and working with the Tyrell, Lotus and Jordan teams before the company withdrew from the sport.
When this exclusive Type-R hit the streets, it was the first time a Mugen built engine was made available for use on the road outside of Japan.
Mugen's magic increased power by 20 per cent and torque by 10 per cent over the standard car. The Mugen-developed integrated aero package and upgraded ride and handling was matched by four-pot brake calipers and Mugen brake pads to cope with sustained abuse on road or track.
The wheels went up in size to 18in Mugen GP forged alloys, finished in a lovely gun metal colour, the six-speed transmission was upgraded and options included twin Recaro seats with four-point racing harnesses, Yokohama Advan A048 tyres and extra gauges so you can keep an eye on water temperature, engine oil temperature and oil pressure.
The result is a potent, driver-focused hot hatch which will thrill any petrol head with its punchy power delivery and pin-sharp handling responses. Mugen pistons, camshafts and ECU mapping take the power up to 240PS and 213Nm torque, bringing the the 0-62mph time down to 6.0 seconds and a top speed of 150mph.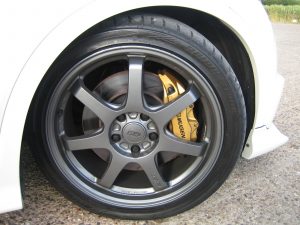 With discreet Mugen badging, a far from discreet rear wing, it would be an injustice to describe the elaborate device as a spoiler, special wheels and tyres and bigger, noisier, Mugen-tuned twin exhausts it's not a car for those who don't like to be noticed – but it's fantastic to drive, its performance is potent and the V-TEC engine makes a fabulous noise as it pins you back in your seat. The steering rack is very quick and the car is a delight to pilot quickly along your favourite roads. The quicker you go, the more compliant the hard suspension becomes, but on your daily commute, it rapidly becomes tiresome thanks to its high revs at motorway speeds (around 3,500 at 75mph) and back-jarring ride.
Fuel economy isn't great either, but mid to high 30s is possible with a light right foot – but that's not what this car is about.
You can't buy a new one any more, only 20 of these were built, but subsequent demand led to a limited edition of 200 Civic Type-Rs called the Mugen 200, featuring some of the styling and finished in Championship White paintwork, accompanied with a host of options and accessories.
Finding one second hand will be like looking for hen's teeth and should you find one for sale, be prepared to pay a hefty premium. Mine, Honda's press demonstrator, had only covered 27,000 miles, but most of the plastic interior trim rattled and under firm braking there was plenty of vibration through the brake pedal, indicating warped discs from plenty of, shall we say, enthusiastic use.
But to me, it didn't matter, this is a special car and it was a privilege to have been able to drive it.
Rating:






THE VITAL STATISTICS
MODEL: Honda Civic Type-R Mugen 20 2.0 i-VTEC.
ENGINE: 2.0 i-VTEC, 240PS four-cylinder petrol engine, driving front wheels through 6-speed manual gearbox.
PERFORMANCE: Top speed 150mph. 0-62mph in 6.0 secs.
ECONOMY:
Combined: 27mpg.
Wheel World test average: 33.3mpg
CO2 EMISSIONS: N/A.
FUEL TANK: 50 litres.
PRICE: £38,599.
• All data correct at time of publication.