Kia Optima Sportswagon GT-Line S CRDi road test report and review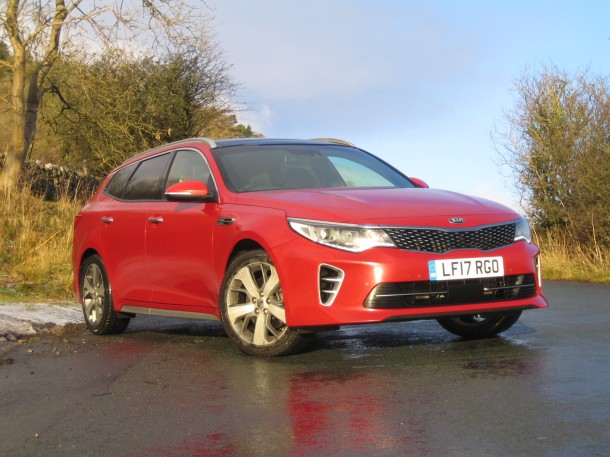 Kia Optima Sportswagon GT-Line S CRDi road test report and review – Stylish and spacious, the Sportswagon is a versatile travelling companion that ticks most boxes.
ESTATE cars are hard to beat when it comes to all round practicality, and this tardis-like Kia Optima is no exception, capable of swallowing a mountain bike whole and even a complete single mattress with the rear seats folded down.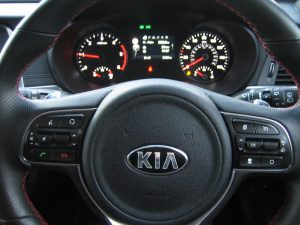 I had been wanting rid of the mattress for a while, and it wouldn't fit in my car and getting the local council to collect it was more trouble than it was worth, so when this smart Kia Optima arrived it seemed like the perfect opportunity for a trip to the tip… or the "recycling centre" as it's now known. But that's another story!
I've often joked with friends about being able to sleep in the back of an estate car with the seats down, but in this Kia Optima, you really could – and on a proper mattress! Flick a lever on either side of the load area and the rear seats fold themselves down to create a large flat load area which could have been made to measure to accommodate the mattress!
The tailgate is powered, and once you've loaded up the back of the car, it your possessions are shielded from prying eyes by dark-tinted privacy glass.
At £30,595 our GT-Line S example may not be cheap, but it is well made and impressively equipped – and of course, comes with Kia's seven-year/100,000 miles warranty. Our top-of-the-range model featured such luxuries as a heated steering wheel, lovely on freezing cold mornings, electric seats which can heat or cool your bum, adaptive radar cruise control, a warning system should you stray out of your lane, sat-nav, a full-length glass roof, all-round view camera systems, a self-parking system and much more.
The Optima is quite an accomplished all-rounder, not only is it good to drive, but it will also eat up the miles – I covered many of them, sometimes spending hours at a time on the road, with no aches or pains to report as a result, so it passes the comfort test too.
Power comes from Kia's trusty 1.7-litre CRDi engine which in this case was matched with a seven-speed gearbox which works perfectly well on its own, or can be controlled via flappy paddles on the back of the steering wheel.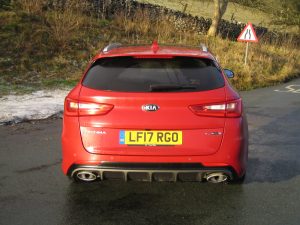 It's a big car, and with just 139bhp it isn't going to win many traffic light sprints, but it can get from 0-62mph in 10.7 secs and provides acceptably progressive pulling power, while returning around 44mpg during my few days at its wheel.
The Kia Optima is a big car, but the ride and handling are fine – it soaks up the bumps well and turns into corners accurately. Thanks to its all-round cameras it is easy to park and can do it by itself if you'll let it, but some people aren't keen on the semi-autonomous route the industry seems to be going down. That said, I gave the radar system a thorough work-out in early-morning traffic on the M62 around Leeds and it worked faultlessly, although my foot was hovering over the brake pedal most of the time – just in case!  The system adjusted the car's speed from its pre-selected 70mph cruising speed, right down to a standstill and away again as the rush-hour traffic ebbed and flowed.
The Kia Optima is a quality contender in the estate car market, with a larger load area than some of its rivals and demonstrates Kia's continuing march upmarket which now enables it to take on the big boys with well-priced offerings.
The Kia Optima Estate range starts from £22,455 and includes a plug-in electric hybrid version as well.
Rating: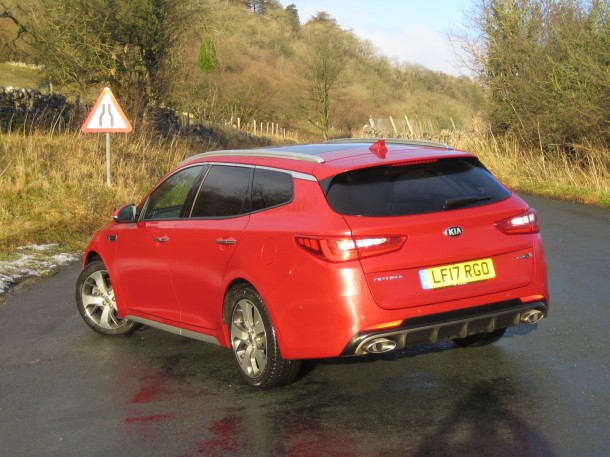 THE VITAL STATISTICS
MODEL: Kia Optima Sportswagon GT-Line S CRDi
ENGINE: 1,685cc, 139bhp four-cylinder diesel engine, driving front wheels through 7-speed auto gearbox.
PERFORMANCE: Top speed 124mph. 0-62mph in 10.7 secs.
ECONOMY: City: 54.3mpg.
Country: 67.3mpg.
Combined: 61.4mpg.
Wheel World test average: 43.7mpg
CO2 EMISSIONS: 120g/km.
FUEL TANK: 70 litres.
PRICE: £30,595 on the road
WARRANTY: 7 year/100,000 miles (3 years unlimited mileage).
WEBSITE: www.kia.co.uk
• All data correct at time of publication.