Jeep Wrangler 2dr Overland CRD Auto road test report and review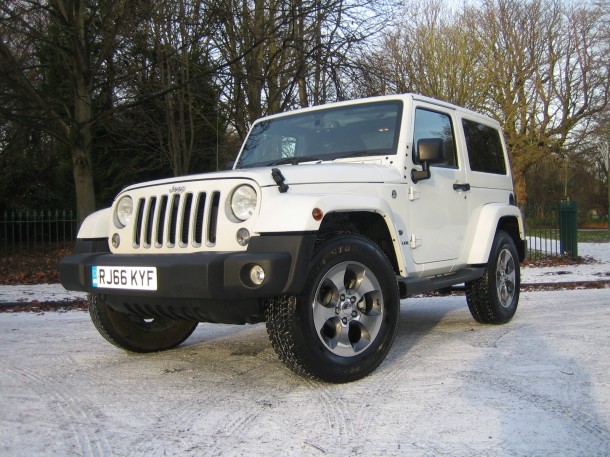 Jeep Wrangler 2dr Overland 2.8 CRD Auto road test report and review: With classic Jeep looks, this little beauty turned up just in time for the first snowfalls of winter – so getting stuck in the snow wasn't a worry for DAVID HOOPER at the wheel of this go-anywhere Jeep Wrangler.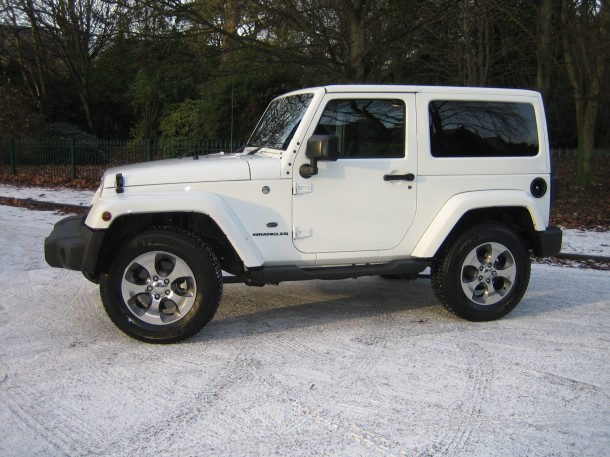 MANY 4x4s are referred to generically as a Jeep, but this week I've been driving a real one – and its arrival was timely as it coincided with the first snows of winter. So, as many drivers were slithering around and struggling for grip, I had a full 4×4 system at my disposal, complete with a low range gearbox and although I didn't need it, it was reassuring to know it was there if I did.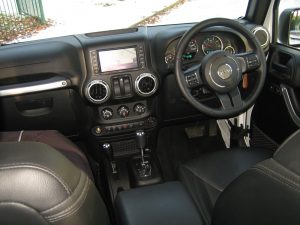 Officially categorised as a Sports Utility Vehicle, this week's test car is the Jeep Wrangler, a model which still bears a striking resemblance to the war hero Jeep of the 1940s which is much loved by historians, collectors and war re-enactors in equal numbers. As well as the Wrangler, other current Jeep models are called intriguing names like Night Eagle, Rubicon Recon and Sahara. With its familiar Jeep front end, large flared wings and running boards and a huge spare wheel mounted on the tailgate, it's hard to miss! As regular readers will know, I love the little detail touches that Jeep incorporate into their cars, and this Jeep Wrangler is no exception. When I was plodding down a motorway I started looking around and cabin. First I spotted the Jeep grille and lights sticker at the top of the windscreen behind the rear view mirror, and then there's the traditional picture of a little Jeep clambering  up the bottom right hand corner of the windscreen. It's a bit of fun and I like that.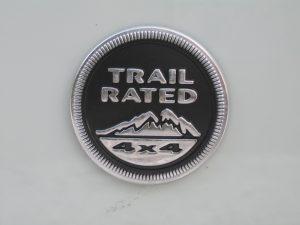 I also liked that the fact that the roof over the driver and front seat passenger can be removed. With temperatures hovering around freezing, it wasn't the time of year for that, but the car had two large bags to put said panels into once removed. In situ, they did a good job of keeping noise to a minimum, and despite being a sort-of convertible, refinement levels in the cabin were good. At the back of the car, the rear door and tailgate glass are separate items. The rear door is hinged on the right and swings open, while the rear glass window pivots upwards to reveal a boot no larger than the width of an overnight bag – not the most practical or spacious option for hitting the January Sales with! Big door mirrors, electrically heated seats and a comfy, raised perch make the Jeep an easy car to live with, but its short wheelbase and firm suspension contribute to a somewhat bouncy ride.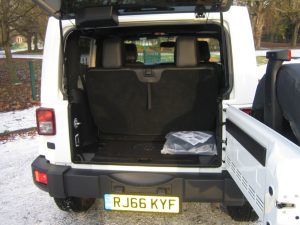 Its fuel consumption is a bit of an issue too. During my test, the car averaged just 25.6mpg from its 2.8-litre diesel engine and five-speed automatic gearbox… which is rubbish. It also sits in the highest emissions category with 237g/km. Having got those shockers out of the way, the Jeep, on a smooth surface, actually punts along quite well with the graduated green scale on the rev counter showing where the economical operating window is – and that is basically anything below 2,000rpm, which translates to 65mph – or to put it another way, the speed limit on most US Freeways. Our motorway speeds are somewhat higher, and to keep up with the traffic in the UK and you can virtually see the fuel gauge needle descending towards empty. The automatic gearbox is a smooth shifting unit and can be manually operated if required, but I found the car's software did a perfectly acceptable job of being in the right gear at the right time. The steering is far too vague for my liking, with a lot of play around the central position. You can move the steering wheel left or right several millimetres before anything starts to happen at the front wheels, and with low gearing for easy off-roading, I found myself making regular adjustments to keep the car in something that resembled a straight line, and on the bendy bits, thanks to the low gearing of the steering, you have to turn in earlier and more decisively than you would expect to. After a while though I did get used to its vagaries, but decided it's not really designed as a long-distance motorway cruiser and being a Jeep, would probably be much more at home up to its axles in mud where its four-wheel-drive system would be right at home. Our Jeep Wrangler test car cost £37,810 while the range starts from £34,740, and tops out at £40,505 with the 3.6-litre V6 Rubicon Recon Auto model – which would be even less economical! Rating: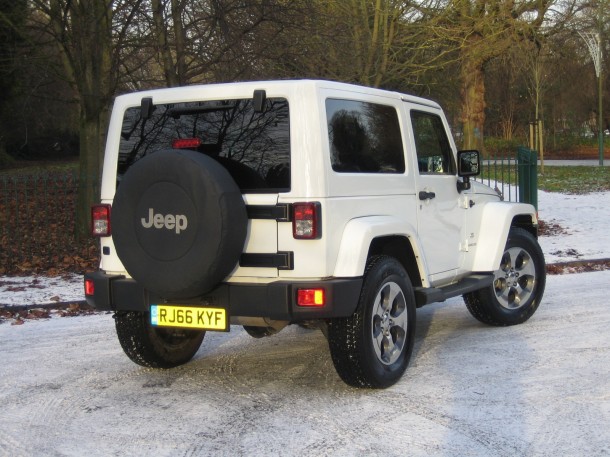 THE VITAL STATISTICS
MODEL: Jeep Wrangler 2dr Overland 2.8 CRD Auto
ENGINE: 2776cc, 200bhp four-cylinder diesel engine, driving four wheels through 5-speed auto gearbox.
PERFORMANCE: Top speed 107mph. 0-62mph in 10.6 secs.
ECONOMY: City: 26.6mpg. Country: 34.4mpg. Combined: 31.4mpg.
Wheel World test average: 25.6mpg
CO2 EMISSIONS: 237g/km.
FUEL TANK: 67 litres.
INSURANCE: Group 21.
PRICE: £34,140.
WARRANTY: 3 years/60,000 miles
WEBSITE: www.jeep.co.uk • All data correct at time of publication.