Caberg Duke II motorcycle helmet road test report and review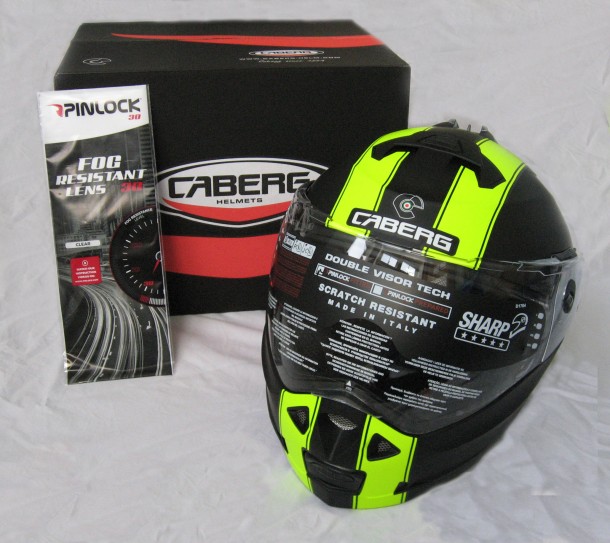 Picking a new motorcycle helmet for the coming season is a big decision for any biker. For the last few months, DAVID HOOPER has been trialling Caberg's popular flip-face Duke, one of the few you can legally use with the face section in the open position.
CHOOSING a new motorcycle helmet can be as mindboggling as trying to choose your next bike, or spec up a new car – there's a wide variety of options, styles and price points, but for the last few months I've been evaluating the flip-face Caberg Duke with a flip-up front.
Prices for new helmets start from well under £100 and rise to many hundreds of pounds for the top brands and styles, but do you really need to pay that much?
A helmet is a very personal thing, and after all, you only get one head, so it's worth looking after, but surely there must be some middle ground?
Caberg is, you could argue, that very middle ground, with its selection of stylish and impressively safe range of helmets offering excellent value for money when compared to some of the premium brands.
Flip-face helmets are another discussion point that can be argued over until the cows come home, but having only had traditional full-face helmets so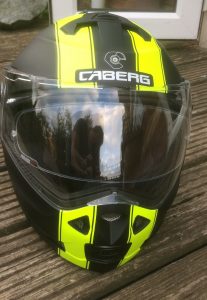 far in my motorcycling career, I decided to try the flip-face style. It's so much more convenient when you're at the petrol station, or need to go into a shop, enabling you to lift up the front of the helmet so the staff don't think you're about to rob the place!
By their very nature, flip-face helmets are often seen as less safe than a traditionally made full-face model, but Caberg have won considerable acclaim for the quality – and most importantly – the safety of their flip-front helmets. Indeed, they are one of very few models which are homologated to be legally ridden with the front up, so long as it is locked in place by a sliding lock switch.
It also scored the top rating of five stars in the industry-standard Sharp testing programme.
I opted for the distinctive and hopefully noticeable Duke II Legend with a matt Black finish with a Yellow Fluo stripes design featuring two bold yellow stripes across the centre of the helmet. It costs £189.99, but If you shop around you can own one for around £150.
It feels comfortable to wear and the medium size was just the right fit for me. It comes complete with what many all-weather bikers consider essential, the Pinlock insert, which gives your visor double glazing and stops it fogging up, which they can do even on a cool summer morning.
The buckle on the helmet is the ratchet type, so it's easier to fasten than the Double D ring alternative.
Visibility is good, although the field of vision isn't as generous as on some full-face helmets, but you can see well enough, and the flip-down sun visor is a real boon when the sun is low and in your eyes!
The flip-front helmets tend to be a bit noisier than the one-piece units, but this Caberg is still quieter than my old Arai had become with age. There are air vents on the chin guard, but at speed there is still quite a bit of wind noise which finds its way into the helmet, so I still use my ear plugs for most high speed work.
Opening the front of the helmet is a simple one-handed operation, simply push the large button on the front of the helmet in front of your chin, and lift the opening section upwards. Closing is the reverse, and it clicks solidly into place.
The Caberg, despite its modest price tag, offers a good looking, practical and most importantly safe helmet which stands up well to its competition. Well worth a look if you're in the market for a new hat this season.
Rating: