Infiniti QX30 Premium Tech road test report and review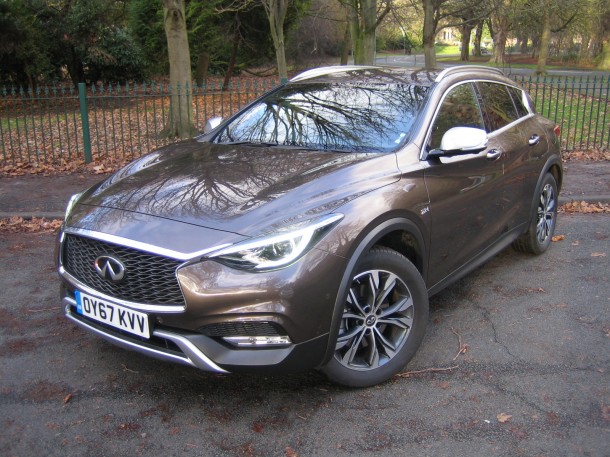 Infiniti QX30 Premium Tech road test report and review: Stylish and well equipped, DAVID HOOPER says the QX30 will attract a younger buyer with an eye for something a bit different.
THE Infiniti brand has become a familiar sight on our roads in the last few years, and the Japanese manufacturer continues to add to its range, this QX30 model being among the recent additions.
The company describes its looks as "striking", although some of my passengers weren't quite so complimentary, but they did like the slightly raised seating position of this "premium active crossover" model.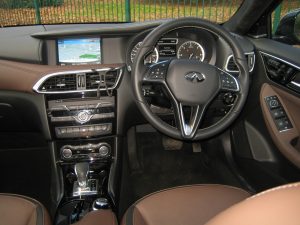 It is built at new manufacturing facilities at Nissan's Sunderland plant and is part of Infiniti's first car production in Europe following a £250-million investment which saw 300 new jobs created.
There are two models lines Premium and Premium Tech, our test car being the latter with the range starting from just over £30,195 on the road. A 2.0-litre petrol version is available in the Premium spec.
The Infiniti QX30 is quite an eye-catching car, and I think it will appeal to the younger, stylish car buyer.
Inside, our QX30 test car was very trendy indeed, with a mix of brown and tan leathers, blended with a dark leather dashboard top, all finished off with attractive stitched detailing which comes as part of the Cafe Teak Style Pack which is a £380 option and adds Satin Silver door mirrors, rear privacy glass, aluminium kick plates and Chocolate Nappa leather seats with graphite inserts and black stitching, all adding up to a very plush feeling interior.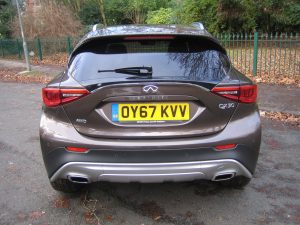 I also liked the Bose Premium audio system, which sounded superb, but costs £650.
The interior of the car looked familiar, but not Infiniti – it took me a while to remember where I'd seen it before – in a Mercedes! It's one of the results of a collaboration between Daimler and Nissan to build luxury cars and keep production costs down. In the case of the QX30, it looks good and works well, so why not.
Sitting on 18in wheels with five double-spokes in a snowflake design, our QX30 was equipped with lots of toys, including ICC or Intelligent Cruise Control which will follow the car in front at a preset speed, and slow down as it does, right down to a complete halt, and away again. It's clever stuff and worked faultlessly – although my foot was never far from the brake at the critical moments… just in case! It also had all-round cameras and blind spot warning systems.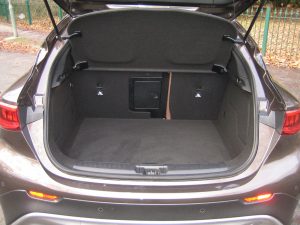 The Infiniti QX30 feels like a premium car, and drives like one too. Power comes from a 2.2-litre turbo-diesel engine which is a nice match for the car, although its 2.2-litres and seven-speed automatic gearbox do have an effect on economy, with the car returning 42.4mpg over a distance of around 500 miles during my few days with the car, which is a little lower than I would have expected, as it was driven fairly gently for much of the time. According to its trip computer, it did achieve 49.7mpg over a 35-mile trip when I drove it like a saint and stayed at 60mph.
Getting in and out of the QX30 needs a degree of athleticism if you want to keep your trousers clean at this mucky-road time of year – you have to make a conscious effort to step over the substantial and fairly wide sills.
Once inside, the accommodation is roomy enough in the front, although rear legroom isn't quite so generous.
On the road, the car drives very well and always feels secure and stable, even when encountering muddy backroads on the Lincolnshire Wolds, maybe helped by the QX30's All-Wheel-Drive system, which can transfer up to 50 per cent of the power to the rear wheels when necessary.
The Infiniti QX30 looks bigger than it actually is and I did like the car overall, but with an asking price of £37,725 with all the extras added, it's not a cheap option.
Rating: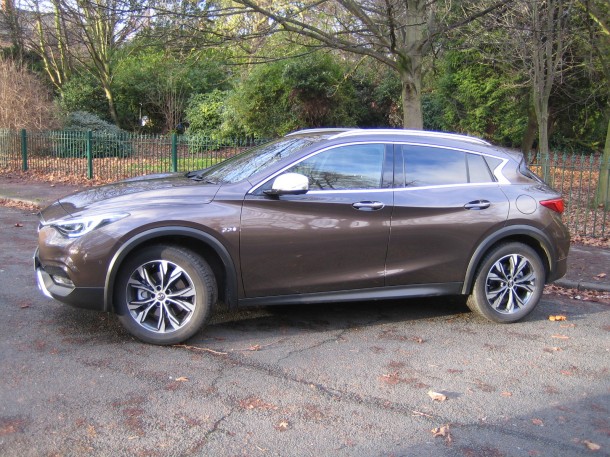 THE VITAL STATISTICS
MODEL: Infiniti QX30 2.2D Premium Tech.
ENGINE: 2,143cc, 170PS four-cylinder diesel engine, driving four wheels through a 7-speed dual clutch automatic gearbox.
PERFORMANCE: Top speed 134mph. 0-62mph in 8.5 secs.
ECONOMY: City: 47.1mpg.
Country: 65.7mpg.
Combined: 57.6mpg.
Wheel World test average: 43.4mpg
CO2 EMISSIONS: 128g/km.
FUEL TANK: 56 litres.
PRICE: £34,225 (£37,725 as tested)
WEBSITE: www.infiniti.co.uk
• All data correct at time of publication.