Jaguar's flagship XJ is perfect for the chauffeur set
ROAD TEST REPORT AND REVIEW: Jaguar XJ 3.0i Portfolio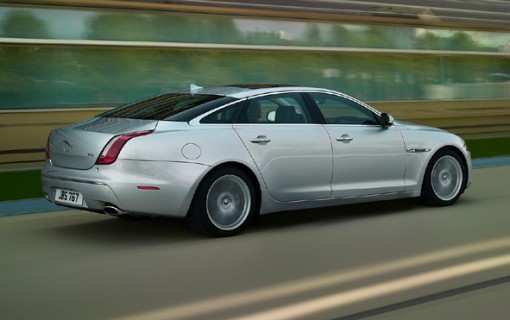 These are heady days for Jaguar Land Rover. KEITH WARD luxuriates in the flagship of the Jaguar range.
BELOW the bonnet of this latest version of Jaguar's current flagship luxury limo XJ is the promise of sporty things to come.
The crisp new eight-speed ZF "Quickshift" automatic transmission, here allied to the company's latest supercharged 3.0-litre V6 petrol engine, is a combination earmarked for next year's eagerly awaited F-TYPE two-seater convertible sports car, unveiled at the recent Paris Motor Show.
In the XJ saloon it plays its part in helping to smoothly whisk chauffeured execs to 60 mph in under six seconds without ruffling their paperwork in the roomy and lavishly upholstered  rear seats.  There's generous legroom, too, even in this standard wheelbase version. An air of taste and comfort pervades the stylish, black and ivory cabin.
A new Rear Comfort Pack (adding £2,750 to the showroom price) offers rear seats with electric adjustment of the backrest recline angle, four-way lumbar support and a massage function. There are new winged headrests, detachable games players, footrests and the ability for the front passenger seat to be stowed away forwards when unoccupied to increase legroom even further.
An Illumination Package (£1,000) comprises illuminated treadplates, boot latch and front and rear air vents. An electric rear sunblind and enhanced audio system add another £1,500.
These are optional extras to further enhance the upmarket Portfolio trim, which itself includes 20-way electrical adjustment for the driver's seat, 20-speaker audio belting out 825W, a panoramic glass sunroof and powered opening and closing of the lid to the shallow but long boot. All helped to bring the total price of the sample we drove to nearly £73,000.
"An XJ should be the ultimate in comfort, design and refinement", says Ian Callum, Design Director of Jaguar Cars, no doubt with an eye on rivals Mercedes, BMW and Lexus.
There are glitches with the XJ: the international navigation system misleadingly lists the UK as "GBR". A claimed fuel consumption of 30.0 mpg contrasted with the lowly 14.9 mpg recorded by the car's own onboard computer. That despite the stop-start technology making its XJ debut.
But these are heady days for Jaguar Land Rover, its fortunes turned around by parent company Tata Motors of India, which rescued it three years ago.  JLR is posting record profits,  seeing surging demand for its cars in Asia, and is looking to expand its three UK plants, including Halewood on Merseyside, as well as opening a new factory in China.
The upcoming F-TYPE is already billed as spiritual successor to the renowned E-TYPE Jaguar. But spearheading JLR's  current success is the Range Rover Evoque, reportedly sold out in some parts of the world.
Rating:





THE VITAL STATISTICS
Model: Jaguar XJ 3.0i four-door saloon; Portfolio trim
Engine: 3.0 V6 petrol; supercharged; stop-start; new 8-speed ZF  auto gearbox
Power: 340 PS @ 6,500 rpm; torque 450 lb ft @ 3,500 – 5,000 rpm
Performance: 155 mph; 0-60 in 5.7 secs (Jaguar figures)
MPG: Claimed 30.0; onboard computer 14.9 mpg; tank 70 litres
CO2: 224 g/km; band K; annual VED £600 first yr then £270; tax liab 30%
PRICE: £72,815.  (XJ range – 3 engines, 4 trim levels – starts at £56,260)