Jaguar XKR: One car, two extreme reactions!
ROAD TEST REPORT AND REVIEW: Jaguar XKR Convertible 5.0 V8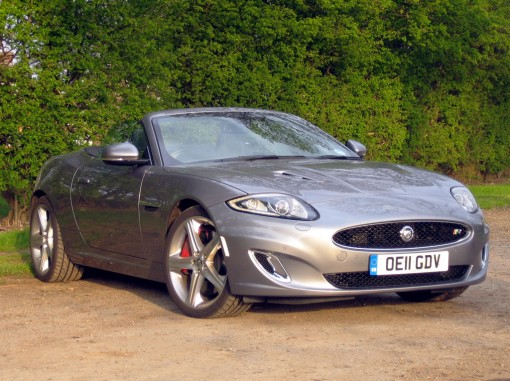 With sometimes unexpected reactions from the passenger seat,  DAVID HOOPER, revels in the delights of Jaguar's stunning XKR.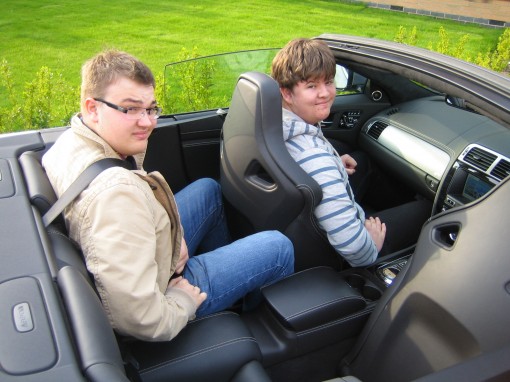 RARELY has any car I've ever tested provoked such extreme reactions from the passenger seat. With this Jaguar XKR Convertible I got the lot – from genuine screams of terror to inane giggling!
My first "victim" was an otherwise demure, well-mannered young lady who, on a pleasantly sunny afternoon, jumped at the chance of her first ride in a convertible Jaguar XKR Convertible.
In my defence, I had warned her that this big cat was quite a beast, packing a 500bhp punch which left it only a couple of hundred or so braked horses down on a Formula 1 car but she was fine with that.
So with the roof down, and on a suitably quiet piece of road in the Lincolnshire Wolds, I glanced across to the passenger seat and checked that she was ready.
"Yes," came the reply, "I'm ready." So with no more ado, I flicked the left-hand paddle on the back of the steering wheel a couple of times dropping a gear or two, while simultaneously planting my right foot into the luxuriously plush carpet.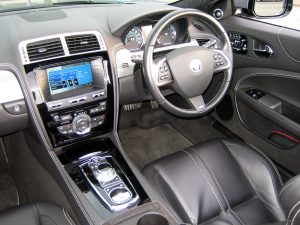 As I gripped the steering wheel with both hands, there was an explosion of noise from the engine as the back of the car dropped an inch or two and headed for the horizon. It was at about this point that the screaming started in the passenger seat. Loud, heartfelt screaming interspersed with unprintable, but commonly used expletives, the like of which I have rarely been subjected to! Worse was to come – as the terror really took hold, my passenger who by now was squirming in the beautifully sculpted sports seats reached across, grabbed my arm and begged me to stop!
She was as shocked by the XKR's stunning performance as I was by her reaction to it. I thought she was joking at first – but she really wasn't.
"I knew it would be fast," she gasped with her hands quite literally trembling as I eased off the throttle, "but I didn't imagine it would be that ******* fast."
Before we'd set off, I'd explained that this car was a rare beast these days as few are supercharged and only the quickest boast top speeds in excess of 170mph and 0-62mph times of 4.6 seconds, but the almost brutal reality of over 500bhp pushing you back into the seat really has to be experienced to be understood. Ask my friend!
My son and his mate however, along with a couple of other people I took out with me, were reduced to giggling wrecks. The XKR really isn't a four-seater – it barely qualifies as a 2+2, but for a couple of teenagers who are usually the first to complain at the slightest inconvenience, in the XKR, they just laughed as they prized themselves into the car. One of them had their knees squashed against the dashboard, while the other was perched on the rear "seat", looking more like a military commander in an open-topped staff car than a passenger in a supercar.
As I played with the throttle making the exhausts burble, pop and bang as we accelerated and decelerated, changing up and down the gears, this daft pair just laughed, as the "commander's" gelled-up hairstyle evaporated into the wind. The noises the car makes are addictively unique and an absolute delight to listen to time and again.
With the XKR reversed onto my drive, merely starting the engine in the morning rattled the house. It is fantastic, and with the roof down, and the spring sunshine doing its best to disperse the rain clouds, there really is no better way to travel. Even with the roof up, there is little to distinguish the refinement in this car between that of its hard-topped coupe sister, and the transformation can be done on the move (at low speed) at the press of a button.
As you will have gathered, the XKR's performance is phenomenal. It carries its speed so well, you have to keep an eye on the speedo and the road ahead, as you can catch other traffic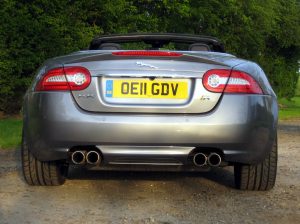 very rapidly indeed.
On dry roads, it's a wonderful machine and it is so comfortable that it's one in which you could travel for hour after hour after hour. Every part of the seat is electrically adjusted, even the side bolsters inflate at the twist of a button, to mould perfectly to your shape.
It's hard to fault, but for me, as a driver's car I would like more feel through the steering at high speed. The power steering is fine in town, but doesn't weight up enough at speed, is overly assisted and lacks feel, which is a worthwhile attribute in a car like this, so for that reason, I would consider the XKR more as a grand tourer than an out-and-out sports car.
On wet roads however, it's a slightly different story, with so much power coursing through the drive train, the back wheels break traction with the wet road surface with the slightest provocation. Touch a white line in the middle of the road and the enormous rear tyres feel as though they are trying to jump off it again. You have to feed the power in very gently and progressively and even when I was trying really hard to do just that, the car was still squirming around a bit.
The traction control however, does an excellent job of the keeping the Jaguar's "playful nature" well under control – so turn it off at your peril.
My test car was fitted with all the latest Jaguar toys, like the JaguarDrive selector which rises from the central console, a reversing camera, which is very useful when parking as the view through the small rear window with the top up is quite restricted, and Bluetooth connectivity.
I loved the XKR – it can thrill and excite you in equal measure, but it can also frighten you when you look at the trip computer's MPG figures. It averaged just 14.1mpg, hardly surprising you could rightly quip, when it was driven in the way it was, but I did try, briefly, to do better and with the lightest of right feet struggled to hit 20mpg.
Spend in excess of £85,000 on a Jaguar XKR though, and you're unlikely to care too much about how economical it is, just how it looks, how it drives and how it sounds – and in all of these departments, it truly excels.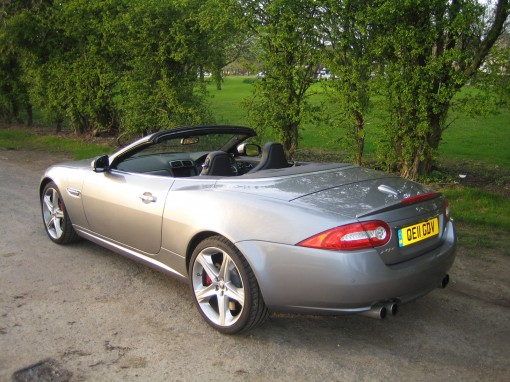 Rating:






THE VITAL STATISTICS
MODEL: Jaguar XKR Convertible.
JAGUAR XK RANGE: From 5.0 Coupe (£65,430) to Jaguar XKR-S (£103,430).
ENGINE: 5,000cc, 510PS V8 32V engine, driving rear wheels through 6-speed automatic gearbox.
PERFORMANCE: Top speed 174mph. 0-62mph in 4.6 secs.
ECONOMY: City: 14.9mpg.
Country: 33.0mpg.
Combined: 23.0 mpg.
Fuel tank: 70.6 litres.
CO2 EMISSIONS: 292g/km.
INSURANCE: Group 50.
PRICE: £84,930.
WARRANTY: 3 Years/Unlimited miles.
WEBSITE: www.jaguar.co.uk
• All data correct at time of publication.
CLICK HERE and "Like" our Facebook page for regular updates and follow us on Twitter
Normal
0
false
false
false
EN-GB
X-NONE
X-NONE
/* Style Definitions */
table.MsoNormalTable
{mso-style-name:"Table Normal";
mso-tstyle-rowband-size:0;
mso-tstyle-colband-size:0;
mso-style-noshow:yes;
mso-style-priority:99;
mso-style-qformat:yes;
mso-style-parent:"";
mso-padding-alt:0cm 5.4pt 0cm 5.4pt;
mso-para-margin:0cm;
mso-para-margin-bottom:.0001pt;
text-align:justify;
line-height:50%;
mso-pagination:widow-orphan;
font-size:11.0pt;
font-family:"Calibri","sans-serif";
mso-ascii-font-family:Calibri;
mso-ascii-theme-font:minor-latin;
mso-fareast-font-family:"Times New Roman";
mso-fareast-theme-font:minor-fareast;
mso-hansi-font-family:Calibri;
mso-hansi-theme-font:minor-latin;}