Jaguar F-Type V6 S review & road test report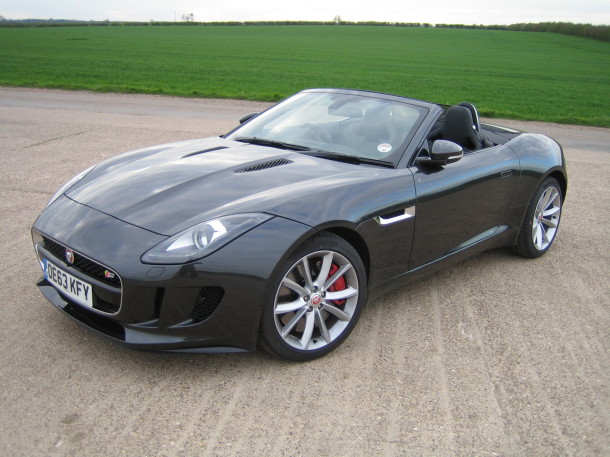 Jaguar F-Type V6 S review & road test report: This gorgeous convertible is stunning to look at and even better to drive. DAVID HOOPER starts off his tan with a bit of top-down fun, backed by Jaguar's unique soundtrack.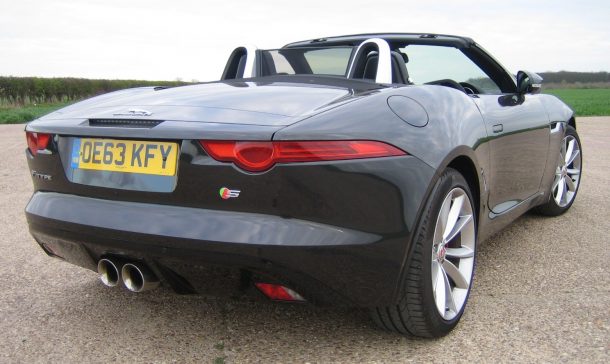 IN my opinion, the E-Type Jaguar is the most beautiful car ever made and I have dreamed of owning one for years, although I admit it's sadly a dream I am now unlikely to ever realise.
The new F-Type has been heralded as that iconic car's spiritual successor, but whether or not you believe that to be the case, having spent the last few days driving this stunning 380bhp machine, there is no doubt in my mind that this sleek automotive modern masterpiece is worthy of such lofty comparisons.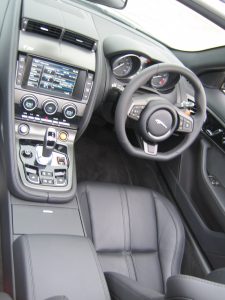 Look closely at this Jaguar F-Type V6 S and you will find nods to its older sister, most notably its beautifully sculpted bonnet, which pivots open on its front edge, but unlike the E-Type's massive bonnet, the front grille and headlights are fixed.
There are three versions, the model I've been testing is the "S", which sits in the middle of the range, below the 5.0-litre V8 monster!
The F-Type looks fantastic, especially with its roof folded down and side windows retracted, all of which can be done by the touch of a single button at speeds of up to 30mph, but look closely and some of the panel gaps could hardly be described as tight, especially between the nose and front wings, which is a bit of a shame.
Slip into the beautifully sculpted sports seats and you sit in the nearest thing to a cockpit this side of a Tornado jet, with a plethora of buttons and switches to play with, but I wasn't sure about the gold-coloured trimmings on the starter button and steering wheel-mounted paddle shifts.
The dash is dominated by a large 8in touch screen display which controls all the car's main functions, including the audio, telephone, sat nav, parking camera and so on, but the heated seats, an essential for open-topped motoring in cool early spring weather, took a bit more finding – you have to press the temperature control dials on the air conditioning to switch them on or adjust them.
I was blessed with dry and mostly sunny weather – and spent more than a couple of evenings with my face glowing warmly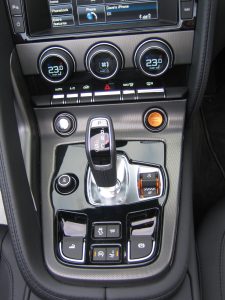 from too much sun, surprising for early April, but I didn't really care – it's the only way to travel – even in light rain, the car's interior staying pleasantly warm and dry at 60mph.
Press the pulsating start button and the 3.0-litre V6 Supercharged engine bursts into life with a rev and a burble which I'm sure makes people think you're showing off, but I wasn't, it's the car, honest guv! The V6 engine makes an addictive noise and is about as potent as they come, propelling the F-Type from rest to 62mph in 5.1 seconds and on to a autobahn-eating top speed of 161mph. The acceleration is relentless, and the twin exhausts protruding from the middle of the car resemble a pair of trumpets which emit a fabulous booming noise as the eight-speed gearbox shifts up. A button on the centre console makes the soundtrack even louder, and when you accelerate between buildings on a narrow road, the noise reverberates around the car – it's hardly discreet – but it is addictive and a noise I would never tire of.
Firmly sprung, the F-Type's ride is hard but not uncomfortable, but this is a high-performance car, and driven hard the firm chassis really comes into its own and makes the car entirely predictable and safe, with good dynamic control and direct, responsive handling at higher speeds. The traction control system is also excellent, unobtrusive, but excellent at dialling out the driver's excesses almost imperceptibly.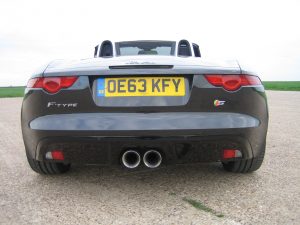 The car is quick enough in its standard settings, but if you really want to up the ante, a gold-trimmed switch brings in Dynamic mode which makes it even more potent and with the active exhaust deployed, the car makes a bang on the upshift and burbles away beautifully on the over-run. Drive it hard and the fuel consumption drops to around 15mpg, but nurse it and I achieved around 32mpg on a 35-mile trip, but expect around 25mpg in general use.
A rear spoiler deploys as the car passes the 40mph mark making the Jaguar badge on the boot visible in the rear view mirror – just in case you forget what you're driving.
Which brings us to the back of the car and the "boot", if you can call it that. There was a time that some gloveboxes were larger. A friend declared that her golf clubs wouldn't fit in the boot, but you could just about squeeze a couple of overnight bags in at a push, but you would have to travel light in the F-Type.
This a fabulous car, stunning to look at, fast, comfortable and most importantly, great to drive. If you can afford the asking price, I doubt you would ever regret your investment.
Rating: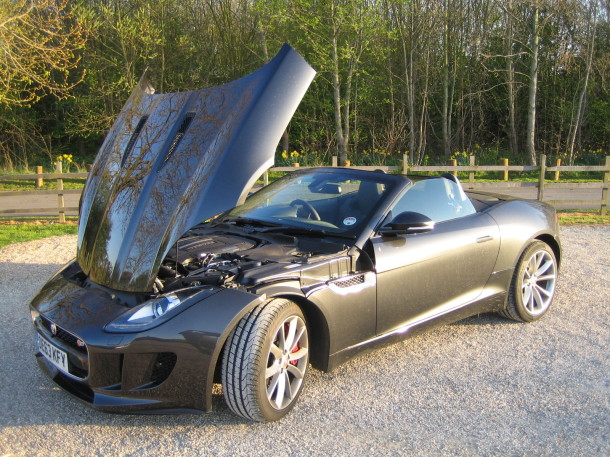 THE VITAL STATISTICS
MODEL: Jaguar F-Type V6 S.
F-TYPE RANGE: From 2-door convertible (£58,520) to 5.0 V8 S 2dr Convertible (£79,985).
ENGINE: 2995cc, 380PSbhp V6 petrol engine, driving front wheels through 8-speed Quickshift gearbox.
PERFORMANCE: Top speed 161mph. 0-62mph in 5.1 secs.
ECONOMY: City: 22.4mpg.
Country: 40.9mpg.
Combined: 31.4mpg.
Fuel tank: 72 litres.
CO2 EMISSIONS: 209g/km.
INSURANCE: Group 50.
PRICE: £67,520 (£80,990 as tested).
WARRANTY: 3 years/Unlimited miles.
WEBSITE: www.jaguar.co.uk
• All data correct at time of publication.