Infiniti G37 Convertible an open and shut case!
http://youtu.be/IK_CEOjPg08
As summer gives way to autumn, wheelworldreviews editor DAVID HOOPER finally gets his hands on Infiniti's gorgeous convertible and finds that even the sat-nav system goes beyond the norm.
BIG in America, and now growing rapidly in the UK, Infiniti is this country's newest brand of motor car.
Growing quickly it may be, but Infinitis are still a rare sight on our roads, a sight which certainly turns heads and guarantees exclusivity.
I left this week's road test car in a hotel car park, and returned to find two blokes puffing away on cigarettes, peering through the windows, not quite sure what it was. I was quizzed at some length about the new car and I reckon I did quite a good sales job on them, as they both seemed quit
e impressed with the G37, and a company which dares to launch a brand new marque into an already crowded market place.
Having initially launched with just one dealership in Reading, the network is now expanding at a pace, with dealers scattered all over the country, the newest of which has just opened in Stockport – but don't necessarily expect to find one on your doorstep.
Its steady start wasn't helped by the fact the company could only offer large petrol engines initially, but now, with a selection of excellent diesel engines added to the range, which includes SUVs, luxury saloons and a smart coupe, as well as the convertible I've been testing, the customers are coming.
The company is working hard on its brand awareness too, with various advertising campaigns, but for me, Infiniti's tie-up with the Red Bull Formula One team is the most effective advertising and has certainly got me thinking about it every couple of weeks this year as Sebastian Vettel relentlessly homed in on his second World Championship to become the youngest back-to-back world championship winner the sport has seen. He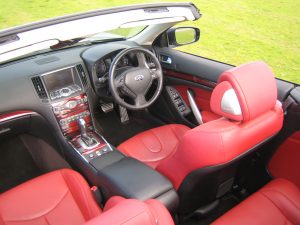 finally sealed his title with an uncharacteristic third place finish at the fabulous Suzuka circuit in Japan, with four races left to run in the 2011 season. Aided and abetted by the fastest car on the grid, he has dominated the season with a predictability reminiscent of his fellow countryman at the helm of a scarlet red Ferrari a few years ago, a certain Mr Schumacher, but I digress.
While the G37 I've been testing this week isn't quite up to F1 standards in performance terms, it is a fast road car. Its 3.7-litre V6 makes a wonderful noise when you plant your foot into the luxuriously deep carpet and the acceleration is very brisk, with the benchmark 62mph flashing past in just 6.4 seconds.
My test car came with the optional seven-speed automatic transmission which is a smooth-shifting box, which gives a delightful blip of the engine on the downshifts when you are using the magnesium gearshift paddles mounted on the steering column. It costs £1,568, but I think it suits the car and its position in the market.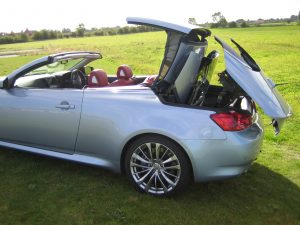 Pressing one button is all it takes to transform this car from a coupe to a convertible in around 25 seconds.
You need to think of this car as a luxury grand tourer, rather than a sports car. On paper its figures are impressive enough, and it certainly makes light work of despatching slow-moving  A-road traffic, but its body flexes more than I expected, especially with its three-piece roof folded into the boot which means its handling isn't as sharp as it should be.
With the roof folded into the boot, it occupies nearly all the available space, so any weekend bags would need to go on the back seats if you wanted to travel with the roof down. With the roof up, there is a good-sized boot, which would free up the rear seats, but adults would find them cramped on a long journey due to restricted head and leg room.
The G37 is a great looking car and commands considerable road presence. Its beautiful Pacific Sky blue paintwork looks fabulous in the sunshine and the large 19in alloy wheels certainly contribute to that effect, but a peak inside reveals more luxury.
Stylish Monaco Red leather continues the motorsport theme, and the red stained Maple Wood interior trim was unusual and very effective, but costs £1,889.
The only other option on this test car was an Intelligent Cruise Control system which costs £770, but will maintain a pre-set distance between you and the car in front,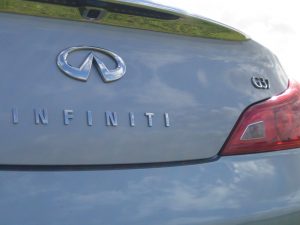 no matter what the vehicle you're following does. Even if the car in front comes to a complete halt, the system will slow your car down to a stop before disengaging, which is pretty impressive to see – but I never completely trusted it!
An excellent sat-nav system, which also reads speed limit road signs and displays the current speed limit on the screen is useful to have, and the nice lady in the dash even warns you about speed cameras, but for me, the "piece de resistance" was the 13-speaker Bose sound system which comes as standard and even has speakers mounted in the head restraints. It sounds brilliant when you crank up the volume to enjoy your favourite music.
My only dilemma was which sound track to enjoy – the music or the engine. Hmmm – now that was a tough one.
Rating:





THE VITAL STATISTICS
MODEL: Infiniti G37 Convertible GT Premium.
G37 CONVERTIBLE RANGE: One model, £45,235.
ENGINE: 3,6967cc, 320PS V6 engine, driving rear wheels through 7-speed automatic gearbox.
PERFORMANCE: Top speed 155mph. 0-62mph in 6.4 secs.
ECONOMY: City: 17.3mpg.
Country: 34mpg.
Combined: 24.8mpg.
Fuel tank: 80 litres.
CO2 EMISSIONS: 264g/km.
INSURANCE: Group 48.
PRICE: £48,133.
WARRANTY: 3 years/60,000.
WEBSITE: www.infiniti.co.uk
• All data correct at time of publication.
CLICK HERE and "Like" our Facebook page: http://www.facebook.com/pages/wheelworldreviewscouk-All-the-latest-motoring-news-and-reviews/124218357637579