BlueMotion Golf estate needs fewer refuels
ROAD TEST REPORT AND REVIEW: VW GOLF BLUEMOTION ESTATE
A practical and impressively economical car, wheelworldreviews editor DAVID HOOPER says VW's BlueMotion Golf Estate makes lots of sense.
WITH the cost of fuel now a major expense for most families, a practical family car which is also highly economical makes a lot of sense.
Regardless of whether or not you are a business driver, this super-frugal Bluemotion version of the current VW Golf range impressed me greatly.
It's so miserly with the fuel that it would impress Scrooge himself. We completed a 200-mile round-trip to a university open day on less than quarter of a tank of fuel at speeds which may have occasionally bent a speed limit or two on the motorway. Its trip computer reported an average fuel consumption of 54mpg during that trip, and for the rest of my time with car it was used as most families would use it, running around town doing various errands, going shop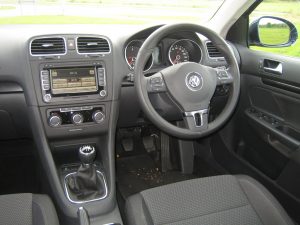 ping and to the pictures. Over a total distance of 354 miles, it returned an average of 48.6mpg, which I think is very impressive. Town work, and high-speed motorway driving are the least economical forms of travelling, yet it still managed to achieve an overall figure that would please many drivers who had tried their best to eek the maximum economy from their less frugal cars.
The car cruised quietly at motorway speeds and its performance belied its modest 105PS power output from its 1.6-litre engine and would be more than enough for most business or family motorists. While its 0-62mph benchmark time of 11.9 seconds isn't going to win many traffic light grands prix, its top speed of 118mpg is adequate, but in between those figures it will cruise effortlessly for hours on end. Reduce the speed slightly and stick to the A-roads, and I would expect that 60mpg in this car would be easily achievable.
The Bluemotion technology brings its CO2 emissions down to just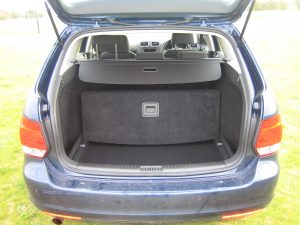 109g/km, which means you pay only £20 road tax per year at current rates. The excellent economy is achieved with the help of low rolling resistance tyres, a gear-change indicator which reminds the driver to change up at the optimum time, and Start-Stop technology, which switches off the engine temporarily when the car comes to a halt at traffic lights, for example.
Regenerative braking also helps to recharge the battery by using energy that would otherwise be lost during braking.
There are three trim grades in the Golf Estate range, S, SE and Sportline. The car offers a sensibly sized package which is highly practical thanks to its good sized boot, useful underfloor storage spaces and the ability to extend the space by folding down the rear seats.
With the rear seats in place, there is plenty of rear leg room, the seats are comfortable and thanks to the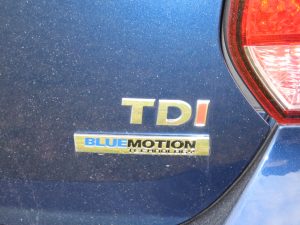 roof rails, if you can't travel light when you go away, you can easily attach roof boxes, cycle carriers and the like to the top of the car.
If you're rubbish at parking, you can order Volkswagen's excellent Park Assist system, which will reverse park the car into a suitably sized space for you and all the driver has to do is work the pedals. A series of parking sensors does the rest, and it really works very well – even if it does take a little while to trust it entirely.
The car I tested came with the touch screen navigation system fitted. It's easy to use and works very well, and if you were to buy one, the 30GB hard drive, with SD card reader would be a real boon – but at £1,505, it's not cheap.
If you're all saving lots of money on fuel though, why not treat yourself. After all, you still need some pleasures in life.
Rating:






THE VITAL STATISTICS
MODEL: VW Golf 1.6 SE BlueMotion TDI 105PS.
VW GOLF ESTATE RANGE: From 1.2 S TSI (£17,960) to Sportline TDI (£24,730).
ENGINE: 1598cc, 105PS four-cylinder engine, driving front wheels through 5-speed manual gearbox.
PERFORMANCE: Top speed 118mph. 0-62mph in 11.9 secs.
ECONOMY: City: 54.3mpg.
Country: 78.5mpg.
Combined: 67.3mpg.
CO2 EMISSIONS: 109g/km.
INSURANCE: Group 18E.
PRICE: £20,990.
WARRANTY: 3 years/60,000 miles.
WEBSITE: www.volkswagen.co.uk
• All data correct at time of publication.
CLICK HERE and "Like" our Facebook page: http://www.facebook.com/pages/wheelworldreviewscouk-All-the-latest-motoring-news-and-reviews/124218357637579