Evoque-ative styling is a big hit for Range Rover
ROAD TEST REPORT AND REVIEW: RANGE ROVER EVOQUE
http://youtu.be/A3o5ywTNT3w
Range Rover's stunning new Evoque is a real head turner. wheelworldreviews editor DAVID HOOPER travels to Scotland to test the new models, on road and off.
STANDING out from the crowd comes as standard for anyone lucky enough to get their hands on a set of keys to Range Rover's stunningly stylish new baby, the Evoque.
Thanks to the use of lightweight construction techniques, this is the smallest, greenest Range Rover yet and comes in two distinctive bodystyles, the five-door Evoque, or the three-door Coupe, which looks remarkably like the Land Rover LRX concept car which wowed visitors when it made its debut at the Detroit Motor Show in 2008.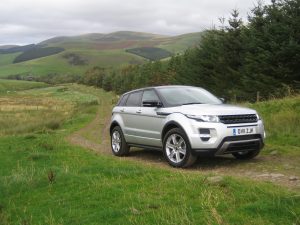 I travelled to Edinburgh to drive the new car, which is built at Land Rover's Halewood Plant, in Merseyside and already has bulging order books, with waiting lists stretching several months ahead.
Our test route took us out of Edinburgh and into the Borders area, a beautifully scenic part of the country, with some great roads upon which to test the new Evoque, which numerous customers are expected to buy as a second or third vehicle, with many already owning at least one other Land Rover, according to the company.
Although this Compact SUV is the smallest of the Range Rover models, similar in size to a Ford Focus, it is big enough to provide practical family transport, especially in five-door guise. It is also the first Range Rover to offer a two-wheel drive version.
LED light units add to the dramatic styling, and at night, a Range Rover graphic is projected onto the floor, illuminated by the puddle lights under the mirrors.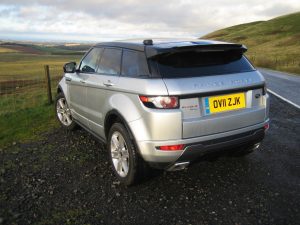 Inside, the fit and finish is to the standards you would expect to find in a premium brand. The two models I drove during the launch exercise both featured a nice mix of leather and wood trim combined with clear instrumentation. The illumination on the speedo and rev counter dials is unusual, and looks as though it's diamond encrusted.
A full-size panoramic glass sunroof floods the interior with light – and provides fantastic views, especially for rear seat passengers.
There's room in the back for up to five adult passengers, although the full compliment may be a bit squashed. The Coupe comes with just two rear seats as standard, but a three-seat bench is a no-cost option. The boot is smaller than I expected it to be, although under-floor storage areas do help. The rear seats will also fold down in a 60/40 split when needed.
The first car I drove was the Si4, with its new all-aluminium 2.0-litre petrol engine, providing 240bhp and 0-60 time of 7.1 seconds. It comes with a six-speed automatic gearbox which features the same twist-action gear selector which is now familiar from other Jaguar and Land Rover vehicles.
On the road, the car drives very well and feels spacious up front. The view out of the small rear window seems a little restrictive at first, but you soon get used to it, and the large door mirrors more than compensate.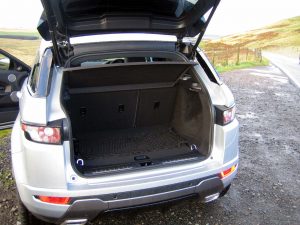 The petrol engine is quiet and smooth, and there are paddles behind the steering wheel for those drivers who prefer to get more involved in the driving every now and again. When you do pick up the pace, the Evoque is agile enough – it turns in nicely and its body is well controlled by its air suspension, but there is a bit more tyre noise audible in the cabin than I expected and some wind noise from the large mirrors protruding from the doors.
With styling as dramatic as this, it goes without saying that the car turns heads wherever it goes – particularly among the high proportion of curious Land Rover drivers we met in this rural part of the world.
The second model I tested was the SD4 190bhp car with a six-speed manual transmission. I actually preferred this set-up. It had a more substantial feel due to the extra weight of the diesel engine, which also seemed to improve the feel through the steering wheel.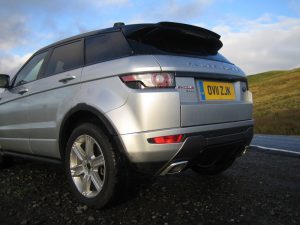 Of course, no Range Rover launch would be complete without the opportunity to drive the car off-road, and the Evoque is a proper, go anywhere Range Rover, complete with the excellent Terrain Response program, which adjust the car's engine, gearbox, centre coupling and braking/stability systems to match the demands of the terrain at the touch of a button.
Supervised by Land Rover Experience instructors who teach owners how to get the best out of their vehicles, we headed off-road on what were mainly farm tracks over fields, not too much of a challenge for driver or car, but to see an Evoque which looks as though it has escaped from a stand at an international motorshow half-a-mile or so in front of you sailing up a fairly steep hill in the middle of nowhere was still impressive enough. Although the off-road section was fairly dry, we still needed the assistance of the excellent Hill Descent Control on a slippery downhill approach to a narrow gate.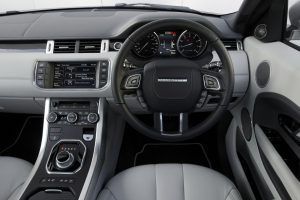 In contrast, as we drove back into Edinburgh's rush-hour traffic, the Stop-Start system came into its own, reducing fuel consumption and C02 emissions, with a gear-change indicator helping to time your changes to perfection.
There are three trim grades, Pure, Prestige and Dynamic, although the eD4 and TD4 customers only have a choice of Pure or Prestige, and the sportier Si4 is only available in the Dynamic trim. With customers encouraged to personalise their cars as much as possible, there are two equipment packs available. Pure buyers can choose the Tech Pack and Prestige and Dynamic customers can upgrade to the Lux Pack, priced at £1,900 and £4,325 respectively.
Prices for these striking new cars start at a tempting £27,955, which clearly overlaps the Freelander range, but Land Rover insist the customer profiles for the two models are quite different and the majority of their customers won't be tempted to move from one car to the other.
The Evoque looks fantastic, is good to drive and has far more off-roading ability than most of its owners will ever call upon.
With bulging order books, this British-built newcomer is a guaranteed success story for a revitalised company which has a superb model range, but perhaps most importantly, a loyal band of customers and enthusiasts which is now set to grow still further.
Rating:






THE VITAL STATISTICS
MODEL: Range Rover Evoque
BODY STYLES: 5-door Evoque and 3-door Coupe
ENGINES: eD4, TD4 150bhp, SD4 190bhp, Si4 240bhp
TRIM GRADES: Pure, Prestige, Dynamic
PRICES: From £27,955 on the road to £39,995.
IN THE SHOWROOM: Now
WEBSITE: www.landrover.com
 All data correct at time of publishing.
CLICK HERE and "Like" our Facebook page for regular updates and follow us on Twitter