Honda Crosstourer proves it's a bike for all seasons
ROAD TEST REPORT AND REVIEW: Honda Crosstourer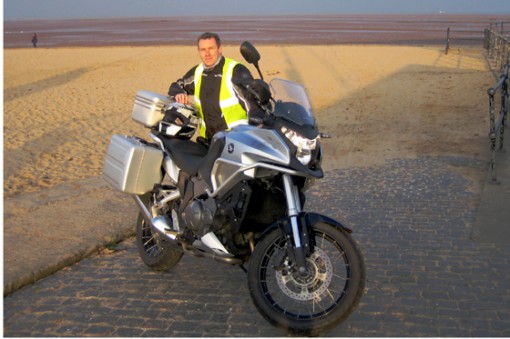 A surprising number of bikers ride all year round, so well wrapped up, DAVID HOOPER, joined some of them for a run up to the Yorkshire Moors on a chilly November Sunday to road test the Honda Crosstourer.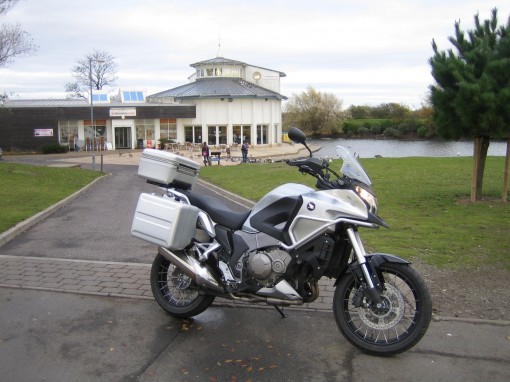 AT this time of year, most of the bikes which come out in force during the summer months have had their final polish and are tucked up under their covers in garages all around the country.
Some hardy souls though, ride all year round, and during my November road test of the new Honda Crosstourer, I joined some of them on a frosty Sunday morning for a ride up to Whitby for lunch and a tour of the beautiful Yorkshire Moors.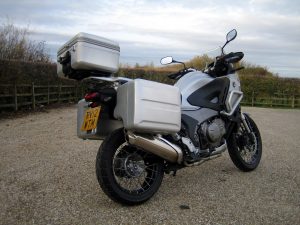 Riding in winter is a completely different experience to a jaunt out on a warm Sunday morning for a cup of tea and a bacon butty at Willingham Woods, but this adventure-style Crosstourer proved to be the ideal companion when the weather turns chilly, thanks to its heated grips and hand shields which made sure I didn't snap my fingers off on a day out when the temperature started at 5 degrees and didn't rise above 7 all day!
It's my kind of bike, superbly comfortable to ride, practical, thanks to its luggage box and panniers, quick and nimble enough to give a sports bike a run for its money, and confidence inspiringly responsive to every input at the handlebars.
Although it looks like an Adventure bike, the Crosstourer does what it says on the tin, it's a cross between an off-roader, and a touring bike, but Honda says it has been designed mainly for road use.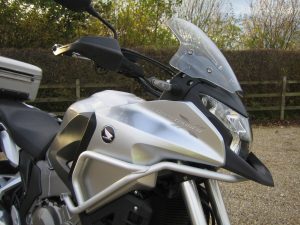 Based on the VFR1200, the shaft-driven Crosstourer comes with smart spoked wheels and 43mm upside-down telescopic forks to provide good stability and precise steering. Various mechanical changes and a remapped ECU have given the engine bags of torque across the rev range, which allows its water-cooled V4 to pull strongly and effortlessly from any speed, in any gear – it even has a switchable traction control system to prevent its back wheel from spinning.
The bike I tested was the six-speed manual, although a dual-clutch transmission automatic is also offered if you don't want to change gear yourself.
The digital LCD instrument panel is simple and clear to understand, yet provides plenty of information. The rev counter runs across the top of the dial, large clear digital numbers tell you how fast you're travelling, while on the right, another number reports what gear you are in.
There are two trip meters, temperature and fuel gauges and a display which tells you how m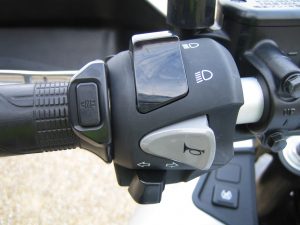 any miles you have left before you have to push, as well as average and actual MPG. With a 21.5 litre fuel tank, the bike has a good range between fill-ups – I managed over 200 miles on my Sunday ride-out without needing to refuel, and I averaged 9.5 miles per litre, which by my maths works out at a respectable 43.1 miles per gallon.
With one of the first frosts of the year covering the cars as I set out, I was well prepared with a few layers of clothing under my fabric Bone Dry outfit, and an extra pair of socks. With the road surface glistening in the early morning sun, I did question my sanity until I got to the main roads, but then as the sun came out and the roads began to dry, I started to enjoy myself. The high, upright riding position gives a great view over traffic, hedges, walls and the like, quite literally giving you a heads-up on what's around the next corner.
The Crosstourer is a big bike and it is heavy when it is stationary, but once on the move, even at walking pace, it is a delight to ride and easy to manoeuvre. At higher speeds, it turns in accurately and changes direction with a nimbleness that belies its muscle-testing kerb weight.
The V4 engine is lovely, smoother than a BMW GS's, and a twist of the throttle, regardless of what gear you're in, is rewarded with a linear and seemingly endless delivery of power which just keeps on coming. It makes sprinting from corner to corner, or executing an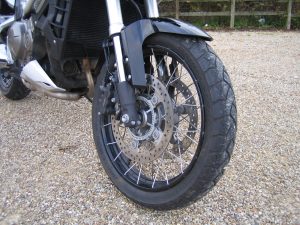 overtake a sheer delight, and the punchy power stays with you right up to the top of the rev range, meaning gear changes can be kept to a minimum.
The brakes are good, too, and are backed by Honda's Combined ABS system which is standard equipment and reassuring when the roads are wet and slippery with fallen leaves as they often can be at this time of year.
My tour of the Yorkshire Moors and back saw me cover over 200 miles in a day, and the bike's wide, flat seat was completely comfortable, although the front screen could have done with being taller to deflect the wind – and road dirt – over me instead of onto my visor. The optional larger screen would be a must-have for motorway work, particularly.
I loved the Crosstourer's practicality, too, with the three large luggage boxes which can swallow a surprising amount of kit. The top one has a zip section which expands the box en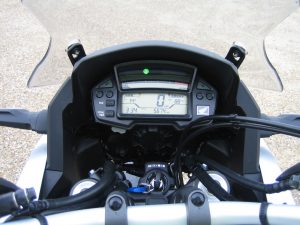 ough to accommodate a full-sized helmet – handy if you're nipping to the shops, or commuting to work. I even took my sunglasses, road map, bike lock, packed lunch and a spare jumper – now you can't do that with many bikes – and that was just in the top box!
If you don't like silver, they also come in red, black or white, there's a host of optional extras to choose from and prices officially start from £11,475, but then as someone said to me, it's winter, so there are deals to be done!
I really loved the Crosstourer and didn't want to see it go back. It's a brilliantly comfortable, quick and engaging bike which you can use all year round.
For more information on any of the Honda motorcycle range, contact George Petch, or any of his team, at GP Honda, 13 Brighowgate, Grimsby, DN32 0QL, or call (01472) 354402. Alternatively visit the website, www.gphonda.co.uk
Don't miss our review of the Honda VFR1200F.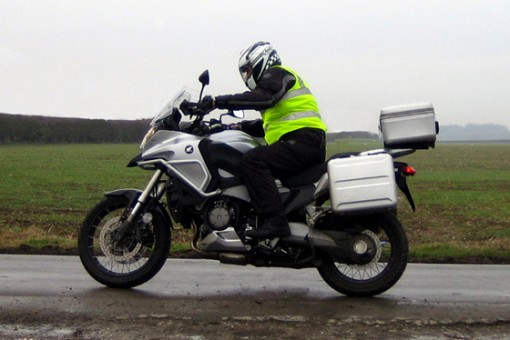 Rating:






THE VITAL STATISTICS
Model: Honda Crosstourer.
Engine: 1237cc liquid-cooled 4-stroke V4.
Max power: 95kW
Max torque: 126Nm at 6,500rpm
Transmission: 6 speed manual.
Weight: 275kg.
Seat height: 850mm.
Fuel tank: 21.5 litres.
Price: £11,475.
Contact: GP Honda, 13 Brighowgate, Grimsby, DN32 0QL
Tel. 01472 354402.
Websites: www.gphonda.co.uk or www.honda.co.uk/motorcycles
CLICK HERE and "Like" our Facebook page for regular updates and follow us on Twitter