British-built new Honda CR-V hits the showrooms
ROAD TEST REPORT AND REVIEW: New Honda CR-V range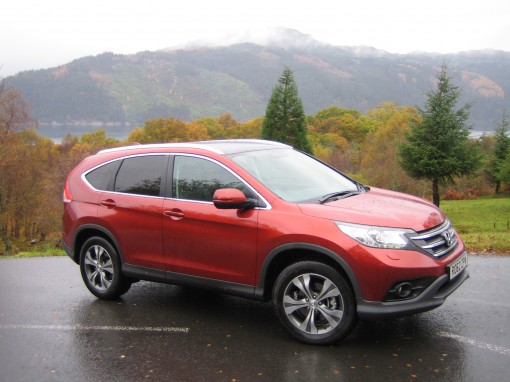 Taking in the views of the Clyde's Scottish sea lochs,DAVID HOOPER enjoys a first drive of Honda's new CR-V line-up.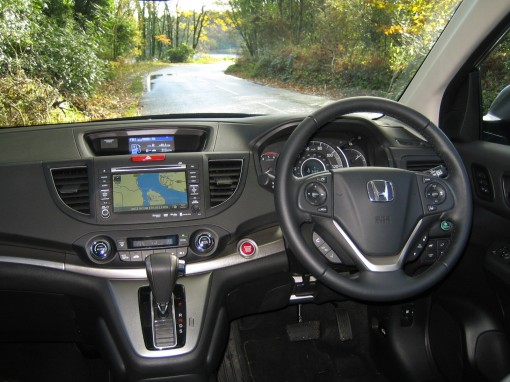 PARKED on the edge of Loch Lomond, with the autumn colours making this part of Scotland even bonnier than usual, I took a moment or two to reflect on the importance of the new Honda CR-V I was driving.
It's quite an important car, not just for the Japanese giant that builds it, but for Britain and the thousands of people who are involved in its production here in the UK.
This is all-new model is the fourth generation of a car which has been built in Britain at the company's Swindon plant since 2000. Since its launch in 1995, five-million examples have been sold around the world. The Swindon plant alone will produce cars for 60 different countries, having overcome the difficulties it faced caused first by the earthquake and tsunami in Japan, and then by flooding in Thailand which affected the availability of electronic parts and subsequently the Swindon plant's production of this and other Honda models.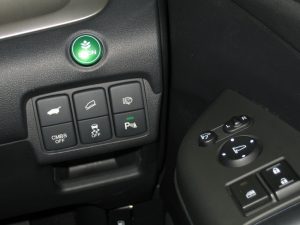 The new CR-V is going toe-to-toe with some tough competitors – the Volvo XC60 and VW's impressive Tiguan are just two examples – so it has to be good – and it is, especially in the range-topping EX spec of most of the test cars I drove during the launch.
To widen its appeal in its quest for more customers, Honda is offering the car with a 1.6-litre i-DTEC diesel engine from January and the option of two-wheel-drive instead of four, thereby reducing C02 emissions and running costs. A stop/start system is standard.
Initially, however, there are just two engine choices, a 2.0-litre petrol with 155PS and Honda's excellent 2.2-litre diesel with 150PS, with the 1.6-litre joining the line-up soon. There are four trim levels, starting with S and going up through SE, SR and topping out with EX.
Customers also have the choice of a slick-shifting six-speed manual or a five-speed automatic, which some may find surprising as most manufacturers these days go for a six-speed auto, but having driven the car, I have to say it works well and suits the CR-V.
The new car looks very good. The front end is fresh and I liked the angular lines of the rear quarter-light which leads into the rear wing. From some angles, the rear end is reminiscent of the XC60.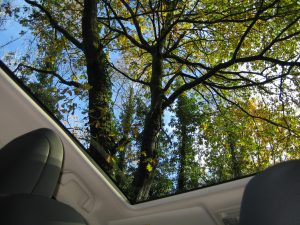 The car is 30mm lower and 5mm shorter than its predecessor, but still provides a high driving position and does a good impression of a tardis once inside, providing ample interior space, plenty of rear leg room and a surprisingly generous amount of boot space.
The 60/40 split-folding rear seat now folds down by pulling just one lever to increase its carrying capacity when needed.
Equipment levels are good, with all models coming with dual-zone climate, cruise control, a stop-start system to keep C02 emissions low (12% down) and fuel use to a minimum, plus hill start assist. Top of the range models feature an excellent panoramic sunroof with an electrically-operated blind, leather upholstery and a sat-nav system with a touch-screen and Bluetooth connectivity.
Other nice touches on the top models include keyless entry and start, privacy glass, colour-coded roof rails and an optional collision mitigation braking system and radar cruise control which come as part of an Advanced Driver Assist System (ADAS).
Honda only had 4WD models for the launch exercise, and these drove quietly and smoothly on the main roads. Our test route involved a particularly undulating section along the banks of Loch Long, an aptly-named, long, thin sausage of a lake. It was a severe test of the car's underpinnings, especially when tackled at some speed when I could feel all four w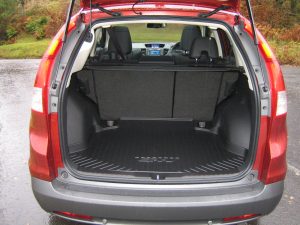 heels briefly leaving contact with the ground on a wet surface. It was great, if slightly stomach-churning fun, and I wished I'd had a photographer with me to capture the action, but it did prove that Honda's engineers had done an excellent job in the ride and handling department, because not once did the underside of the car touch the road's surface, unlike many which had travelled that section of road before, gouging out chunks of the road surface along the way.
Even when the car was unsettled amidst a change of direction, it never felt anything but surefooted, secure and highly competent. Perhaps this was in part due to its Real Time AWD system now being electronically activated instead of hydraulically.
My only slight criticism is that the electric power steering system lacked a bit of feel in the straight ahead position, where I would prefer a sharper response.
For me, the diesel engine was the better of the two I tried and the nicest to drive, and during my brief test, the top spec car returned 46.5mpg, but this dropped to 35mpg when it was driven hard along the banks of Loch Long. The petrol model returned 27.6mpg over a shorter test route.
With rich golden colours, autumn in Scotland is always a treat, and the new Honda CR-V was the perfect car from which to enjoy the views along the Clyde Sea Lochs Trail, which takes you past the Faslane nuclear submarine base and various other naval facilities, which make quite a contrast to the peaceful location and stunning scenery.
Whether you drive a Honda or something else – it's an area which is always worth a visit!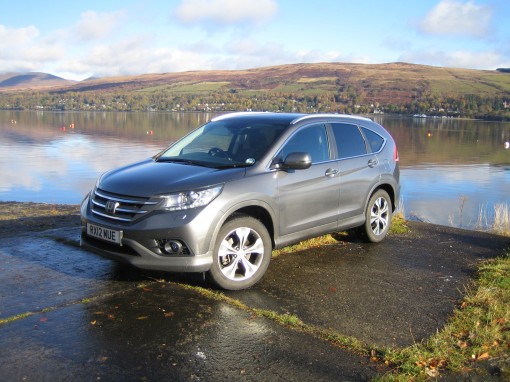 Rating:





FIRST DRIVE FACTS
MODEL: Honda CR-V
BODY STYLES: 5-door SUV
ENGINES: 2.0 i-VTEC petrol and 2.2 i-DTEC diesel
Transmissions: 6-speed manual or 5-speed auto.
TRIM GRADES: S, SE, SR, EX
PRICES: From £21,395 to £32,650
IN THE SHOWROOM: Now
WEBSITE: www.honda.co.uk
◊ All data correct at time of publishing.
CLICK HERE and "Like" our Facebook page for regular updates and follow us on Twitter