New Range Rover road test on, off beaten track
ROAD TEST REPORT AND REVIEW: Range Rover 3.0L TDV6 Vogue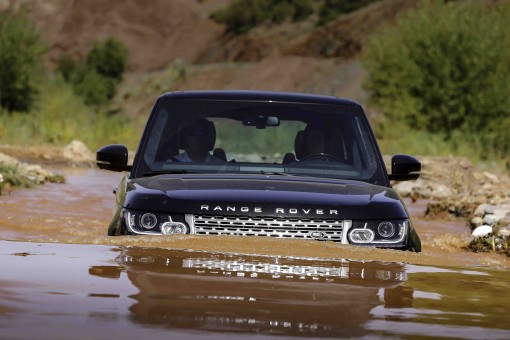 Up hill and down dale, KEITH WARD tests the new Range Rover on road and off on some challenging terrain.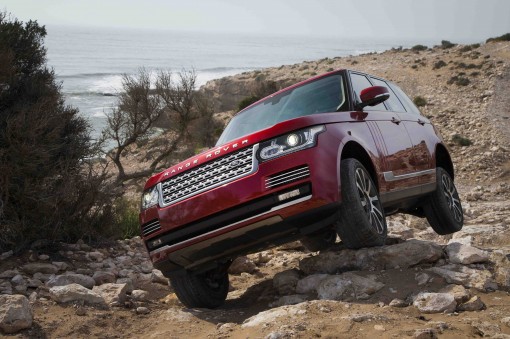 IT is a rum way, as the locals might say, to treat a near-£100,000, sparklingly brand new Range Rover road test car. Encouraged by instructors on a special off-road course in Yorkshire, I am plunging into a tree-lined ravine down a muddy 1-in-3 gradient, steeper than any public road in Britain, and trying desperately to follow the expert advice to keep both feet off the pedals while bracing myself against gravity. It's a severe test!
No worries.  Governed by the maze of electronic wizardry below its bonnet, the latest Range Rover picks its own descent with the careful deliberation of a skilled mountaineer.
Next, with tail high to the sky, its underbelly exposed and one wheel waggling momentarily mid-air it is tackling a rocky, side-to-side track fiendishly devised to give it the gait of a drunken sailor. Mission accomplished. Next, crossing a river on a narrow, two-plank bridge, sill-view side cameras look down to make sure you remain in line.
An enhanced Terrain Response system on upper-trim versions now automatically selects best power train and chassis settings for such as snow, mud, rocks or sand, while advising the driver when to manually select lower range of the 16 gears,  or raise the ride height.
There's 17mm extra ground clearance, to 303mm and, gratifyingly in view of  Britain's increasing flood risk these days, a 200mm enhancement, to 900mm, in wading depth.
Later in the day, the same vehicle, suitably hosed down, is serenity itself, cruising quietly with saloon car poise around the scenic, winding, stonewalled roads of the Dales.  A revised chassis and new four-corner air suspension has made the ride more supple and noticeably reduced body lean on corners.
It is this dual off and on road personality that has given the British-built Range Rover world renown since its debut in 1970. Now, with its makers seeing a new surge of success under Indian ownership, the fourth generation enters showrooms with a fanfare as "the world's finest luxury SUV" .
A new all-aluminium body structure helps make it 420kg or 39 per cent lighter than the steel-shelled outgoing model, saving weight equivalent to five adults, so improving fuel efficiency while quickening performance.
A longer wheelbase within a similar footprint allows 118mm more rear legroom. The plump leather rear seats fold down, but not into a completely flat floor.  Small, square rear lights look curiously undersized by modern design fashion. The horizontally split rear tailgate now closes electrically.
The cockpit control layout with its two display screens reportedly features 50 per cent fewer switches, but still warrants a swot-up session with the handbook. A sumptuously furnished cabin could do with a grab handle on the screen pillar to hoist you into the high-set driver's seat.
In a seven-strong range there's a choice of three engines (3.0 and 4.0-litre diesel and a 5.0-litre supercharged petrol) and three levels of trim, at prices hiked to between £71,295 and £98,395. Bear in mind our sample vehicle was the lowliest 3.0L TD6 Vogue.  Lined up for later in 2013 is a diesel hybrid reducing CO2 to 169 against the current cleanest 196g/km.
All versions have permanent "intelligent" four-wheel-drive through an eight-speed automatic transmission with a two-speed transfer box.
According to the car's interior designer, Jo Slater, there are as many as 18,000 options in equipment and furnishings to "really make the car your own".  The top audio system emits 1,700W through 29 speakers. Premium climate control is a four-zone system. Front seat occupants can opt for a five-mode massage. Even the sat-nav seems to advise you in respectful, Jeeves-like tones.
There's a question of how many owners will actually exploit its talents to the full.  But the latest Range Rover, more than ever, enables you to take the really rough with the ultra smooth.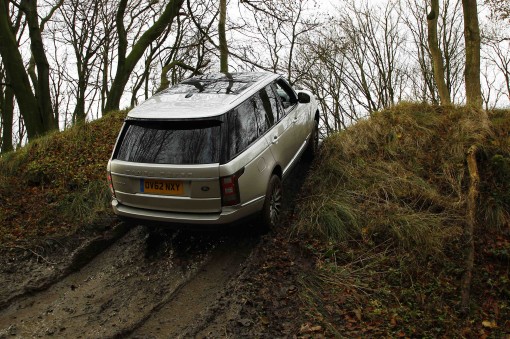 Rating:






THE VITAL STATISTICS
Model: Range Rover 3.0L TDV6 Vogue
Type: Luxury SUV; 5-door; 5-seat; permanent 4WD; 8-speed automatic
Off-road: Two-speed transfer box; approach angle 34.7 deg; departure 29.6 deg; wading depth 900 mm
Engine: Diesel; 2,993cc V6; turbo; 258 PS; max torque 600 Nm; stop-start
Performance: 130 mph; 0-60 in 7.4 secs
MPG: On test 26.1; official combined 37.7 mpg; tank 85 litres
CO2: 196 g/km; tax band J; VED £460 1st year then £250
PRICE: £71,295
On sale: January 2013
Website: www.landrover.com