Ford EcoSport Titanium 1.0 EcoBoost 5-speed manual road test report and review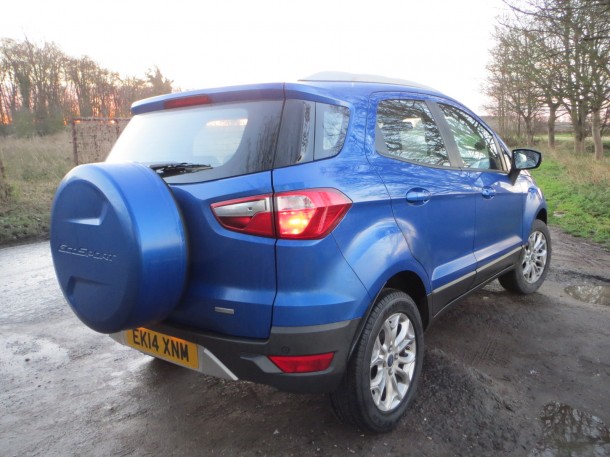 Ford EcoSport Titanium 1.0 EcoBoost 5-speed manual road test report and review: The quirky looking machine from Ford is called the EcoSport, but does it live up to its name? DAVID HOOPER has been finding out.
THE Ford EcoSport is basically a jacked-up Fiesta, similar in concept to the Ford Fusion from a few years back, which is still a popular seller. I was at a motor auction recently when a Ford Fusion came into the hall, followed by numerous prospective trade buyers – the auctioneer said it was like watching the Pied Piper enter the sale hall!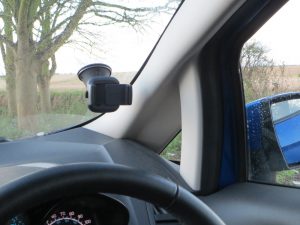 I think the Ford EcoSport's styling is a bit on the quirky side and is it really necessary to hang the spare wheel on the boot door, but if you like that sort of thing, and some people do, the Ford EcoSport may appeal.
For me though, there was a more serious concern, and that focused on a terrible blind spot created by the huge A-pillar/door structure. Necessary for crash-test strength, Ford has tried to minimise its impact by adding a small window, but really needn't have bothered because it's next to useless. It's all too easy to lose a bike, and even other cars, in the black hole of vision it creates and you really have to look around it at roundabouts and junctions to make sure nothing is obscured from view.
The EcoSport's tall stance means getting in and out of the car is easy, which may appeal older buyers, and parents lifting children in and out, but the large rear door which is hinged on the left hand side can make getting into the boot difficult in a car park – I actually had to move the car forward a couple of feet at least twice during my test when the car was reversed into its space, and if you park it nose first, the rear door then sticks out into the car park's aisle!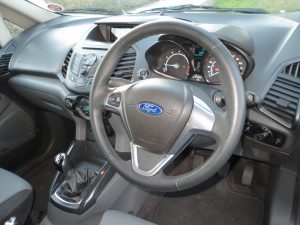 The model I tested, the EcoSport Titanium, came with Ford SYNC with APPLINK which includes six speakers, Bluetooth phone connectivity, voice control and emergency assistance, a USB connector and a small 3.5in colour screen, all totting up to an extra £250, but it allows you to play the tracks on your phone through the car's music system.
Other options on our test car included the smart Kinetic Blue metallic paint (£495)  and the useful rear parking sensors at £210, bringing the total on the road price up to £16,500 – still not too bad.
There is also a trip computer and the now expected electric windows and mirrors. I also liked the keyless entry system, which means that so long as the key is about your person, in a pocket or handbag near the car, it can be locked or opened by touching one of the little back buttons in the door handles – a boon when your hands are full of January sales bargains!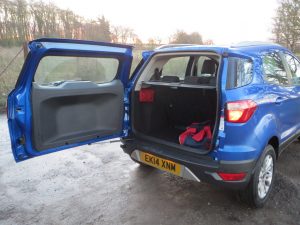 Power in this version of the EcoSport comes from Ford's excellent three-cylinder 1.0-litre EcoBoost engine, which has won wide industry acclaim for its spritely performance and impressive economy.
From behind the wheel, you would hardly ever realise there are only three cylinders under the bonnet, except for the distinctive engine note which becomes more audible as the revs rise. Get the needle above 4,000rpm, and the engine really comes alive, and while it's never going to be fast, it is quite good fun and feels surprisingly nippy.
It will cruise happily at motorway speeds, but because it's working quite hard it does effect the economy, and during my test of around 500 miles, the EcoSport only returned 37.5mpg, which isn't exactly brilliant by today's standards.
The lack of Stop/Start system on what is essentially a city car also surprised me, especially when so many new motors are now getting these systems as standard.
The ride quality of the EcoSport is fine, it's comfortable enough, even after an hour or two at the wheel, but dynamically it's not the best, thanks largely to its raised ride height, which combined with a bit of body roll and enthusiastic progress results in some wheel slippage on damp surfaces, but no doubt, most buyers will never notice.
The EcoSport, despite its quirkiness, looks quite good, offers a reasonable amount of space for up to five people and is pleasant enough to live with – if you like this style of car – just bear in mind the back door!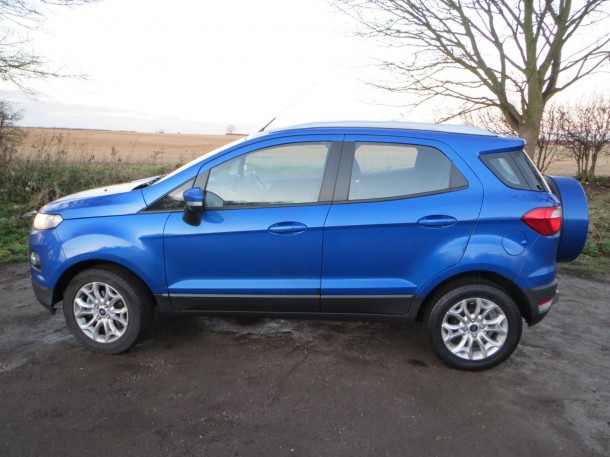 Rating:





THE VITAL STATISTICS
MODEL: Ford EcoSport Titanium 1.0 EcoBoost 5-speed manual.
FORD ECOSPORT RANGE: From EcoSport Titanium 1.5 112PS (£14,995) to EcoSport Titanium X Pack 1.5 112PS Powershift 5-dr (£17,495).
ENGINE: 999cc, 125PS three-cylinder petrol engine, driving front wheels through 5-speed manual gearbox.
PERFORMANCE: Top speed 112mph. 0-62mph in 12.7 secs.
ECONOMY: City: 42.8mpg.
Country: 60.1mpg.
Combined: 53.3mpg.
Wheel World test average: 37.5mpg
CO2 EMISSIONS: 125g/km.
FUEL TANK: 52 litres.
INSURANCE: Group 11.
PRICE: £15,995 (£16,500 as tested)
WARRANTY: 3 years/60,000 miles
WEBSITE: www.ford.co.uk
• All data correct at time of publication.