Monte Carlo's rallying call to hot hatch enthusiasts
ROAD TEST REPORT AND REVIEW: SKODA FABIA MONTE CARLO
Skoda celebrates its motorsport heritage and one of the world's most famous rallies with its special edition Fabia Monte Carlo. wheelworldreviews editor DAVID HOOPER says it surpasses expectations.
MANY readers may not realise it, but Skoda is well known, and respected, for its motorsport exploits in many circles.
Rising to the challenges of tests on roads and tracks all around the world, Skoda has notched up numerous wins over the years, but this week's test car is a special edition which was created specifically to celebrate one of the most famous rallies of them all – the Monte Carlo, from which this rather special little Fabia takes its name.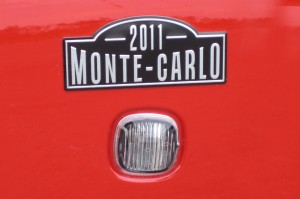 The Fabia Monte Carlo celebrates the rally's centenary, and also marks an incredible 110 years of Skoda's involvement in motorsport. The fact the company has been involved in motorsport longer than most other carmakers have been in existence, is testament to its sporting pedigree – something anyone who drives the Fabia Monte Carlo will be left in no doubt about.
With its red paintwork contrasting with its black roof, wheels, and dark tinted glass it looks menacingly superb. Even the headlights are black smoked, the wheel arches have piano black trim and the top of the radiator grille is black chrome.
Its suspension is lowered from the standard SE model on which it is based and it sits on 17in Trinity alloy wheels, giving the car an individual look which certainly turned a few heads while I was driving it.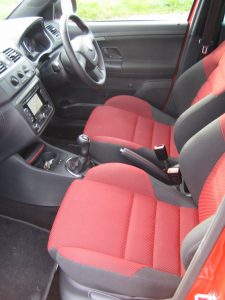 Inside, the red and black theme continues, with the typically black dashboard, but the seats are trimmed in red and come with extra side supports to keep you in place should you get a little enthusiastic, which I have to say, is difficult to resist. The steering wheel is finished with a nice perforated leather with red stitching, as is the handbrake and gearstick gaiter. For those who prefer a plainer look, you can have it in all black if you want to, but I don't know why you would.
Monte Carlo badging adorns each wing, and the logo looks smart on the silver kickplates, which look very effective.
Customers have a choice of engines, three versions of the 1.2-litre TSI with either 69PS, 86PS or the 105PS model I've been testing, or two 1.6-litre TDI common rail diesels, producing either 75PS or 105PS.
The 105PS unit is addictively willing. It's one of those cars you'll take out for a blast on your favourite back-roads purely for the fun of it, which may surprise performance car fans in view of the fact that it's relatively low-powered, but believe me, it works.
The benchmark 0-62mph time is achieved in 10.1 seconds, and the top speed is 119mph, yet it still only emits 124g/km of C02 and can achieve a claimed 53.3mpg on the combined cycle, although during my test, which to be fair involved plenty of town driving and the occasional back-road blast, I got 33.8mpg over all.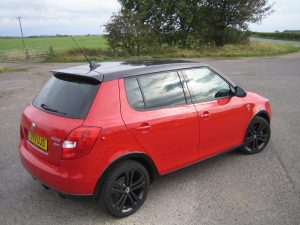 Plant your foot into the carpet and the car accelerates surprisingly strongly. The suspension is firm, but not uncomfortably so, and works brilliantly. Chuck the Monte Carlo into a corner and there are no dramas, it responds faithfully to the driver's input, but I would have preferred slightly less assistance from the power steering, particularly at speed, as it made the car feel a little bit over-sensitive and twitchy.
But that is the only negative comment I could level at this practical family hatchback which is fast, fun, and if driven more gently, is capable of providing economical motoring in a very stylish package.
You would need to watch those black alloy wheels on the kerbs though – it would be a shame to scratch them, and it would be easy to do so.
The car I tested had the Amundsen sat nav system fitted at a cost of £535 and the Bluetooth telephone system, which is a further £335, bringing the total to just over £15,000, which I reckon is pretty good value for money, and would buy something just that little bit different.
It's certainly well worth a look in my book.
CLICK HERE and "Like" our Facebook page for regular updates and follow us on Twitter
Rating:





THE VITAL STATISTICS
MODEL: Skoda Fabia Monte Carlo 1.2 TSI.
SKODA FABIA RANGE: From S 1.2 6v 60ps 5dr (£9,880) to vRS 1.4 TSI DSG 5dr (£16,415).
ENGINE: 1197cc, 105PS four-cylinder engine, driving front wheels through 5-speed manual gearbox.
PERFORMANCE: Top speed 119mph. 0-62mph in 10.1 secs.
ECONOMY: City: 41.5mpg.
Country: 62.8mpg.
Combined: 53.3mpg.
Fuel tank: 45 litres.
CO2 EMISSIONS: 124g/km.
INSURANCE: Group 13.
PRICE: £14,150.
WARRANTY: 3 years/60,000 miles.
WEBSITE: www.skoda.co.uk
• All data correct at time of publication.