Audi's Q3 offers something for everyone
ROAD TEST REPORT AND REVIEW: AUDI Q3
Offering a model to suit just about everyone, motoring journalist IAN LAMMING looks at the new Audi Q3 line-up.
THERE'S a battle raging in the market place fuelled by circumstance, driven by design.
Two things are pivotal in the development of cars at the moment, the price of fuel, the fear of the weather.
Not too many years ago big off-roaders were vilified for being unnecessary and bad for the environment.
But that was before global warming, summer flash floods and paralysing winter weather. Now they are deemed essential, trendy, the vehicle of choice.
Few people need the extremes of proper off-roaders, with their gargantuan girths, powerful engines and go-anywhere transmissions. What they actually want is a scaled down version.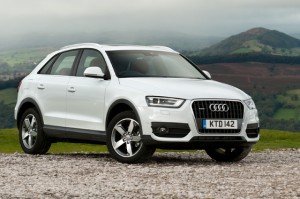 BMW threw the gauntlet down with the heavily revised and rejuvenated X3, Range Rover picked it up with the evocative Evoque and now it's Audi's turn with the A3.
At a glance you would swear the new model is a compact version of the Q5, or even larger Q7. But it actually feels more like a pumped up A1, as it boasts the new generation interior.
It also feels much lighter, thanks to smaller proportions and bonnet and tailgate which are made from aluminium. As well as boosting performance and economy this weight loss also sharpens dynamics, making it drive exactly like a car.
That said you get all the benefits of an off-roader, such as great ground clearance, high set driving position and robust feel.
Then there's the back-up of the legendary all wheel drive Quattro system and the Q3 also features a special free-wheel mode, where it reduces power as soon as it detects a level of momentum not requiring drive. This, and the stop-go technology, helps boost economy to well into the 40s resulting in excellent running costs.
In such a light weight body the 177PS TDI engine is enough to give the Q3 sprightly performance and great hill climbing ability. If that's not enough there will be a 140PS two wheel drive version, and there's a 170PS and 211PS petrol motors; I can't wait for the 300PS bi-turbo which is in the pipeline.
That's a line up designed to suit just about everyone, from professional couples and empty-nesters to retired folk and full on family types.
Q3 is smaller than its heftier siblings but it is still spacious enough accommodate people and luggage.
The whole package is recognisably Audi, even if you removed the badges, but there's nothing wrong with that particularly as it blends a coupe profile with 4×4 muscle.
Standard specification includes 17in alloys, dual zone climate control, electromagnetic handbrake, rear parking sensors, multi-function steering wheel, 6.5in colour flip screen and Bluetooth interface. There are just two trim levels of SE and S-Line.
Audi is confident the Q3 will help put on sales, rather than steal them from the larger Q5. They are certainly expecting to sell plenty – 100,000 worldwide – and you will need to order 12 to 16 weeks in advance.
As if you didn't realise, Audi means business. R&D spends two-billion euros a year developing new models and has launched 12 in the past five years – incredibly Q3 is the 38th model – now that is impressive in the war of the automotive world.
Rating:





THE VITAL STATISTICS:
Model: Audi Q3 TDI 2.0 SE
Engine: 2.0 litre, turbo diesel
Drivetrain: S-tronic
Power: 177PS
Top speed: 132mph
0-62mph: 8.2 secs
Insurance group: 25
Miles per gallon: 47.9 (combined):
CO2 (g/km): 156
Price: From £28,460