Audi A1 is pocket sized, but still posh
ROAD TEST REPORT AND REVIEW: AUDI A1
Keeping up the Jones's with a pocket-sized posh car, motoring writier KEITH WARD tries Audi's upmarket A1.
TRADITIONALLY upmarket brands have in these straitened times seen fit to stick smaller models, cheaper to buy and run, to the bottom end of their ranges. Pocket-sized but still posh is the formula; compact with charisma.
So although seen to do your bit to shoulder the crisis as a responsible member of Mr Cameron's One Nation, you don't lose face with the Jones's next door.
Step forward the Audi A1, a compact three-door hatchback to take on such as BMW's 1-series. It stands about a foot shorter than the A3 next up the range, but with just enough legroom to allow two pairs of average-sized adults to sit behind each other. Taller occupants should check the headroom.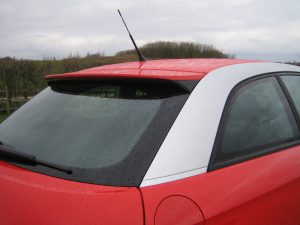 The boot took little more than our two weekend cases, but some extra storage could be found under the floor, thanks to lack of a spare wheel.
To take more cargo, the rear seatbacks will divide and slope forward, but the rear bench is one-piece, so to achieve a flat extended floor you need to sacrifice both rear seats. Otherwise, the interior is up to what you might expect as a smart Audi standard.
Our car had the most modest of the three engine options: a 1.2-litre, four-cylinder petrol producing 86 PS and a remarkable surge of power on the flat. But on hills you need to work the five-speed box and on motorways you might be looking for a sixth cog, which is standard with the bigger 1.4 -litre petrol option. Both they and the 1.6 diesel alternative boast turbocharging and a stop-start function when stationary, which helps reduce CO2 emissions from the 1.2 to a lowly 118 g/km, incurring nil road tax in the first year and just £30 annually thereafter. And although driven keenly, it returned 47.2 mpg.
In mid-table Sport trim, the 1.2 TFSI test car, at a base price of £14,165, would include special seats, firmer suspension which transmits road ripples, Bluetooth interface and larger 16-inch wheels. It came also hung with the sort of extras Audi owners might crave and add to the bill. Such as a £1,225 technology pack including a hard-drive satnav, electronic climate control (£330) replacing standard air-con, higher-grade audio, automatic wipers and lights and a racy exterior styling pack. They helped boost the price of the car by nearly 50 per cent, to £20,335.
The message appears to be: Downsize, but don't ditch creature comforts.
Rating:





THE VITAL STATISTICS
Model: Audi A1 1.2 TFSI Sport
Body: 3-door hatchback; length 3,954 mm; width 1,740 mm; wt 1,040 kg
Engine: Petrol; 4-cyl; 1,197 cc; turbo; stop-start function; 5-speed manual
Power: 86 PS @ 4,800 rpm; max torque 160 Nm @ 1,500-3,500 rpm
Performance: 0-62 in 11.7 secs; 112 mph
MPG: On test 47.2; official combined 55.4; tank 45 litres
CO2: 118 g/km; tax band C; VED disc nil 1st year, then £30; BIK 10 %
Insurance: Group 9
Warranty: 36 mths/60,000 miles.
PRICE: £14,165; as tested, incl. options £20,335