Driving a Mercedes Actros truck is 'a piece of cake'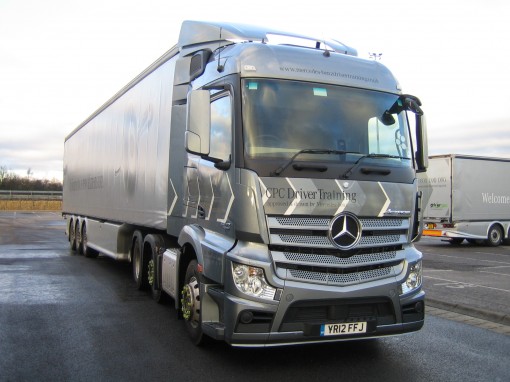 DRIVING a truck used to be a tough job, but these days, it's a piece of cake at the wheel of a Mercedes-Benz Actros 2545LS!
A chance to drive Mercedes-Benz flagship Actros 2545 LS truck during the "Big Stuff" day with Mercedes was an opportunity not to be missed, especially when it was loaded with more than 42 tonnes of concrete!
To shift all that weight, its driver can call on a 12.8-litre six-cylinder 450bhp engine, but actually driving the thing is much easier than you might think.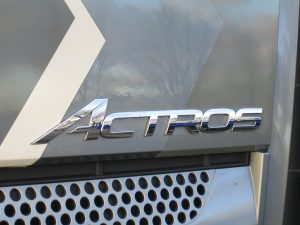 Where once you had lots of gears to get your head around, this truck does all the work for you thanks to a fully automatic gearbox, so it moves up and down its 12-speed box all by itself, leaving the driver to concentrate on what the trailer is doing.
With fuel prices as they are, spare a thought for hauliers who run big fleets of trucks, delivering just about everything we buy or eat to the shops – they only do around 8.5 to 12mpg, depending on the weight they are hauling around behind them.
The Actros, however, is more economical than many, and the current model holds British records for fuel economy and this new model I drove is 6% better than that!
This latest Actros comes with numerous driver aids, like a diff lock for slippery conditions, stability control and a hill hold system to stop it rolling back on an incline.
Like a modern car, it also has a lane assist system which warns the driver if he starts to stray from his lane, cruise control and a speed limiter.
They cost between £75-£100,000 depending on specification.
Driving a truck was easy on a big empty car park, but on our crowded roads, it's a different story. I've got the greatest respect for truck drivers, they do a brilliant job – so let's be nice, and give them some space – 44 tonnes of articulated truck takes a bit of stopping, so it's probably best not to get in their way!
Have you read our other Big Stuff stories on the Mercedes Sprinter 4×4 and the Mercedes-Benz Actros trucks?