Dacia Logan MCV gives rivals run for their money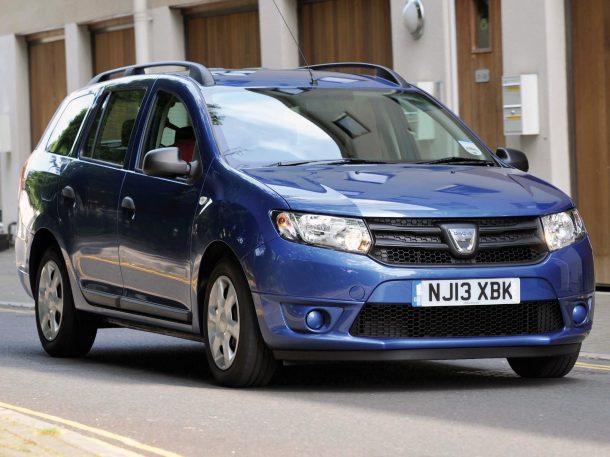 ROAD TEST REPORT AND REVIEW: Are Dacia Logan MCV models just cheap and cheerful? Motoring writer Keith Ward sees if the Logan can put a smile on his face
DACIA call the Logan their MCV – standing for Maximum Capacity Vehicle.
There's still the whiff of old Eastern Europe austerity about that, somehow.
The truth is in the tape measure. Popular mid-sized estates we have tried and sized up recently, including the Skoda Octavia, Kia c'eed, SEAT Leon ST, Peugeot 508 SW and Volvo V60, all fall short of the Logan's lanky 1,700mm – over five and a half feet – as the length of its load deck with the divided rear seats down. After all, for many that's the chief practical marker of an estate.
True, the Logan's boot width at 960mm falls slightly below the class average and there's an awkward step in the extended floor, but claimed overall cargo capacity at as much as 1,518 litres is still respectable. The front passenger seat also folds down for added versatility. Loading goods is made easier by a low rear sill at the base of the tall tailgate opening.
And while we're talking maximum capacity, regard the minimalist price. A seven-strong range starts at only £6,995, rising through a choice of three engines and three trim levels to £10,795. Be aware that while basic Access versions get the usual safety features, power steering and a heater, you must step up to mid-trim Ambiance (from £7,795) to warrant even a radio and luggage cover.
We tried what is expected to be the best selling Logan – with Renault's well-tried 1.5 dCi 90 bhp diesel unit and  top Laureate trim, giving (manual) air-con, cruise control, all-electric windows and mirrors, height adjustment for steering wheel and driver's seat, onboard computer and bits of chrome, graphite and leather to relieve what is otherwise a plain interior.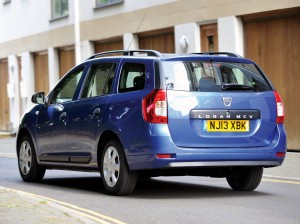 Even with all these comfort toys the price is  impressively well under £11,000. With extra options on our car such as a seven-inch touchscreen multi-media and sat-nav system (an incredible bargain at £300), the price as tested would be £11,725.
Dacia of Romania first ventured to the UK in the 1970s from behind the Iron Curtain, when the then state-run company stuck their badge on outdated Renault 12 bodyshells, much as Lada of Russia recycled old Fiats. The chief – just about the only – virtue of these utility products was their rock-bottom prices, and they gradually faded out against ever-improving western models.
Now Dacia is back, these days actually owned by Renault, who have pumped £400m into the Romanian production facilities and given access to the latest components and design know-how. So you expect the cars to look and feel better, and they do.  A crop of press and consumer awards have come their way, including being fifth overall in the annual Auto Express Driver Power survey, ahead of such premium brands as Porsche, BMW, Audi and Mercedes.
In the wake of notable success in France, UK sales in the first year reached more than 17,000, a welcome corporate bonus to Renault's own hard-won 46,000 here.  Now (June 2014)  Dacia have notched 25,000 sales in their first 18 months here.
The Logan is most recent of a quartet of Dacia models.  It stands alongside the Sandero hatchback (from £5,995), the cross-over Stepway (from £7,995) and the flagship Duster SUV (from £8,995). Little wonder a three-month waiting list built up by the end of 2013.
"We have got a no-frills approach", says the amiable Andy Heiron, UK Dacia brand manager, with a network of 135 main dealers. "We took 450 Logan orders in the first two months of this year, and that's retail, private customers, not fleet. We are very pleased".
Prices still catch the eye. Durability and reliability long term remain to be proved. In that light, Dacia offer extensions to their standard three-year warranty – to five years for £395 and to a Kia-matching seven years for an outlay of £850.  Worth thinking about.
THE VITAL STATISTICS
MODEL: Dacia Logan MCV Laureate dCi 90.
BODY: Five-door, five-seat estate.
ENGINE: Diesel, 1,461cc, four-cylinder, five-speed.
POWER: 90bhp @ 3,750rpm; max torque 220Nm @ 1,750 rpm.
PERFORMANCE: 107 mph; 0-62 in 12.1 seconds.
MPG: On test 49.5 mpg; official combined 74.3
CO2 EMISSIONS: 99 g/km; VED Band A; annual tax disc Nil.
INSURANCE: Group 12P.
WARRANTY: 36 months/60,000 miles.
PRICE: £10,795, as tested with options incl sat-nav £11,725.
WEBSITE: https://www.dacia.co.uk/vehicles/logan-mcv/