Citroen C3 Flair BlueHDI 100 road test report and review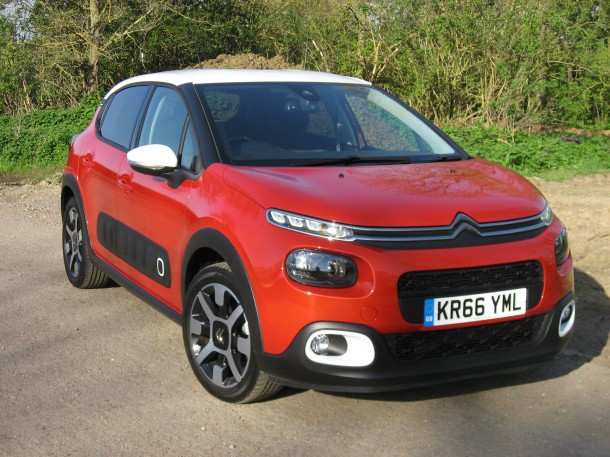 Citroen C3 Flair BlueHDI 100 road test report and review: Meet Citroen's funky new C3 range with bright colours which are sure to catch the eye. DAVID HOOPER has been putting one to the test.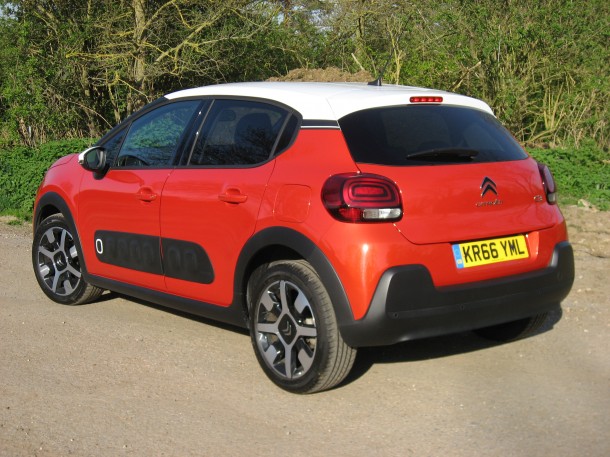 WHAT has Citroen done to its popular C3 range? Our test car this week is an example of the trendy new model line-up, which appears to have been drinking the Cactus juice, and it looks great!
Love them or hate them, the Airbumps from the quirky Cactus have found their way onto the new C3, albeit in a slightly smaller and more discreet form, which contrasted nicely on this particular version with the bright Orange paintwork and white roof, to give a pleasingly modern appearance overall. We also liked the white painted detailing around the low set front light units and door mirror cappings.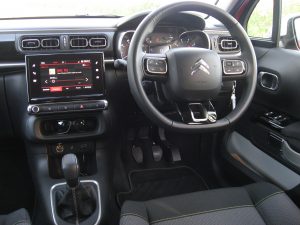 A more prickly subject, for me at least, was the car's ride and handling set-up, which has also adopted the characteristics of the Cactus, which resembles driving something not much firmer than a jelly. French cars are known for their soft and compliant ride quality, but Citroen's latest models seem to be going too soft for my liking. If you're happy pootling around, then it's fine, but throw into the mix a quick change of direction, or turn the car into a corner with any kind of intent, and it lurches to the side before settling on its suspension,  and if you switch from left to right, or vice versa, quickly, the car feels almost unstable, which it isn't, but it certainly doesn't inspire confidence and for drivers who aren't used to throwing a car about but found themselves having to in an emergency situation, I think it could be quite alarming. Perhaps it's time for a bit of a rethink and the option of a firmer, more normal suspension set-up.
Customers have the choice of PureTech petrol engines, as well as the diesel unit in our test car, and Flair, Feel and Touch trim levels. Power in this example comes from a 1.6-litre diesel engine offering 99PS, which when pottering around, as I did for most of my 300-plus miles with the car, returns an impressive 61.3mpg via its five-speed gearbox which slots neatly from gear to gear. It pulls well enough through the gears, and cruises very quietly once up to speed.
Inside, the driving position is good and the seats are generously wide and comfortable. There are also some nice design touches, and I liked the door panels which feature old-fashioned handle pulls. The rounded rectangle theme continues across the dash, which ties the whole look together. In the back, there is ample leg-room in this traditional five-door hatch bodystyle, and the boot is a usable size. The rear seat backs also fold down to enlarge the car's carrying capacity when required.
Equipment levels are ok, with electric windows all round, electric mirrors, remote central locking and the like. You also get cruise control, speed limiter and a multi-function steering wheel from which you can control the car's trip computers, although I found the thin typeface used for the display a bit of a test for my ageing eyesight!
Colourful, quirky and economical to run, the new Citroen C3 has a lot going for it, and with prices starting from £11,135 It is competitively priced and it comes with a 3-year/60,000 mile warranty, but it's suspension set-up is just too soft for my liking.
Rating: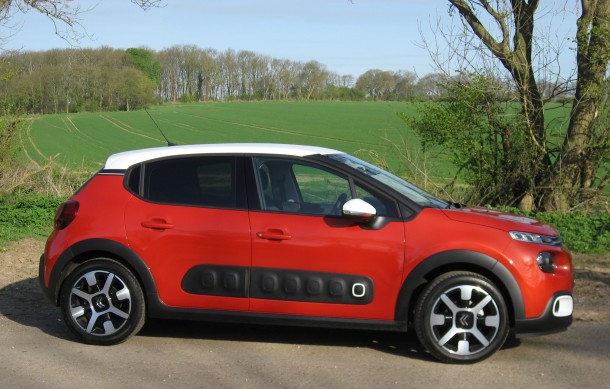 THE VITAL STATISTICS
MODEL: CITRO?N C3 FLAIR Bluehdi 100.
ENGINE: 1560cc, 99PS four-cylinder diesel engine, driving front wheels through 5-speed manual gearbox.
PERFORMANCE: Top speed 107mph. 0-62mph in 10.6 secs.
ECONOMY: City: 64.2mpg.
Country: 88.3mpg.
Combined: 76.3mpg.
Wheel World test average: 61.3mpg
CO2 EMISSIONS: 95g/km.
FUEL TANK: 42 litres.
INSURANCE: Group 20
PRICE: £17,505
WARRANTY: 3 years/60,000 miles
WEBSITE: www.citroen.co.uk
• All data correct at time of publication.