Audi Q2 1.4 TFSI Cylinder on Demand 150PS Sport road test report and review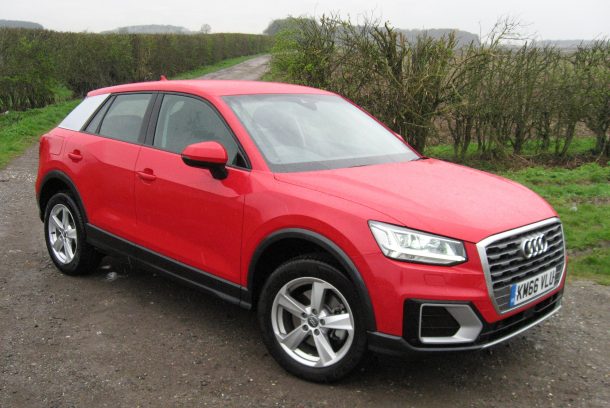 Audi Q2 1.4 TFSI Cylinder on Demand 150PS Sport road test report and review: DAVID HOOPER drives the baby of the 'Q' model line.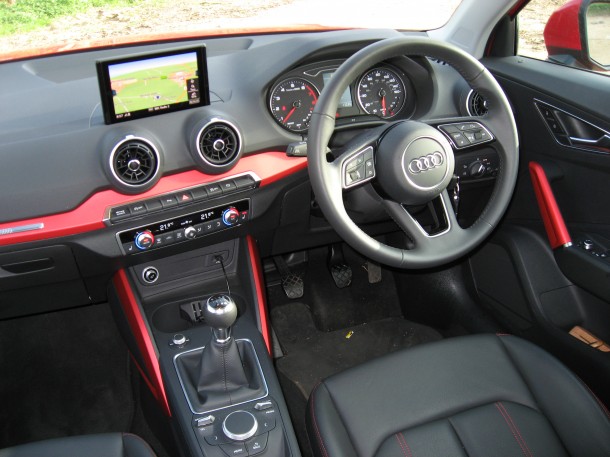 AUDI'S Q2 is the recently-introduced baby of the German manufacturer's "Q" model line, and with its big front grille is quite a striking little car, but it's price tag isn't so little. Sign the order form for this week's test car, resplendent in its Tango Red Metallic paintwork, and it would quickly be followed by a cheque for £29,285.
Quite a lot of money for a relatively small car, but it does have an inherent look and feel that exudes quality, so perhaps as always, you get what you pay for.
There are some nice design touches on our test car – I liked the silver panel behind the rear side windows, which links it to a car at the other end of the Audi range, the R8, which features a similar panel which can be colour-co-ordinated to the customer's choice. It's called the C-pillar blade and in this example was finished in Ice Silver Metallic.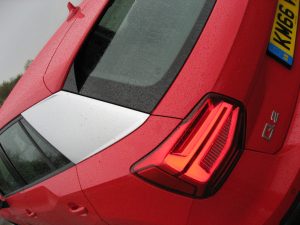 Inside, red trim on the door pull handles and a textured trim strip running the width of the dashboard are also worth a mention, adding to the Q2's quality look and feel of the interior and embossed with Audi's trademark four rings. The front sports seats upholstered in Black Milano leather with contrasting red stripes and stitching cost £1,300, but I think are worth the extra investment and also compliment the red stitching and inserts on the seats and steering wheel.
Other options on our test car included the Driver Assistance pack (£724), an auto-dimming rear view mirror with light and rain sensor (£125), LED headlights with led rear lights and dynamic rear indicators, which look great (£975) and the comfort pack at (£900).
Our test car was powered by Audi's 1.4-litre TFSI engine, a lively little performer which punches well above its weight in performance terms, with a 0-62mph time of a nimble 8.5 seconds and a potential top speed of 131mph. Work it through its six-speed gearbox with a bit of intent, and the Q2, despite its taller body stance and firm riding characteristics of the Sport model, becomes an agreeably pliable travelling companion. It turns in to corners accurately maintaining its poise and is sure-footed under braking.
To help economy, this technologically advanced engine has the ability to run on two cylinders when cruising gently. The change from four to two pots is imperceptible to the driver, apart from a message on the dashboard which tells you that the engine is in "2-cylinder mode". During my test the Q2 returned 43.9mpg over a distance of around 400 miles, which is quite good for a petrol engine which still offers enjoyable levels of performance.
There is ample room inside for four to five adults, with plenty of leg room in the back for rear seat passengers, and the boot, although compact, is large enough for shopping or a push chair, but packing for a fortnight away for four could be more of a challenge.
This compact little SUV is a competent addition to the genre for Audi and I'm sure it will find plenty of fans – but they will have to form an orderly Q2 get one!
Rating: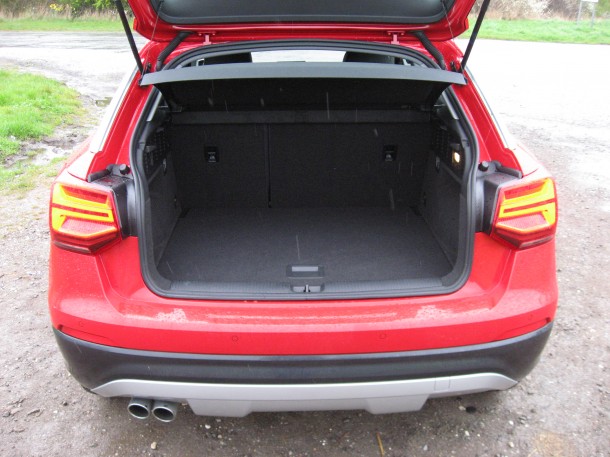 THE VITAL STATISTICS
MODEL: Audi Q2 1.4 TFSI Cylinder on Demand 150 PS Sport.
ENGINE: 1395cc, 150PS four-cylinder petrol engine, driving front wheels through 6-speed manual gearbox.
PERFORMANCE: Top speed 131mph. 0-62mph in 8.5 secs.
ECONOMY: City: 42.8mpg.
Country: 60.1mpg.
Combined: 52.3mpg.
Wheel World test average: 43.9mpg
CO2 EMISSIONS: 124g/km.
FUEL TANK: 50 litres.
PRICE: £23,175 (£29,285 as tested)
WARRANTY: 3 years/60,000 miles
WEBSITE: www.audi.co.uk
• All data correct at time of publication.