Audi A5 2.0 TDI Sport S tronic 190PS road test report and review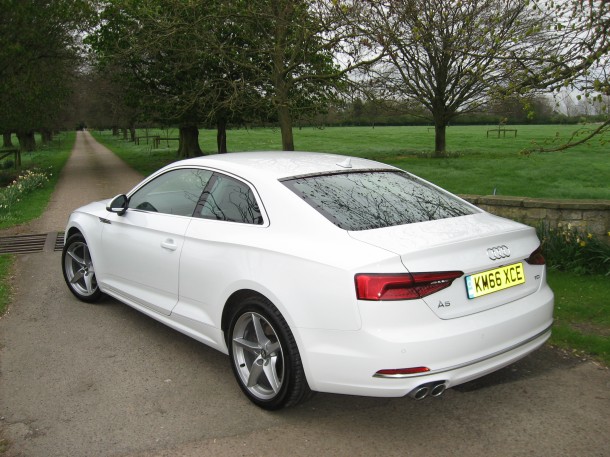 Audi A5 2.0 TDI Sport S tronic 190PS road test report and review:  DAVID HOOPER has a look at the latest version of one of his favourites, the new Audi A5 Coupe.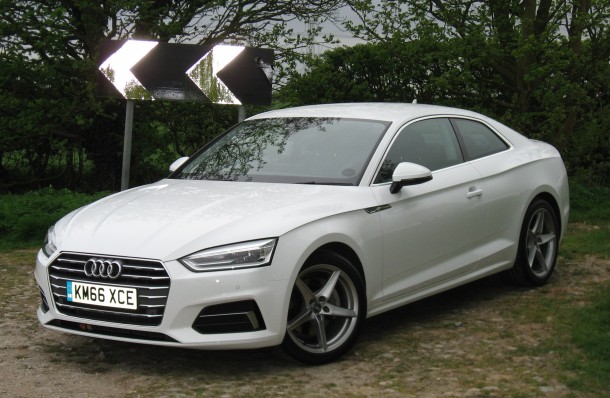 THE Audi A5 Coupe has always been one of my favourite models to sport the iconic four-ring insignia, even though it may not be one of the biggest sellers.
Its sleek and well proportioned coupe styling just looks right to me, and although it may not be the most practical body style, there is room inside for four, if two of your pals can get into the back, and if there are only two people on board, the rear seats will fold down to extend the car's carrying potential. The boot is a good size in standard configuration, but with the rear seats down it's surprisingly large, although access for awkward shaped items could be an issue.
This new model, perhaps as you would expect, looks the best of the bunch so far, and I loved its sculpted bonnet in particular. Many an Audi bonnet is a big, relatively flat and uninteresting slab of metal, but not this one and it really sets the car off, adding to the attractive overall look of the revised front grille and nose.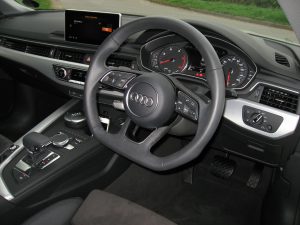 Inside, it's as classy as ever,  and I liked the metal trim running across the dash and into the doors, which complements the half-leather sports seats and Alcantara upholstery which were a £350 option. Other options included the 18in 5-arm star alloys at £650, a rear view camera at £450, the technology pack at a pricey £1,100, and sports suspension at £325 and a flat-bottomed 3-spoke steering wheel at £100 which also controls many of the car's functions.
The dashboard display infront of the driver can become one big Google map, which looks superb, and I also liked the design of the electronic parking brake and a short stubby gear selector with the parking brake button built into it.
As with all the Audi range, there is a huge choice of models and engines, but our 2.0 TDI diesel powered test car takes some beating as a competent all-rounder with respectable economy. Combined with a seven-speed DCT gearbox, it may not be the quickest thing off the mark, but select Dynamic mode and progress can be pleasingly rapid and highly enjoyable, and with the gearbox adopting a sportier attitude, it changes down sooner and up later, meaning it is in the right gear most of the time when there's a bit of fun to be had, although the gearbox is prone to snatching a bit as the throttle is reapplied accelerating out of slower corners.
The chassis is excellent. Larger than the superb TT, the A5 Coupe offers a more grown-up ride quality, but is still impressively sure-footed and stable when driven with intent, the longer wheelbase benefiting the A5 Coupe's handling. Rapid changes of direction and firm to hard braking do little to unsettle what is a very competent piece kit.
Inside, the fixtures and fittings are of the usual high Audi standards. The half-leather and brushed velour seats combined with some silver/chrome detailing to provide an upmarket look, and although it's not quite so new now, I still love the Google maps display, which is replicated on the instrument panel in front of the driver when the sat nav is operational.
With a 0-62mph time of 7.7 and a top speed of 146mph, the C02 output is impressively low at just 111g/km. During my test the A5 averaged 45.2mpg over a distance of 420 miles of mixed driving and road conditions.
The new Audi A5 Coupe then is good looking and highly competent, but it's not cheap – but as the old adage says, you tend to get what you pay for!
Rating: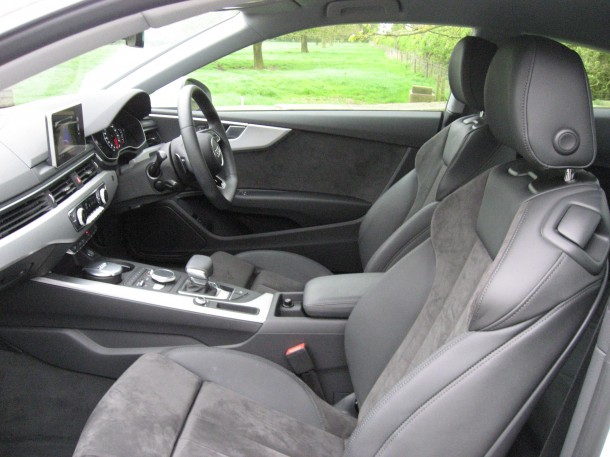 THE VITAL STATISTICS
MODEL: Audi A5 2.0 TDI Sport S tronic 190PS.
ENGINE: 1968cc, 190PS four-cylinder diesel engine, driving front wheels through 7-speed dual clutch transmission.
PERFORMANCE: Top speed 146mph. 0-62mph in 7.7 secs.
ECONOMY: City: 57.6mpg.
Country: 74.3mpg.
Combined: 67.3mpg.
Wheel World test average: 45.2mpg
CO2 EMISSIONS: 111g/km.
FUEL TANK: 54 litres.
PRICE: £35,795 (£39,840 as tested)
WEBSITE: www.audi.co.uk
• All data correct at time of publication.