Chrysler's stylish Delta can turn a head or two
ROAD TEST REPORT AND REVIEW: Chrysler Delta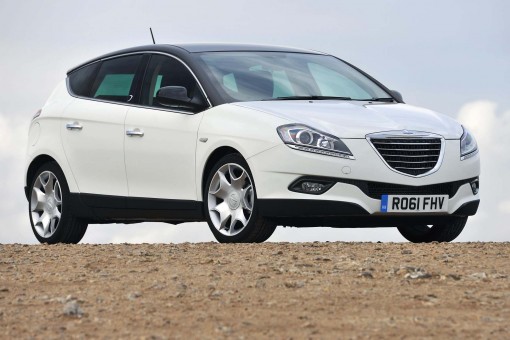 Why has a Lancia become a Chrysler? KEITH WARD explains – and remembers a brush with the law!
EVERYWHERE else in Europe this in many ways impressive car is badged as a Lancia. After some dithering, the Fiat group reportedly decided that the Lancia name is still so tainted in the UK by its rusty reputation from 30 years ago it should remain banished from these shores.
The solution Call it a Chrysler, Fiat having two years ago acquired the US giant when it collapsed. Curiously, that still leaves us with the model name Delta, which many here will remember from the 1970's as a particular victim of body corrosion.
I personally have good cause to remember. Misled by a hoaxer, police hunting the Yorkshire ripper set about interviewing hundreds of native Wearsiders with Lancs-Yorks connections. Alarmingly, two detectives turned up at my door. Their checks quickly established my innocence. But one owned a deteriorating Delta. Murder hunt suspended. As a known car pundit, I was kept another hour listening to his tale of woe, with urgings to sort his problem.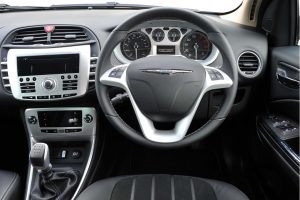 However, the Delta of those days was also a stunningly successful world champion rally car, so perhaps Fiat hopes the glory and not the gunge will be remembered.
The latest Delta is related to the Fiat Bravo and classy Alfa Giulietta. First impressions are certainly good. A restyled grille flanked by distinctive LED daytime running lights presents a pleasant face; side-on, a high waistline rises sportily to the rear; the arched roof ends in a spoiler. Our test car, snazzy in white with a black roof, looked the part and won admiring glances.
Inside, the cockpit was smartly furnished, with lots of brightwork around the dash and clear-to-read instruments. In a generally well-equipped range, the SR trim – second top of four grades – gave upholstery in suede-like Alcantara and leather. Also dual-zone air con, cruise control, rear armrest and larger than standard 17-inch alloys.
Within an overall body length more or less midway between a Focus and Mondeo, legroom in the Delta is extra generous. Augmenting that, the rear seats slide back and forth. And they can be reclined 25 degrees. Pull-out blinds bridge, not altogether tidily, whatever gap there is up to the rear parcel shelf. The shallow rear window, reminiscent of the Citroen C4 curbs visibility.
Short but deep, the boot in volume is average for its class, and there are spaces below the floor thanks to lack of a spare wheel. An inflation kit is provided.
The rear sill is higher than average to lift your luggage over.
On the road, the Delta proved a comfortable drive on a weekend break to the wild coast of north Norfolk. Not that it was challenged in those flatlands, but the little 1.4 turbo-boosted petrol engine, mated to a six-speed manual box, is a plucky performer in Fiat tradition. Not spared during its week in our hands, it returned 40-plus mpg.
Steering through a new electronic system is on the light side. More below-decks boxes of tricks govern handling and suspension. Engine and road noise is fairly well suppressed.
Verdict Should dispel those old Delta blues.
Rating:





THE VITAL STATISTICS
Model: Chrysler Delta 1.4 MultiAir SR
Body: Five-door hatchback; five seats;
Engine: Petrol; 1,368 cc; 16-valve; turbo; 6-speed manual; front wheel drive Power 140 bhp @ 5,000 rpm; max torque 170 lb ft @ 1,750 rpm
Performance: 126 mph; 0-62 in 9.2 secs
MPG: On test 41.8; official combined 49.6 mpg
CO2: 132 gkm; band E; tax disc £115; tax liability 16 per cent
Insurance Group: 17
Service: Free for five years
PRICE: £20,495