Chevrolet Orlando provides versatility on a budget
ROAD TEST REPORT AND REVIEW: CHEVROLET ORLANDO
It's not the prettiest, best equipped or quickest MPV out there but, editor DAVID HOOPER realises that for those on a budget, Chevrolet's Orlando has a lot to offer.
CHEVROLET launched its latest newcomer, the Orlando, into the heavily populated MPV market in the spring.
It's a big car which marks Chevvy's debut into the MPV sector. It can seat up to seven, for not much money, but the entry-level Orlando I've been testing wasn't exactly a theme park.
Toys were few and far between, but all the basics were there and everything worked as it should, although the quality of some of the plastics deployed in the interior were a bit on the budget side, but they would be easy to wipe clean once little fingers and muddy feet had wreaked their havoc in the back of the car.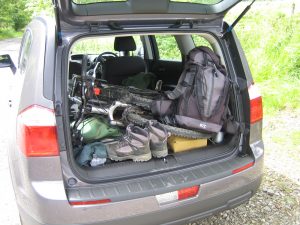 Built at a former Daewoo plant in Gunsan, South Korea, it will be sold all around the world, with the exception of, funnily enough America, from where it gets its unmistakable looks, and Brazil and Australia.
For the money, you get quite a lot of car. The fascia looks smart, and I particularly liked a clever cubby hole hidden behind the radio controls which flips open at the press of a button. There are also plenty of storage spaces around the cabin.
The middle row of seats, which are split in a 60/40 configuration, fold down easily, and with the third row also folded into the floor, there is a huge, van-like storage space which, as I found when we decided to go on an impromptu weekend away, will swallow adult sized mountain bikes whole.
I carefully lifted one into the back to see if it would fit, and it did easily. Getting a second one in on top of it was a bit trickier, but it still went in, quickly followed by lots of camping paraphernalia, proving that not only is it a practical people carrier, it's almost a van once the seats are out of the way. A true Multi-Purpose Vehicle. I also liked the fact that the top edge of the rear bumper was covered with a plastic moulding, rather than just painted, as this will be far more hard-wearing on a family vehicle.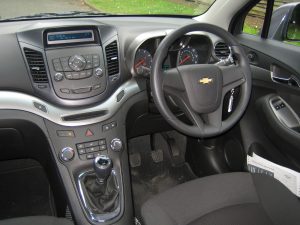 Chevrolet sent me the entry level model to try, powered by a 1.8-litre 141PS engine. It's not the quietest of engines, and in a vehicle of this size, not the quickest either, with the 0-62mph dash becoming more of a leisurely stroll at 11.2 seconds. I found the engine had to be worked hard to extract any kind of power from it, and on the motorway it was under-geared. I kept trying to change up to sixth gear, which it hasn't got, but badly needs, to keep the revs down and the fuel economy up. However, most people who buy this car will be happily plodding around on the school run, or taking a collection of kids to football matches at the weekends.
I haven't driven the larger 2.0-litre engines, which come with six-speed gearboxes, or the choice of an auto, but I suspect these would be the better options if you can afford a little more.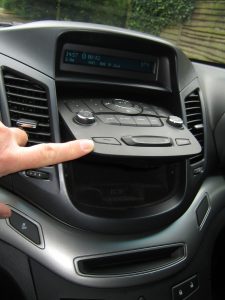 The Orlando is easy enough to drive and manoeuvre, and visibility out of the front is good. Rear three-quarter vision is a slightly different story, with the small rear side windows limit the view a bit. I would suggest parking sensors, which are standard on higher models, would be worth ticking on the options list, but the door mirrors are large and do provide a good view behind you.
Roomy and practical, the Orlando offers a lot of car for your money if you don't have much of it to spend, but some of its rivals are nicer to drive and better looking.
As the saying goes, you get what you pay for, but in many cases you may well pay more for something else, and not get such a good warranty. The Orlando is covered by its manufacturer for 5 years or 100,000 miles. I suspect that for some, that could well seal the deal.
Rating:





THE VITAL STATISTICS
MODEL: Chevrolet Orlando 1.8i LS Manual.
CHEVROLET ORLANDO RANGE: From 1.8 LS 5dr (£16,410) to 2.0 VCDi (163ps) LTZ Auto 5dr (£21,215).
ENGINE: 1798cc, 141PS four-cylinder engine, driving front wheels through 5-speed manual gearbox.
PERFORMANCE: Top speed 115mph. 0-62mph in 11.2 secs.
ECONOMY: City: 29.1mpg.
Country: 47.9mpg.
Combined: 38.7mpg.
Fuel tank: 60 litres.
CO2 EMISSIONS: 172g/km.
INSURANCE: Group 10
PRICE: £16,410.
WARRANTY: 5 years/100,000 miles.
WEBSITE: www.chevrolet.co.uk
• All data correct at time of publication.