Ford's 1.6 ECOnetic impresses in classy Mondeo
ROAD TEST REPORT AND REVIEW: FORD MONDEO ECONETIC
Capable of eating up the miles while sipping fuel, editor DAVID HOOPER says Ford's latest 1.6-litre eco engine is an impressive performer.
I'VE always been something of a fan of the current Mondeo and spending a few days driving the latest lightly facelifted version has only increased my enthusiasm for this corporate mile-muncher.
Few could deny that Ford has done an excellent job with this car. For a model which could so easily have slipped into mid-range mediocrity, designed to primarily serve the company car market, the Mondeo stands out from the crowd for two main reasons.
First of all, I think it's a good looking car, and the latest exterior tweaks which have seen the addition of daytime running lights have improved its looks still further. Inside, the design and execution of the interior is second to none, with the car having a premium feel. Not that many years ago, a car built to this standard would have easily fallen into the premium luxury end of the market.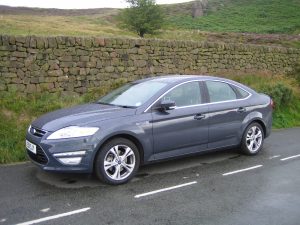 It's also very spacious, whether you sit in the back or the front of the car, you are unlikely to feel cramped, and the generously proportioned seats are very comfortable, even after two or three hours at the wheel, there was no hint of an aching back.
Perhaps most important though, is the way the car drives. The diesel engine is hardly audible in the cabin, especially once it's on the move, and car's ride, handling and roadholding qualities are certainly a match for anything in this class, and I would suggest raises the bar for its chief rival, the Insignia. I reckon only the new Peugeot 508 comes close to the Mondeo's overall ride quality.
The Mondeo is a big car. It feels very wide, and I found it quite difficult to place on the road, with few clues as to where the nearside of the car was in relation to the kerb. It's not the easiest to park, either. The rear three-quarter view is quite restricted because of a chunky C-pillar, and the back window is quite high, so you have to rely heavily on the parking sensors which I would suggest are a must-have if you're thinking of buying one.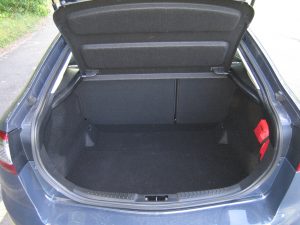 Its boot is enormous – deep and wide, so swallowing all sorts of family clobber for a day out or even a holiday, will be no problem at all – and of course, if you need more space, the rear seats will fold down in a 60/40 split.
The car I've been testing was fitted with Ford's latest generation of highly economical ECOnetic diesel engines. At only 1.6-litres, you could be forgiven for thinking that it would feel a bit underpowered, but I can tell you that it works very well and suits the car. Most drivers would not realise they weren't piloting a two-litre engine. With six well chosen gear ratios, progress can be pleasingly progressive once things are on the go, but of course, you're not going to win many sprints from the traffic lights with a 0-62mph time of a shade under 12 seconds.
Where you do win though, is at the fuel pumps, where the car's combined figure is quoted at 65.7mpg, which I have to say seems a bit optimistic, as does its urban figure of 56.5mpg.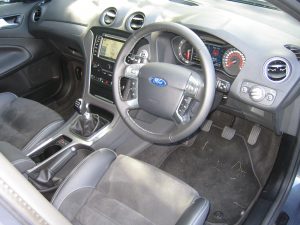 During my test, the car was averaging around 39mpg in town, and on a run, which comprised motorway and A-road driving, it returned just under 44mpg, although I have to confess to having employed a fairly heavy right foot on some parts of the journey. To help the economy-minded motorist improve their returns, a stop-start system turns the engine off at traffic lights, or when the vehicle comes to a halt, which saves around 5 per cent of your valuable fuel, and a gear-change indicator prompts you to change up at the optimum time to avoid wasting fuel. A series of flowers even shows you how well you are doing as an Eco-driver, the more petals you can grow, the greener your driving.
The equipment levels are good, too, especially on the plushly kitted out Titanium X model, which comes with such goodies as Bluetooth, dual zone climate control, and even climate controlled seats which will warm your posterior in the winter, and blow cool air at it in the summer.
The seats were covered in alcantara and leather, which looked very smart, and I liked the automatic headlights which dip when oncoming traffic approaches at night.
The Mondeo remains one of my favourite mid-range cars. Big, comfortable and excellent to drive, it really is difficult to fault.
Rating:






THE VITAL STATISTICS
MODEL: Ford Mondeo 1.6 DV6c ECOnetic Titanium X.
FORD MONDEO RANGE: From 1.6 Ti-VCT Edge 5dr (£17,795) to 2.2 TDCi (200ps) Titanium X Sport Auto 5dr (£29,445).
ENGINE: 1.6-litre, 115PS four-cylinder engine, driving front wheels through 6-speed manual gearbox.
PERFORMANCE: Top speed 118mph. 0-62mph in 11.9 secs.
ECONOMY: City: 56.5mpg.
Country: 72.4mpg.
Combined: 65.7mpg.
Fuel tank: 70 litres.
CO2 EMISSIONS: 114g/km.
PRICE: £24,395.
WARRANTY: 3 years/60,000 miles.
WEBSITE: www.ford.co.uk
• All data correct at time of publication.