Lexus CT200h hybrid gets real-world family test
ROAD TEST REPORT AND REVIEW: LEXUS CT200h HYBRID
This new Lexus brings hybrid drive to the premium compact sector for the first time. Editor DAVID HOOPER, has a listen to the "quiet revolution"
http://youtu.be/pSwFIJ1cg1w&w=310
YOU may have seen Kylie Minogue on the telly helping Lexus promote its "quiet revolution" in the form of a new hybrid model, but what's it all about?
The car in question is the new CT 200h, the latest hybrid model from the Lexus stable, and the world's first full hybrid car in the premium compact sector, which also features models like the BMW 3 Series, Volvo S40 and Saab 9-3.
In return for Kylie's seductive tones and perfect form featuring in a multi-media campaign, Lexus is a sponsor of her Aphrodite – Les Folies 2011 UK concert tour.
For those who don't know, hybrid cars utilise a traditional petrol engine combined with an electric motor for their power. They work in perfect harmony, switching seamlessly from one to the other, or using both motors together, depending on driving conditions and demands.
The technology is undoubtedly very clever, a sort of half-way house between a "normal" petrol-powered car, and an all-electric car, production examples of which are currently struggling to cover more than a 100 miles before needing to be recharged.
A hybrid car has integrated batteries which are charged by recapturing energy when the car is coasting or braking, thereby avoiding the need for added complications like plugs and power points, so it is a viable solution in many ways.
However, while the car has an electric vehicle, or EV mode, you won't get far on battery power alone. Around a mile is all you can expect, and only up to 25mph, but turn on the lights and air con and that reduces considerably, and while Lexus claims fuel consumption figures of 68.9mpg on both the combined and urban cycles, in real world conditions, most drivers won't get anywhere near those figures. I used the car for a trip to Oxford with some friends to visit their son studying at university. With five of us, and enough luggage for an overnight stay, we covered around 500 miles over the weekend. A lot of it was motorway work, although we did do quite a bit of A-road driving as well, plus some city driving in Oxford itself. Over the whole trip, the car averaged 45.7mpg, a figure which could be bettered by many modern diesels without any bother at all.
Which begs the question, what's the point? There are really three main points. The first is that the C02 emissions are very low at just 94g/km, which brings us neatly to the second, which is because the C02 emissions are so low, you won't have to pay any road tax as it's zero rated. The third, is that if you are a company car driver and are allowed to spend the sort of money this car costs, it has a very beneficial BIK rating of just 10%. If you live in the south of England and drive into London regularly, you might appreciate not having to pay any Congestion Charge fees in the city centre as well.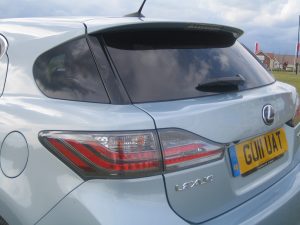 So those are the good points. The less good bits are concerns over the technology, and for me, those would become far more relevant as a potential second or third owner, as the hybrid components are only covered under the manufacturer's warranty for the first five years of the car's life, so while its initial residual values are good enough, will anyone dare buy a six or eight year old car?
Food for thought then, but what is the car like to live with? In two words, very good! It looks fantastic inside and out and finished to a high standard. There are three models to choose from, but it was the mid-range SE-L I tested, which came with the options of metallic paint at £510 and a navigation system which cost a hefty £1,850. The centre console is a major talking point, as it has a gadget called Remote Touch which resembles a computer mouse to control the car's main functions.
The gear selector is a bit different, too, finished in chrome, it selects drive, reverse, or battery power. A circular dial allows the driver to choose between three driving modes, Electric Vehicle, Eco, or Sport, which has a notable effect on the car's attitude, but I've never been a great fan of CVT transmissions, which employ a belt system, rather than cogs and gears. It works perfectly well, but I don't like the way the engine races until the belts sort themselves out under acceleration.
The ride quality in the CT 200h is acceptable, although its firm suspension does tend to crash over some of the more severe road imperfections. Once on the move though, the car drives very well and the "quiet revolution" becomes obvious. Very little road or wind noise can be heard inside the car, even at motorway speeds, which meant we could chat away quite happily during our journey – there was certainly no need to shout – except at the sat-nav of course! It wasn't the most intuitive to use, but that's another story.
We even managed to fit our weekend luggage and numerous bags of shopping to resupply a poor, starving student in the boot, and made good use of a sizeable space beneath the boot floor which almost doubled the available space. The rear seats will fold down when not in use to increase its carrying capacity.
The CT 200h was a comfortable car to travel in and practical too, with the batteries and electric motor being cleverly designed into the car, but whether a hybrid is the right choice for you, is a decision which needs careful consideration.
They have plenty of attractive financial advantages for company car drivers, but do treat the 70mpg fuel consumption claims with a very large pinch of salt. The CT 200h and the Toyota Auris hybrid I tested recently both achieved similar figures of around 47mpg overall in what I would consider to be normal use.
Rating:





THE VITAL STATISTICS
MODEL: LEXUS CT200h SE-L Hybrid Drive.
LEXUS CT200h RANGE: From SE-I 5dr (£23,485) to SE-L Premier 5dr (£30,635).
ENGINE: 1,798cc VVT-i (98bhp) four-cylinder petrol engine and 82bhp electric motor combine to give a total power output of 134bhp though E-CVT gearbox.
CO2 EMISSIONS: 94g/km.
PERFORMANCE: Top speed 112mph. 0-62mph in 10.3 secs.
ECONOMY: City: 68.9mpg.
Country: 70.6mpg.
Combined: 68.9mpg.
Fuel tank: 45 litres.
INSURANCE: Group 15.
WARRANTY: 3 years/60,000 miles mechanical warranty. Hybrid components 5-year/60,000 miles.
PRICE AS TESTED: £27,560.
WEBSITE: www.lexus.co.uk
• All data correct at time of publication.