Chevrolet Cruze review: Practical and economical to run
ROAD TEST AND REVIEW: Chevrolet Cruze Station Wagon 1.7 VCDi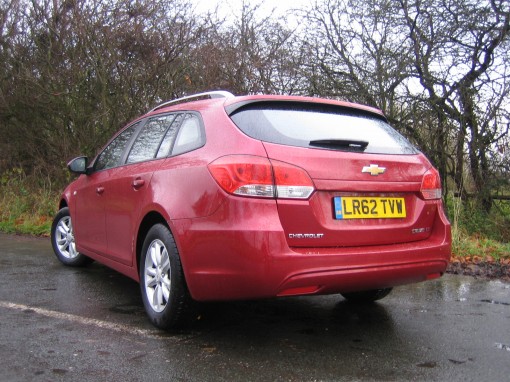 With pleasant styling and an excellent driving experience, DAVID HOOPER is impressed with the diesel version of the Chevrolet Cruze Station Wagon.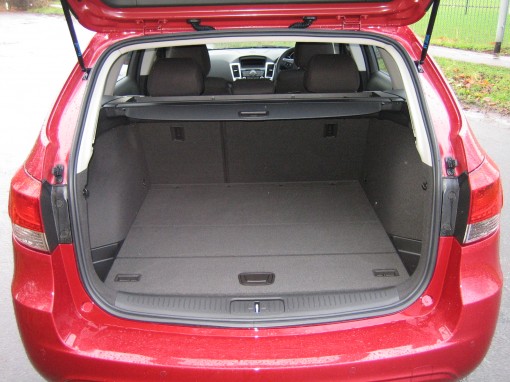 CHEVROLET'S Cruze is a smart looking car with its imposing split grille at the front sporting its large Chevrolet emblem centre stage. With clean lines along its flanks and a purposeful rear end with a flat load bay, the appeal of this reasonably priced family estate is easy to see.
Buyers have a choice of three trim levels, LS, LT and LTZ, a choice of 1.6 or 1.8 petrol engines, or a 1.7 diesel, as tested here, combined with five or six-speed manual gearboxes and an auto option on some models.
Inside, you won't find anything to offend the eye either.  The design is simple, but arguably all the better for it. Most of the dashboard and centre console is finished in black, but there are some nice silver flashes, and trim detailing surrounding the air vents and on the door handles.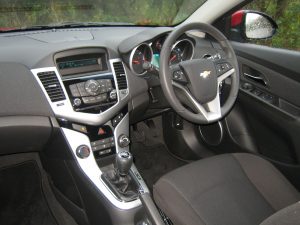 To add interest to the dash, cloth inserts run across the front and into the doors, but thankfully, Chevrolet opted for a light coloured roof lining.
The dashboard instrumentation is an attractive turquoise colour, which can be dimmed down at night, useful on dark country roads, to avoid too much glare.
Equipment levels are quite good for the money, although on the model I tested there was no Bluetooth connectivity, which meant I couldn't use my phone, even to receive calls while driving. It's a great safety feature and very convenient and I think it should be standard equipment these days when everyone has a mobile phone.
That aside, there was air conditioning, remote central locking, a radio/CD player and the ability to play your MP3 player through the car's stereo system, once it was connected via a lead in the central console.
Of course, there are the obligatory cupholders, electric windows and mirrors – and even "Cruze" control. Sorry!
But perhaps it's the back of the car which deserves the main attention, with it being the Station Wagon model in the range.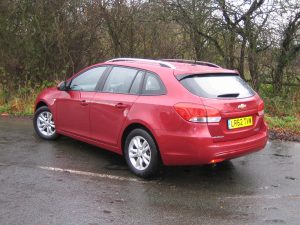 The tailgate opens wide to allow easy access to the sensibly flat boot floor. There are cubby holes on either side and some shallow storage underneath it. There is also a handy storage tray between the back of the rear seat and the luggage screen. This was home to the cargo net, which can be fitted to stop luggage falling into the car's passenger compartment when it is heavily loaded.
If more space is needed to carry bulky stuff, the rear seats fold down quickly and easily by releasing one catch to create an extended, flat load area of generous size.
Some thought had clearly been put into the design of the luggage screen – how many times have you had to battle to locate the load cover in its catches? No problem in this car, it is designed to slide easily up the sides of the boot aperture to allow easy access to the things beneath.
I do think a slightly heavier feel to the tailgate would improve its perceived quality, and some attention to the rear number plate, which clattered every time the tailgate was closed, could be easily fixed, I'm sure.
I was impressed with how the car drives, and after more than 400 miles on the full mix of roads, feel qualified to comment. The car is comfortably sprung, yet handles very nicely, the steering giving plenty of feedback to the driver, and turning into bends accurately and predictably.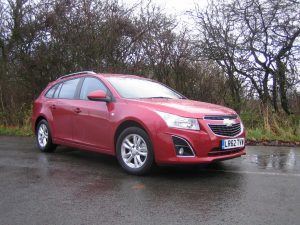 Cruising at motorway speeds, the Cruze is very quiet and a pleasant place to be, while on slower A-roads, the 141PS from the 1.7-litre diesel engine provided an enjoyable, usable spread of power, with ample mid-range overtaking ability thanks to the 221lb ft of torque coming on stream just where you need it for making good progress in mid-range without having to work the car too hard.
During my test, it returned 48.9mpg, and I enjoyed watching the Economy Trend graph, which showed how many miles per gallon you were getting by means of a bar graph. There were also economy readouts and combined average figures to keep an eye on, as well as gear change indicators to help you get the best from your car.
In traffic jams, an eco system turns off the engine, which instantly restarts again when the clutch pedal was pressed. The stop/start system could be deactivated by a switch near the gear lever which was illuminated in a bright green colour, but which wasn't connected to light dimming system and was a bit distracting at night.
Other options in the Cruze Station Wagon include 1.6 and 1.8-litre engines, and an automatic gearbox for those who prefer the gearchanges to be done for them.
I have yet to drive the petrol versions for the car, but am hugely impressed with the diesel model I've been driving. It's a good all-rounder, and for the money compares well against its main rivals like the Hyundai i30 and Kia cee'd.
With prices starting at £15,495 it makes an attractive proposition, whether you are a company car driver, or a private buyer.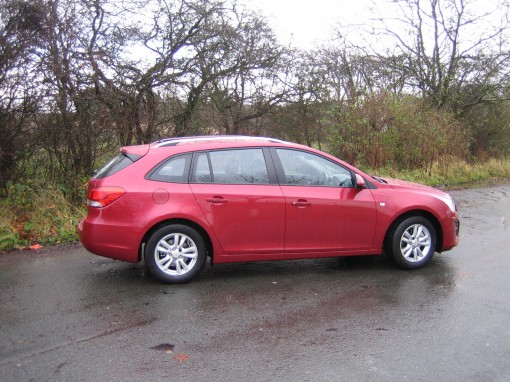 CLICK HERE and "Like" our Facebook page for regular updates and follow us on Twitter
Rating:





THE VITAL STATISTICS
MODEL: Chevrolet Cruze Station Wagon 1.7 VCDi LT
CHEVROLET CRUZE SW RANGE: From 1.6 LS 5dr (£15,495) to 2.0 VCDi LTZ Auto 5dr (£20,705).
ENGINE: 1686cc, 130PS four-cylinder diesel engine, driving front wheels through 6-speed manual gearbox.
PERFORMANCE: Top speed 124mph. 0-62mph in 10.4 secs.
ECONOMY: City: 52.3mpg.
Country: 70.6mpg.
Combined: 62.7mpg.
Fuel tank: 60 litres.
CO2 EMISSIONS: 119g/km.
INSURANCE: Group 21.
PRICE: £19,045.
WARRANTY: 5 years/100,000 miles.
WEBSITE: www.chevrolet.co.uk
• All data correct at time of publication.