Renault Scenic road test: Ideal family transport
ROAD TEST REPORT AND REVIEW: Renault Scenic Dynamique TomTom dCi 110 Stop and Start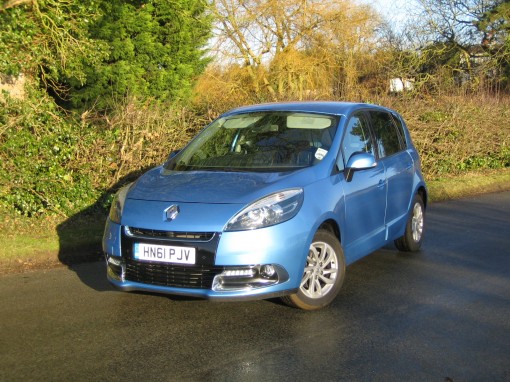 Family transport with a touch of class – DAVID HOOPER, says the latest Renault Scenic range now boasts an upmarket look and feel.
RENAULT'S Scenic range is hardly a newcomer to the motoring scene, but this latest version I've been driving still has the capacity to impress.
The French carmaker recently slimmed down its offering in the UK, ditching its least popular cars which weren't selling well on this side of the Channel and put the focus firmly on its best-selling model lines – and has recently announced a new version of the Scenic, intriguingly called the XMOD Crossover.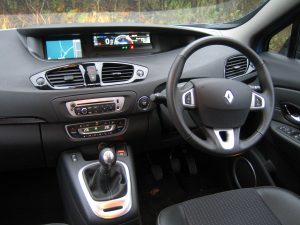 Today, the ever-popular Renault Scenic range consists of six different versions, all of which come with the excellent TomTom satellite navigation system which is great for families on the go. There is also the larger Grand Scenic, which comes with the added benefits of an extra two seats in the back, ideal for the larger family.
I've always liked the Renault Scenic for its practicality and well thought out design. Nice little touches like under floor storage bins, small drawers under the seats, its aircraft-style fold-out trays and generous seat pockets made it a family-friendly car, but being a Renault, it has always been good to drive, too.
Where it lost out to some of its rivals however, was in build quality and reliability. Renault have spent a fortune addressing these issues. Sit inside a new Scenic and you can see and feel where the effort – and the money – has gone.
Today's Renault Scenic has a premium feel, with its attractive choice of high quality soft-touch materials, leather trimmings and chrome detailing. It's a nice car to drive, the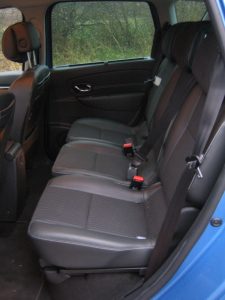 raised seating position and large windscreen provide an excellent view, and the driving position is as comfortable as any family saloon.
The interior has a clean, uncluttered look to it and I loved the dashboard graphics, like the rev counter which can be switched to show the car's trip computer. Switches for the cruise control are on the steering wheel, and you also get a speed limiter which can be useful in stretches of roadworks under a 50mph limit on a motorway, for example. Climate control air conditioning keeps the car's interior comfortable for all your passengers.
Remote controls for the radio are found on the right side of the steering column, which can be adjusted for reach and rake, while the controls for the TomTom sat nav are located on the sizeable centre console which can slide backwards and forwards.
In the back, each of the three seats are individual and can be folded down, tumbled forwards or removed altogether if necessary, to increase the already generous boot space.
The model I've been testing was powered by Renault's 1.4-litre dCi diesel engine which develops 110bhp and 192lb ft of torque. Capable of completing the benchmark 0-62mph sprint in 12.5 seconds, it has a top speed of 112mph where allowed, but this car is designed to be economical to run, an important factor in any family's buying decision these days.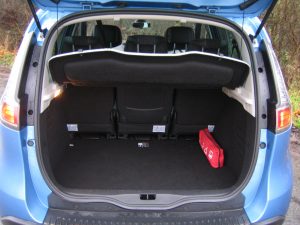 Helped by a stop/start system, its C02 emissions are a low 105g/km, which means owners pay just £20 per year in road tax and can enjoy miserly fuel consumption if you believe the official figures, which claim up to 72.4mpg, or 68.9mpg on the combined cycle.
During my test however, in real world conditions I got nowhere near those heady levels, and over a distance of 376 miles which included a typical mix of town and motorway driving, achieved 40.6mpg according to the Scenic's trip computer, although admittedly, with a full load of people and luggage during the motorway trip.
As you would expect of a Renault, it is very good to drive. Quiet and refined at motorway speeds, and impressively nimble on the country roads, and thanks to parking sensors fore and aft, simplicity itself to park.
The keyless entry and start system is also a favourite of mine, especially when you've got your hands full of shopping bags. So long as the key is in your pocket, or handbag, the car unlocks itself when you pull the door handle.
The Renault Scenic is an excellent all-rounder and the company now offers a four-year, 100,000-mile warranty, which betters most of its rivals.
With an asking price of just over £20,000, the Scenic, in my opinion, is family transport, par excellence!
Rating:





THE VITAL STATISTICS
MODEL: Renault Scenic Dynamique TomTom dCi 110 Stop and Start
RENAULT SCENIC RANGE: Dynamique TomTom 1.6 VVT 110 5dr (£18,335) to Dynamique TomTom dCi 130 Stop & Start (£21,325).
ENGINE: 1461cc, 110bhp four-cylinder diesel engine, driving front wheels through 6-speed manual gearbox.
PERFORMANCE: Top speed 112mph. 0-62mph in 12.5 secs.
ECONOMY: City: 62.8mpg.
Country: 72.4mpg.
Combined: 68.9mpg.
Fuel tank: 60 litres.
CO2 EMISSIONS: 105g/km.
INSURANCE: Group 16.
PRICE: £20,225.
WARRANTY: 4 years/100,000 miles.
WEBSITE: www.renault.co.uk
• All data correct at time of publication.
CLICK HERE and "Like" our Facebook page for regular updates and follow us on Twitter