BMW 320d Efficient Dynamics is better than the 3-pots!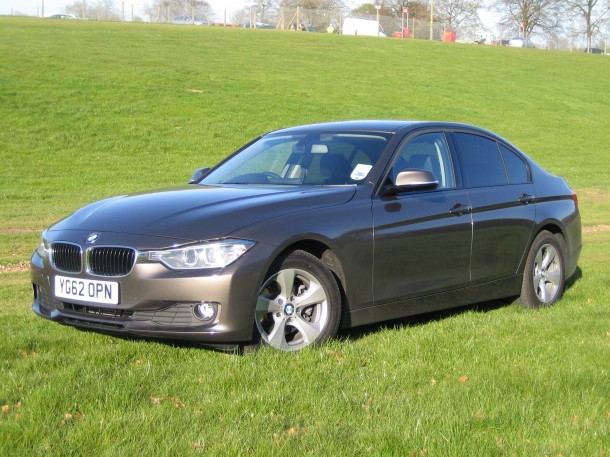 ROAD TEST REPORT AND REVIEW: BMW 320d Efficient Dynamics has a 0-62mph time of 8.1 seconds, yet sips fuel at a rate that gives the most frugal three-pots a run for their money. DAVID HOOPER  is impressed with BMW's excellent all-rounder.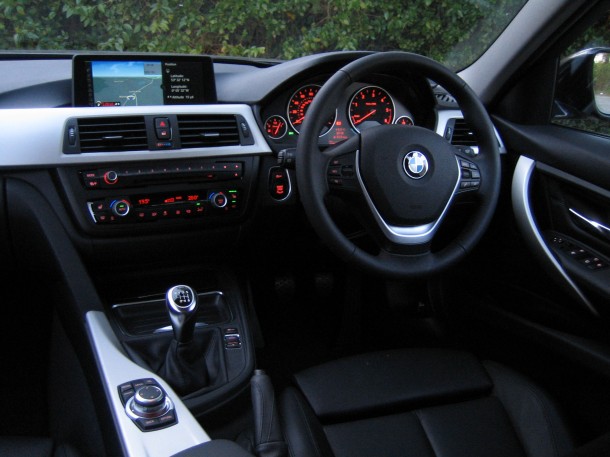 THERE is a rash of two and three cylinder cars coming on the market at the moment claiming ridiculously high fuel consumption figures which, in real world driving, are about as realistic as Superman.
To give them their due, some of these cars are actually quite good, pleasant enough to drive, if lacking in torque and outright power, cars like the Skoda Citigo and Kia Rio are capable of very respectable economy on the pocket-friendly side of 55mpg.
But this BMW has really made a bit of mockery of the whole two and three cylinder debate this week and impressed me immensely as it did so.
BMW's 2.0-litre diesel engine has been widely acknowledged as an excellent piece of kit in the industry for years, but until I spent a busy week at the wheel of this 320d, I'd forgotten just how good it is.
During my few days with this car I totted up just over 600 miles – but I did it on one tank of fuel, which is no mean feat even by today's standards, but what really impressed me was that the car's trip computer recorded an overall average of 58.2 miles per gallon which will give the best of the super-economical superminis a run for their money, and will beat quite a few of them.
N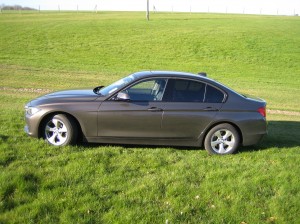 ow for a bit of context. I didn't try to achieve a good mpg figure one little bit – quite the opposite in fact. It's a BMW, a driver's car, and I drove it fairly hard and thoroughly enjoyed it. By "driving it hard" I don't mean that I thrashed it, I didn't, but I did use plenty of right foot for accelerating, overtook numerous slower vehicles on A-roads, usually with a good squirt of power in fourth gear,  and drove at my usual motorway speeds. Yet the harder I drove it, the better its fuel consumption seemed to get! Which does make me wonder just how high its mpg figures could go had I tried to be sparing with the fuel, employed a lighter right foot and kept my motorway cruising speeds down.
BMW's Efficient Dynamics technology certainly helped the mpg case, charging the battery on the over-run, reminding you to change gear with little graphics on the dash, and a stop/start system which turns the engine off in traffic. It all saves bits of fuel here and there.
The 3 Series is one of my favourites, I have to confess, and my few days at the wheel of this car has done nothing to change my opinion of it. It just feels right. The seats are comfortable, even after several hours at the wheel, the steering is near perfectly weighted giving substantial feel without being over-assisted, and the balance of the car is about as good as it gets, with bags of grip, and the rear-wheels pushing strongly from behind and thereby avoiding interference from the driving wheels at the front.
There are three different settings to choose from, eco, comfort and sport, each of which slightly altered the driving characteristics of the BMW.
There's room in the back for three adults and the boot is a decent size, so it's a practical package which isn't too big to squeeze into a tight road-side parking space.
This particular model was loaded with all the toys I would like, including climate control, sat nav, Bluetooth connectivity for my phone, electrically heated seats, cruise control, and so on.
This is the latest 3 Series model, a gentle evolution of its predecessors, but with an eye-catching new look. BMW's light signatures from the front and rear lights just keep getting better and I think they are among the best in the industry.
The interior fixtures and fittings are also a match for anything you will find, and better than most. There's no getting away from it, it's just quality!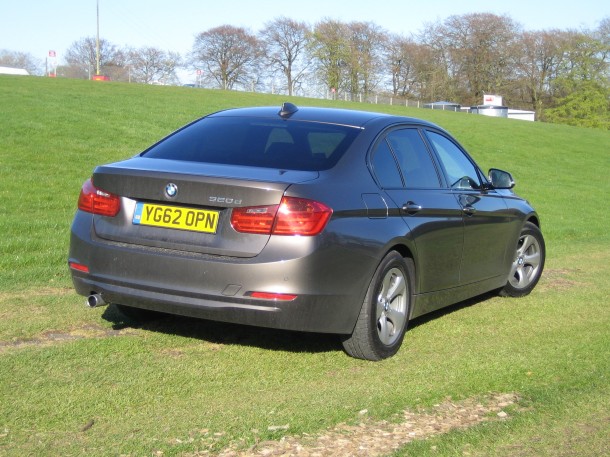 CLICK HERE and "Like" our Facebook page for regular updates and follow us on Twitter
Rating:






THE VITAL STATISTICS
MODEL: BMW 320d Efficient Dynamics.
3 SERIES RANGE: From 316i ES 4dr (£23,185) to 330d xDrive M Sport 4dr (£38,235).
ENGINE: 1995cc, 163bhp four-cylinder diesel engine, driving rear wheels through 6-speed manual gearbox.
PERFORMANCE: Top speed 143mph. 0-62mph in 8.1 secs.
ECONOMY: City: 54.3mpg.
Country: 80.7mpg.
Combined: 68.9mpg.
Fuel tank: 57 litres.
CO2 EMISSIONS: 109g/km.
INSURANCE: Group 31.
PRICE: £28,410 (£36,355 as tested).
WARRANTY: 3 years/Unlimited miles.
WEBSITE: www.bmw.co.uk
• All data correct at time of publication.