Would you Adam and Eve it? 1,000,000 variations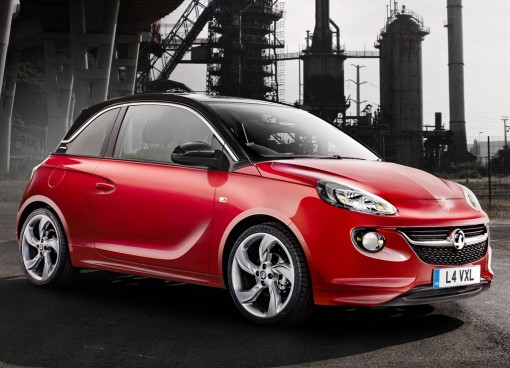 HERE are a couple of the first official photographs of Vauxhall's new Adam.
The carmaker has big hopes that the new A Sector offering will be a game changer in this often fashion-led area of the car market. It believes the Adam has an urban car with chic appeal. And Vauxhall also claims that the car can be personalised in over one million ways! Wonder who has the job of keeping a list?
The car has been designed and built using the best materials and smartest design ideas, more often seen in the luxury car sector. Adam offers three doors and four seats and will make its first public appearance at this year's Paris Motorshow. Models are scheduled to arrive in UK showrooms early in 2013.
Designed by Brit Mark Adams' team in Europe, Adam incorporates a 'floating' roof which is visually disconnected from the body, making the use of two-tone colour schemes more impactful than ever before.
Classy, sophisticated and glamorous, it retains design signatures from other Vauxhalls:  The crisp line around the door handle (GTC), the wing-shaped chrome grille bar (new Astra) and the blade shape in the lower doors. It will also be the first car in the A-sector to have the option of LED daytime running lights.
But unlike other rivals in the segment, Adam bucks the trend for retro-based design with a fresh and bold look that will appeal to open-minded individuals who want to defy convention with a car that's distinctive and striking.
And it's those very customers that Vauxhall is targeting with Adam's high degree of personalisation options. Available in three trims from launch — JAM (fashionable/colourful), GLAM (elegant/sophisticated) and SLAM (racy/sporty) — customers can effectively 'build' their own car.
There are almost unlimited visual combinations, with a wide variety of exterior colours — including two different roof colours — interior colours, equipment and materials. Customers can even choose their headlining, including an LED-lit starlight roof trim.
The car will be offered with a choice of three efficient ecoFLEX four-cylinder petrol engines from launch: A 1.2-litre 70PS, plus two 1.4-litre engines with either 87PS or 100PS. All will be available with optional Start/Stop technology and will be mated to a five-speed manual gearbox.
Later on, Adam will be the first car in Vauxhall's range to adopt the new-generation small petrol engine, featuring direct injection and forced induction, and an all-new six-speed gearbox.
Unique to the A-segment is Adam's new top-of-the-range infotainment system designed to support new media sources, including Bluetooth, as well as connectivity for smartphones with Android or Apple iOS software.
Round, mechanical clock-style instruments with chrome bezels mark a departure from those seen in other Vauxhalls, while Adam customers can also opt for a heated steering wheel — another first in the class.
The car will also offer technology normally only found in higher-end cars such as the Advanced Park Assist II system, which will be an Adam option never seen before in a Vauxhall production car.
Adam will be available to order after its official premiere at the Paris Motor Show in September, with the first cars reaching UK customers in January 2013. As with all Vauxhalls, it comes with Lifetime Warranty, which covers first owners for the lifetime of the car, or up to 100,000 miles.