VWs claim duet of top towcar awards in annual test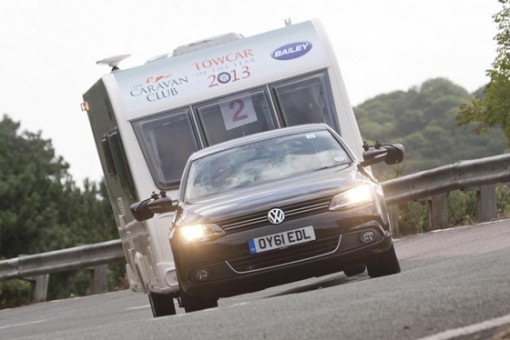 A VOLKSWAGEN Jetta was won The Caravan Club's Towcar of the Year award for the second consecutive year.
The diesel-powered 2.0-litre TDI DSG became the first car in the 30-year history of the contest to win the award two years in a row.
The VW saloon won the award in the compact car category and was also judged to be the winner overall.
The Caravan Club Towcar of the Year 2013 winners were selected by a panel of 10 judges who praised it for 'its suave design, its practicality as a caravanning family car and its great performance when towing in a variety of situations'.
The Jetta Sport 2.0-litre TDI DSG has a 140 PS common rail diesel engine, a six-speed DSG gearbox, and produces impressive amounts of torque – 320 Nm from just 1,750 rpm.  Despite its compact dimensions, it can manage a generous noseweight of 75 kg.
A second and even more stylish VW, the Passat-based CC GT 2.0-litre TDI 140 PS BlueMotion Technology – also won its category.
For the first time in the competition's history, the categorisation of entrants was decided by Vehicle Excise Duty tax bands, rather than by price, ensuring the Caravan Club provides relevant information for its one-million members and recognises environmental motoring issues.  In times when many are feeling the effects of the economic climate, vehicle running costs, of which road tax can form a significant part, loom ever more prominently in motorists' budgets.  Lower exhaust emissions, on which the tax bands are decided, also usually equate to reduced fuel consumption.
In all, 23 cars were put through their paces by the judges at the Millbrook Proving Ground in Bedfordshire, to establish their towing credentials as well as their 'caravanability' or practicality for towing holidays as well as everyday use.
The results of the competition were announced at a ceremony held at the Royal Automobile Club in London, and all the winners will be on display to the public at the Motorhome and Caravan Show at the NEC from 16-21 October.