Tristar — the van for every occasion!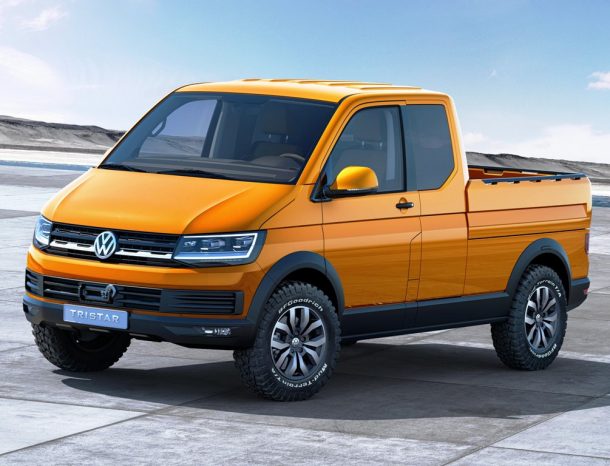 ARE you looking for a van with as many uses as a Swiss army knife?
Well, Volkswagen Commercial Vehicles offer you the Tristar — a combination of all the features of the manufacturer's current T model series.
Its extreme off-road capability and flexible storage solutions make it the perfect mode of transport, whatever your needs.
For this year's IAA (Internationale Automobil-Ausstellung — German automobile show), Volkswagen Commercial Vehicles presents this concept vehicle with a legendary name.
The beefy pick-up with extended cab, styling bar and short wheelbase has permanent four-wheel drive with mechanical rear axle differential lock and 30mm additional ground clearance.
Befitting its name, the designers have developed a high-precision, new and yet familiar design language: the sharp wrap-around lines, LED headlights and a changed architecture of the whole front give the concept vehicle a wide and purposeful appearance.
Cargo can be distributed on two separate levels. There is a spacious, dust-proof and watertight drawer under the flatbed section, where a deep-tread spare tyre is also housed.
The interior has a 20-inch tablet table and state-of-the-art video conferencing and sound systems driver and passenger seats which turn and slide, converting the Tristar into the perfect place for meetings. There's even an espresso machine installed!  The monolithic dashboard is reminiscent of earlier Transporter models offering clear and sharp lines.
Its extreme off-road capability in combination with flexible transport and storage solutions make the Tristar a mobile workshop and high-tech office.  Safe, flexible and developed to the highest quality standards, Tristar is a versatile tool for every user, be it architects, film crews, landscape gardeners or even keen outdoor adventures.
Speaking at the world premiere, Dr Eckhard Scholz, chairman of the board of Volkswagen Commercial Vehicles, said: "The Tristar shows an unprecedented combination of all the good features of the T model series. It demonstrates potential and proves it is still the benchmark.  Hence it combines elements of yesterday and tomorrow. On the anniversary of the first syncro concept car, it strikingly highlights the company's all-wheel drive expertise and demonstrates its future viability.
"We take the needs of our customers seriously and are continuing to develop our best-seller with great purpose. We are therefore redefining the benchmark of the class with each and every new model."