BTCC trio in Silverstone battle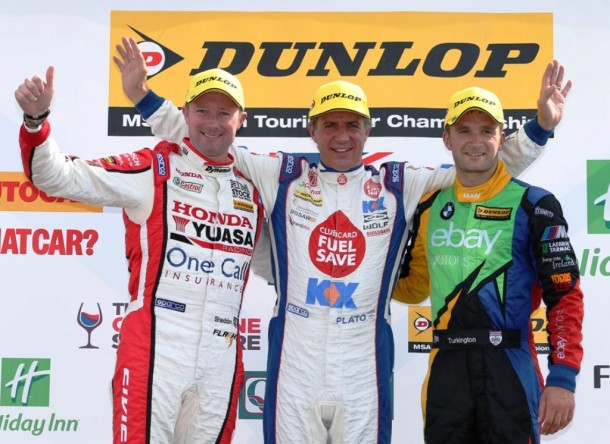 IT will be a battle royal at Silverstone this weekend as three of the BTCC's top stars fight for the title.
Jason Plato and Gordon Shedden will be doing their utmost to put the brakes on Colin Turkington who seems to be hurtling towards the championship.
The latest round of the Dunlop MSA British Touring Car Championship takes place this weekend (September 27 and 28).
Turkington extended his advantage in the drivers' standings to 55 points a fortnight ago at Rockingham, where Plato leapfrogged Shedden to become the Ulsterman's closest challenger.
All eyes will be on this trio around fellow Northants circuit Silverstone, which hosts rounds 25, 26 and 27 of the fiercely-fought 30-race campaign. Although one of the more straightforward track layouts on the BTCC calendar, the popular National Circuit invariably generates crowd-captivating doorhandle-to-doorhandle racing – as Plato attests.
"Silverstone has a special vibe to it," commented the MG KX Clubcard Fuel Save ace, who is the most successful current BTCC competitor there with ten previous victories to his credit. "It's the home of the British Grand Prix and the home of British Motor Sport, we get a fantastic crowd and the races always produce action up and down the pack.
"It's one of the standout events of the year and one that produces great racing; if you think about my race there last year with Andrew Jordan, that was probably one of the all-time BTCC best.
"It's also extra-special for me as I live down the road and am a Board Director for the British Racing Drivers' Club (BRDC), so there will be a lot of family and friends there. I just think it will be a cracking weekend."
While all 31 flame-spitting touring cars are sure to put on a spectacular show for the tens of thousands of trackside spectators, one man has proved to be a notch above the rest as the business end of the season approaches apace and the title tension mounts.
Colin Turkington and his strikingly-liveried eBay Motors BMW 125i M Sport have been the class of the field in recent outings, and a brace of triumphs at Rockingham have taken the 2009 champion one step closer to winning the coveted drivers' crown.
However, West Surrey Racing – the team that prepares and runs the cars of Turkington and team-mates Rob Collard and Nick Foster – fear they may not have things all their own way around Silverstone's high-speed corners and straights.
"Colin is in the form of his life right now and we'll need him to be at Silverstone, as it might be a circuit that suits our rivals more so than us," remarked team boss Dick Bennetts, who predicts a concerted fightback from Plato and Shedden, both of whom won there in 2013.
Plato is undoubtedly the form driver at Silverstone, and whilst his fortunes have fluctuated somewhat this year, the two-time title-winner is a redoubtable competitor and can always be relied upon to pull something out of the bag even when the odds appear to be inconceivably stacked against him.
Shedden's impressive unbroken points-scoring run behind the wheel of his Honda Yuasa Racing Civic Tourer came crashing to a halt at Rockingham when he found himself caught up in opening lap contact in race three – dealing his championship hopes a blow into the bargain.
The Scot is less than sanguine about his chances at Silverstone, but he is nothing if not ultra-consistent and can be counted upon to keep on bagging the points – a quality that could prove pivotal indeed come season's end, particularly if his two chief rivals endure a DNF or two.
Andrew Jordan sits fourth in the classification, but at 111 points adrift of Turkington, has conceded that his title defence is effectively all but over. A tough mid-season run and hefty shunt at Snetterton somewhat took the wind out of his sails, but the Pirtek Racing man remains an ever-present contender for victory and will have his sights firmly set on scooping some more silverware at Silverstone.
As crunch point nears in the chase for the coveted crown, Turkington, Plato and Shedden's respective team-mates Collard, Foster, Sam Tordoff and Matt Neal are all likely to play an increasingly important role, whilst Airwaves Racing's Mat Jackson is firmly in touch in the scrap over fourth in the standings, and has always been a force to be reckoned with at Silverstone.
Three BTCC races will take place on Sunday, with the entire race day being broadcast live and in high definition on ITV4.
In addition to the BTCC, there will be a plethora of races on the support bill, which will also see some of the region's top racing drivers competing.
Tickets for the Dunlop MSA British Touring Car Championship at Silverstone are available from £29, with free entry for children aged 15 and under. For more information call 0844 3728 270 or visit www.silverstone.co.uk. All admission includes access to Sunday's autograph session with the BTCC drivers in the pit lane as well as free parking.